[International Branch] Forum (2021_상반기)
[SAYUL Forum]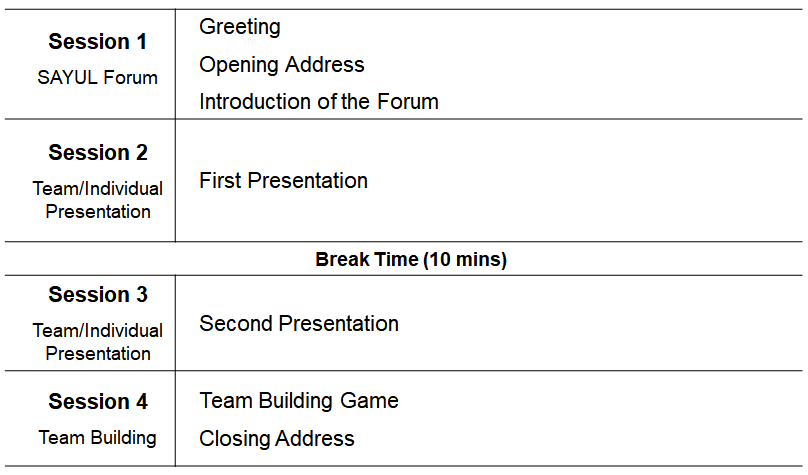 <Presentation: Impressive Topic we wrote on Wikipedia>
Azerbaijan
(Individual) Forest Service in Korea
(Team) Traveling to Seoul
Brazil
Korean Literature
Canada
Delivery Culture in South Korea
Germany
Climate Change in South Korea
India WB1
(Team1) Bawijeolmaeul Hosangnori
(Team2) Byeokgolje Ssangyongnori
(Team3) Baetnori
India WB2
Anseong Matchum Namsadang Baudeogi Festival
India WB3
Newtro Culture
India WB4
Gat Kimchi(갓김치)
Iran
Charye
Italy Naples
Daemokjang
Italy Rome
(Team) Three Generation(삼대-염상섭)
(Individual) An Changho
Italy Siena
(Team) Comfort Women
(Individual) Korean Red Cross
Italy Venice
Gender Inequality in South Korea
Myanmar
Digital Library of Korean Literature
Vegetarian Food, Products, and Restaurants in South Korea
Russia
Imo Incident(임오군란)
Turkey
Korean Folk Games
Korea Disease Control and Prevention Agency
Women in Korea
UK
Gender Inequality in South Korea
<Team Building>
1) Team Member
Donghyeon's Team: Azerbaijan + Russia +Turkey
Joonyeong's Team: India WB3 + India WB4 + Myanmar
Jiyeon's Team: Brazil + Canada
Haeun's Team: Germany + Italy Rome + Italy Siena
Jiwoo's Team: Hungary + Italy Naples + Italy Venice + UK
Dain's Team: India WB1 + India WB2 + Iran
2) Team Slogan
Donghyeon's Team: "Eurasia, one spirit, one team, one win" - We are living in Eurasian countries. So we want to embody geographical commonality in the slogan.
Joonyeong's Team: "I can't, but we can!" - We want to symbolize teamwork as a sentence that shows us very well.
Jiyeon's Team: "Maple Coxinha" - This slogan is created with ideas from Brazil and Canada friends. It literally means Coxinha with maple syrup. Coxinha represents Brazil and maple syrup represents Canada.
Haeun's Team: "Pizza Power" - Our team is made up of almost Italians, so we decided on a slogan with the theme of pizza, one of the symbols of Italy.
Jiwoo's Team: "HIKU(하이쿠)! Go! Andiamo!" - Team name 'HIKU' is come up with the idea of the first initial of each country, which is Hungary, Italy, Korea, and the UK. For the team chant, we thought that it would be meaningful if we say 'Go!' by mixing our own languages so Go(English), Andiamo(Italian), 가자(Korean)! This is how our team set the team name and the slogan.
Dain's Team: "Team Dain 화이팅!" - As my team was made up of Indian and Iran members, we decided to create our slogan with the common features that we have. I was the manager of both teams and every member is studying Korean, so we chose our slogan as Team Dain and to cheer up, '화이팅' in Korean.
3) Picture