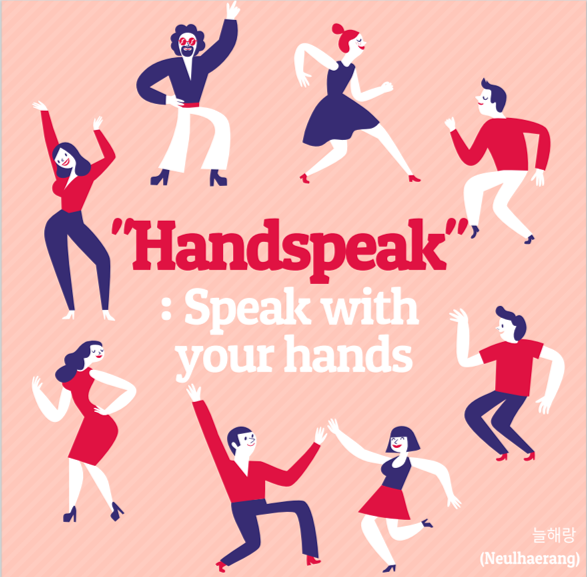 Hello! We are team Gwanak 2, 늘해랑 (Neulhaerang).
For this month, we wanted to introduce a social-enterprise-to-be that is spreading its positive energy throughout our society. It is an organization called "Handspeak". Handspeak strives to support the deaf and the hard of hearing to participate in art performance opportunities through business solutions. Artists are taking part in filmmaking, music videos and even rapping.
This short video consists of different activities that we usually do with our hands, and highlights the fact the sing language could be one of them. Handspeak helps people to go beyond sign language and to take challenges to speak and perform with their hands. We believe that the social impact Handspeak is bringing us is huge, and we wanted to shed some light on this great organization with this video.
Because Handspeak tries to reduce inequalities of artistic performance opportunities for the deaf and the hard of hearing, we thought this video would be able to contribute to achieving the the 10th goal of UN SDGs, 'Reduced inequality'.
Thank you all and we really hope that everybody can appreciate social organizations like Handspeak!
https://www.tiktok.com/@sayul.esg/video/6942709034562702594?sender_device=pc&sender_web_id=6932643517596812801&is_from_webapp=v1&is_copy_url=0