새 카테고리COP26대응, 대표적 산업/기업성과사례_Africa_남아공팀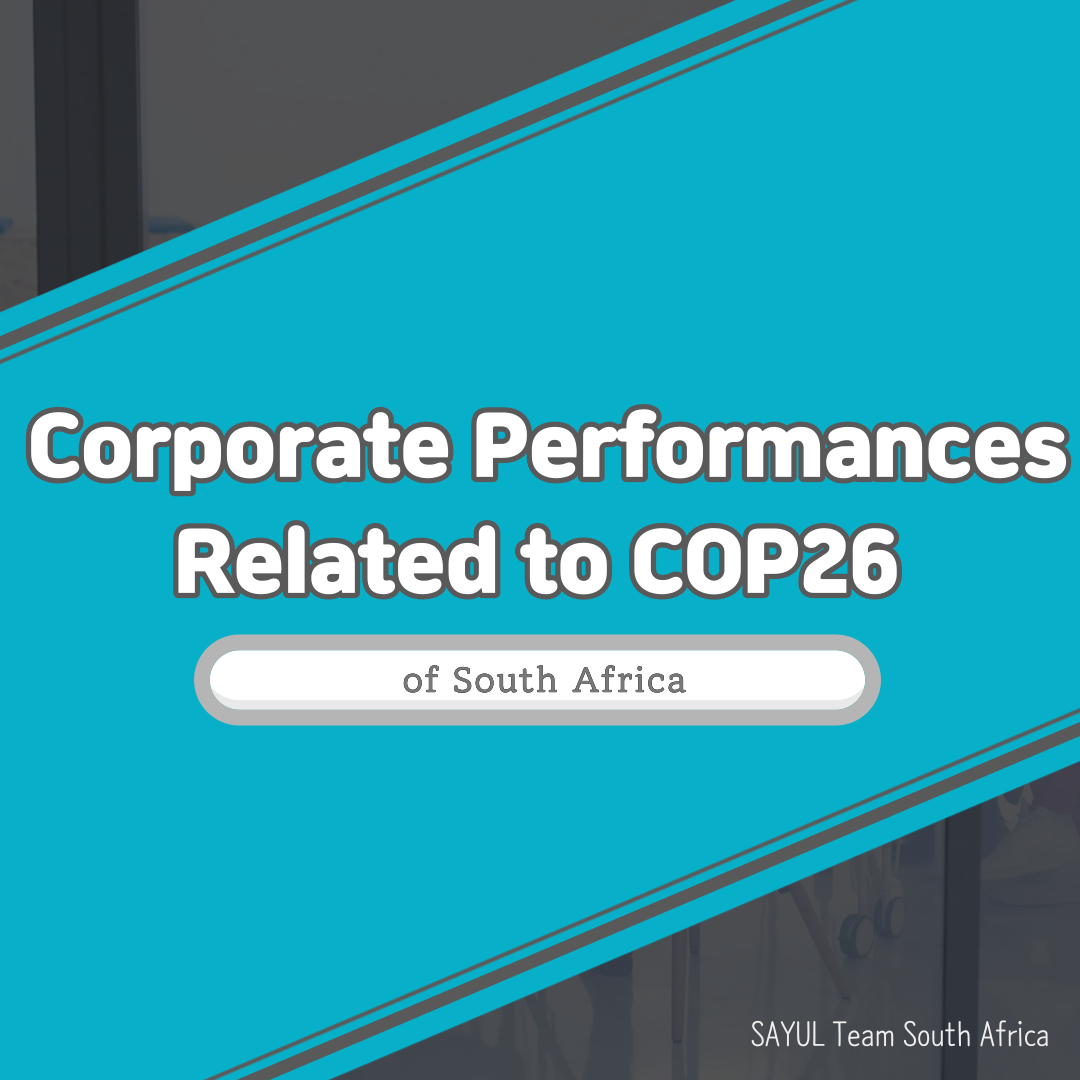 Hello we are team South Africa.
Last time, we looked at the government's case for implementing what was discussed at COP26, and this time, we would like to learn about the efforts of civil society, including companies and individuals, to address climate change discussed at COP26. Today, we will focus on South African business cases and look at efforts to solve the climate change problem.

First of all, international efforts are supported by overseas companies or governments through ODA, and representative examples are the construction project of the Korea EDCF Mozambique solar power plant and the Uganda solar smart dryer project of the Korea Invention Promotion Association. Related international funds include seven projects in South Africa through the GCF and received a $168.7 million fund.
'Mainstream' is a global wind and solar power company in South Africa. Mainstream produces about 4,500GWh of green electricity every year and is expected to help reduce carbon dioxide by about 5 million tons annually when fully operational. The mainstream project is also expected to provide South Africa with significant low-cost indigenous power while also supporting legitimate transformation for clean energy and climate goals.

The second one is 'SASOL Limited'. As an integrated energy and chemical company based in Sandton, South Africa, it is considered the world's largest producer of gray hydrogen. It is promoting decarbonization through low-carbon feedstock and securing the potential to use green hydrogen by utilizing FT technology. In addition, we have partnerships with various organizations such as CEF and IDC, focusing on the development of the hydrogen economy.

The third company to introduce is 'ESKOM', South Africa's state-run electric power corporation. South Africa is currently experiencing a serious financial crisis and stable electricity production and supply and demand are unstable. Therefore, ESKOM argues that it should get as close as possible to $8.5 billion promised by developed countries in COP26 to support energy conversion.
In addition, there has been a movement of non-governmental organizations in South Africa, which aims to develop low-carbon energy in South Africa and the African continent. We will conduct 'MEETS', a project to define energy democracy and the environment in South Africa, to study sustainable energy transformation.