새 카테고리베트남의 공공외교 연계 SDGs 이행 및 대표사례_Asia_베트남팀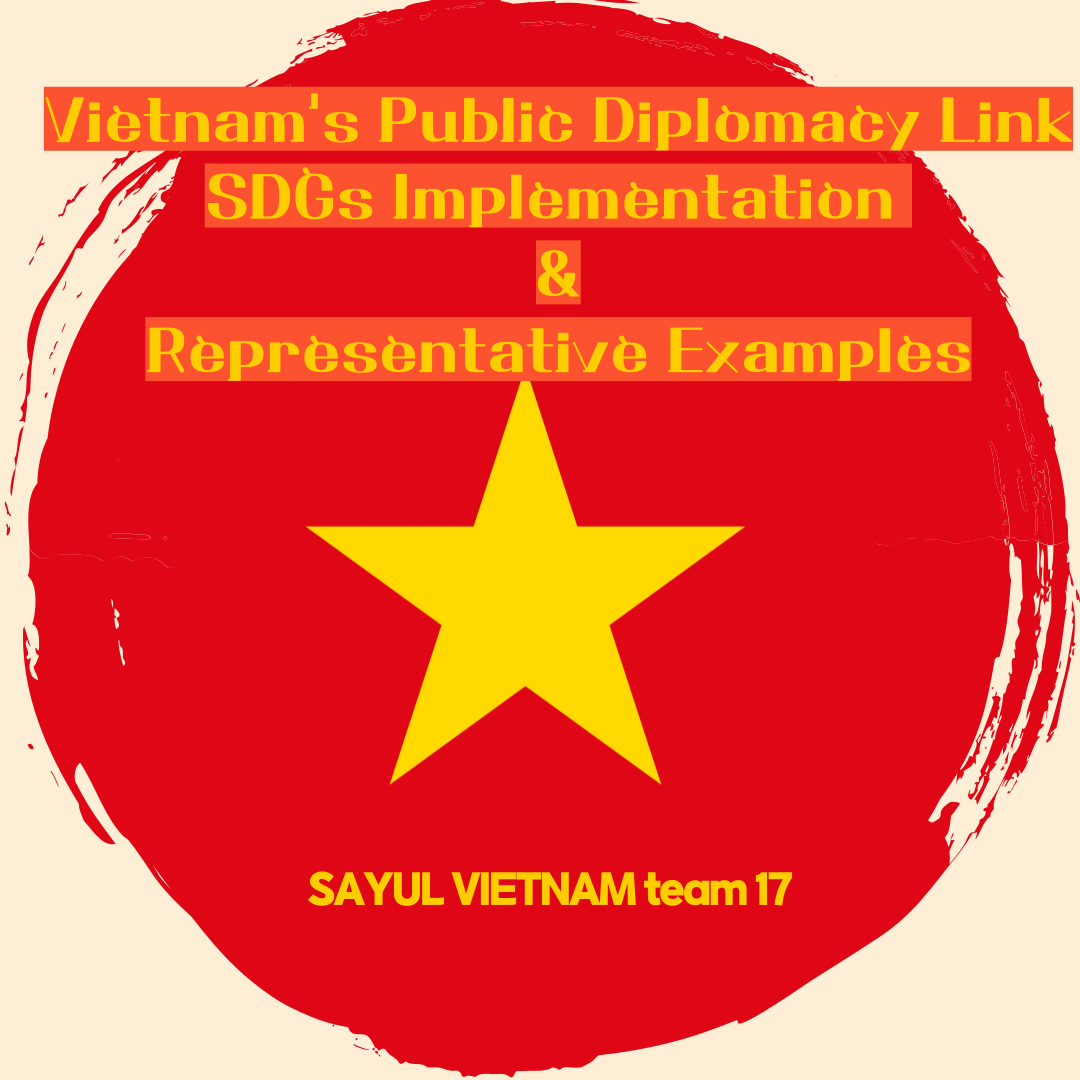 Hi guys, this is team Vietnam :-)
Our topic for this month is Vietnam's public diplomacy link SDGs implementation and representative examples.
Public diplomacy refers to diplomatic activities in which the state directly or in cooperation with local governments and the private sector promotes the understanding and trust of foreign people in Korea through culture, knowledge, and policy.
Representative examples of Vietnam's SDGs achievements through public diplomacy are
A. Goal 4.7 & Korea Foundation: Korea-Viet Youth Knowledge Exchange Forum
- Goal 4.7: by 2030 ensure all learners acquire knowledge and skills needed to promote sustainable development, including among others through education for sustainable development and sustainable lifestyles, human rights, gender equality, promotion of a culture of peace and non-violence, global citizenship, and appreciation of cultural diversity and of culture's contribution to sustainable development
- Korea-Viet Youth Knowledge Exchange Forum: Exchange of knowledge between Vietnam and South Korea.
B. Goal 1& Overseas Volunteer Service in Rural Development
- Goal 1: End poverty in all its forms everywhere
1.1 By 2030, eradicate extreme poverty for all people everywhere, currently measured as people living on less than $1.25 a day
1.2 By 2030, reduce at least by half the proportion of men, women and children of all ages living in poverty in all its dimensions according to national definitions
- Overseas Volunteer Service in Rural Development: Under the business cooperation agreement signed between KOICA and Gyeongsangbuk-do, Saemaul leader overseas volunteer team is trying to end international poverty through the spread of the Saemaul movement in Africa and Asia.
However, we have noticed that Vietnam's leading public diplomacy activities have not yet been actively carried out. The team Vietnam expects Vietnam to carry out more activities in a trend of strengthening soft power by building a good image with a successful response to Covid-19.