새 카테고리핀란드의 공공외교 연계 SDGs 이행 및 대표사례_Europe_핀란드팀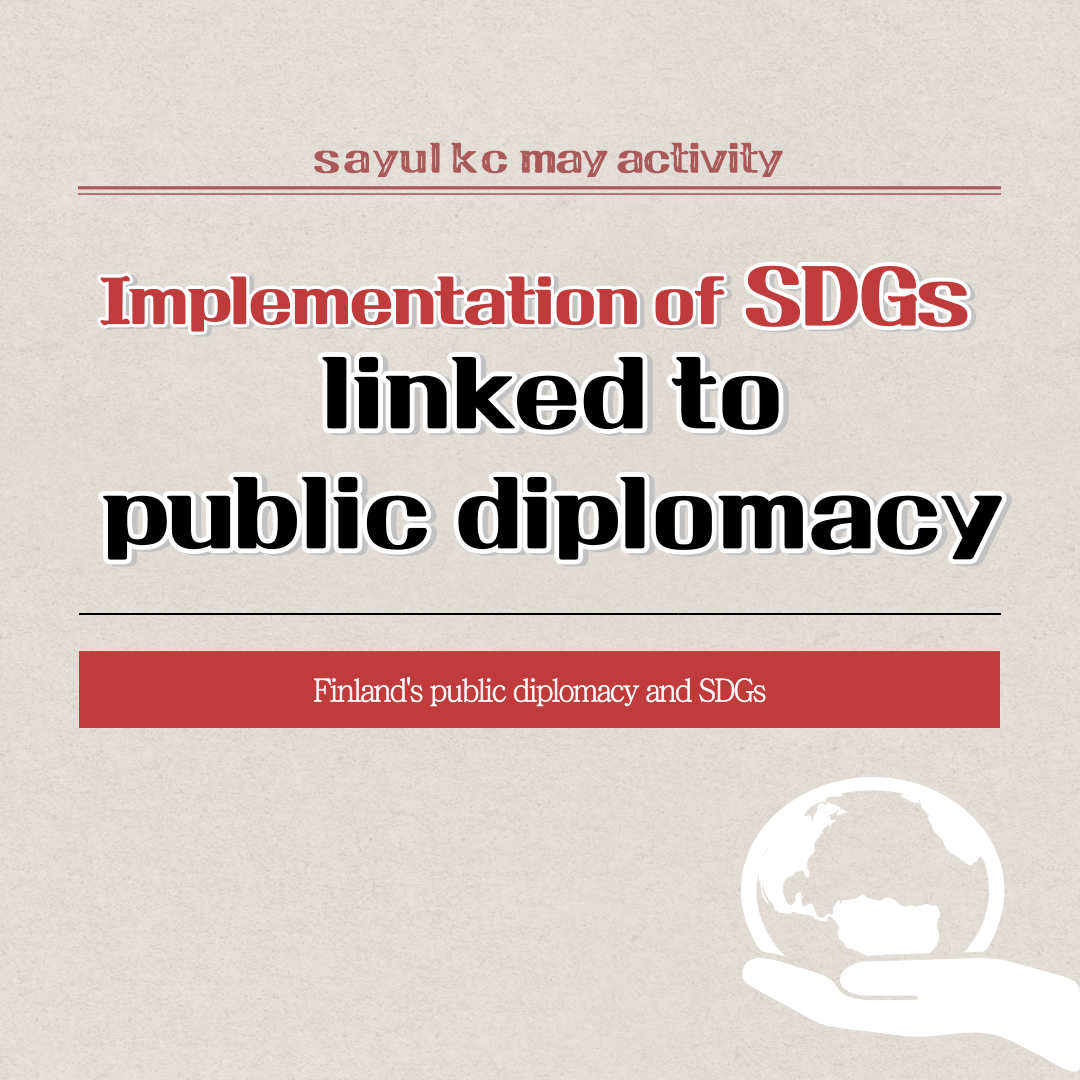 1. Living lab; a laboratory that conducts research in civic living spaces to solve living problems
1)Helsinki Noise Barrier Project.In order to resolve noise caused by passageways and railways, feedback from citizens after installing noise barriers is reflected and the current status of noise barrier projects is shared through SNS. Satisfaction is maximized through direct participation of citizens.
2)Helsinki Kalasatama District Helsinki Municipal Government has established various online and offline devices that allow citizens to directly participate in urban design. Kalasatama, which used to be a declining industrial area, will be transformed into a smart city that combines advanced technologies such as the Internet of Things (IoT), self-driving electric vehicles, and smart grids with an "innovator club" composed of residents, public officials, scholars, and civic group activists.
2. Sustainable Travel Finland
1)Sustainability Certification System It was designed to reflect Finland's regional/cultural characteristics based on various international sustainability programs. International standards such as the Environmental Management System (ISO14001) and indicators of institutions such as UN SDGs, the Global Sustainable Tourism Council, and the European Travel Commission are also considered.
ex) Posio, the first tourist attraction awarded with the certification mark
3. Finland National Implementation Plan for Agenda 2030
Finland has prepared a separate SDGs concrete implementation plan in addition to the SDGs linkage of existing national development strategies, and an example of establishing a separate SDGs implementation plan is the National Implementation Plan for Agenda 2030.
4. An integrated approach to the economy, society and the environment.
The 'National Policy' Finland establishes concepts, tools, strategies, and multilateral forums to integrate and approach the three dimensions of the SDG.
5. "The Finland we want by 2050" The Finland we want by 2050 is a long-term policy consistency framework that ensures that future government programs and others comply with their commitments to sustainable development. As a way to consider future generations, it is a long-term national transition strategy over 20 to 30 years.
6. Quality Education Osan City, an educational city in Korea, and Espo City, an educational city in Finland, have signed a business agreement to cooperate in educational and youth exchange activities. With the common goal of lifelong learning, it promised to promote various exchanges and cooperation in the fields of sustainable education and youth. Specific exchange projects such as youth video exchange, e-sports friendly matches, and mutual lectures were also planned.
7. The Korea-Fin Startup Summit, co-hosted by the Korea Startup Forum for Industrial, Innovation, and Infrastructure, Korea Chamber of Commerce, Business Finland and Altois, was held in Helsinki. It is the first time in the startup industry alone to form an economic mission, and more than 100 economic missions, including investors and accelerators, attended in Korea, as well as more than 50 leading start-ups including unicorns such as Baedal Minjok, Yanolja, and Jikbang. By pushing for a business agreement with Altoes for mutual cooperation, the Ministry of SMEs and Startups established a "Korea Startup Center (KSC)" in Helsinki with the Finnish government to promise continued cooperation.