새 카테고리ESG와 공공외교 연계를 통한 인도의 성과사례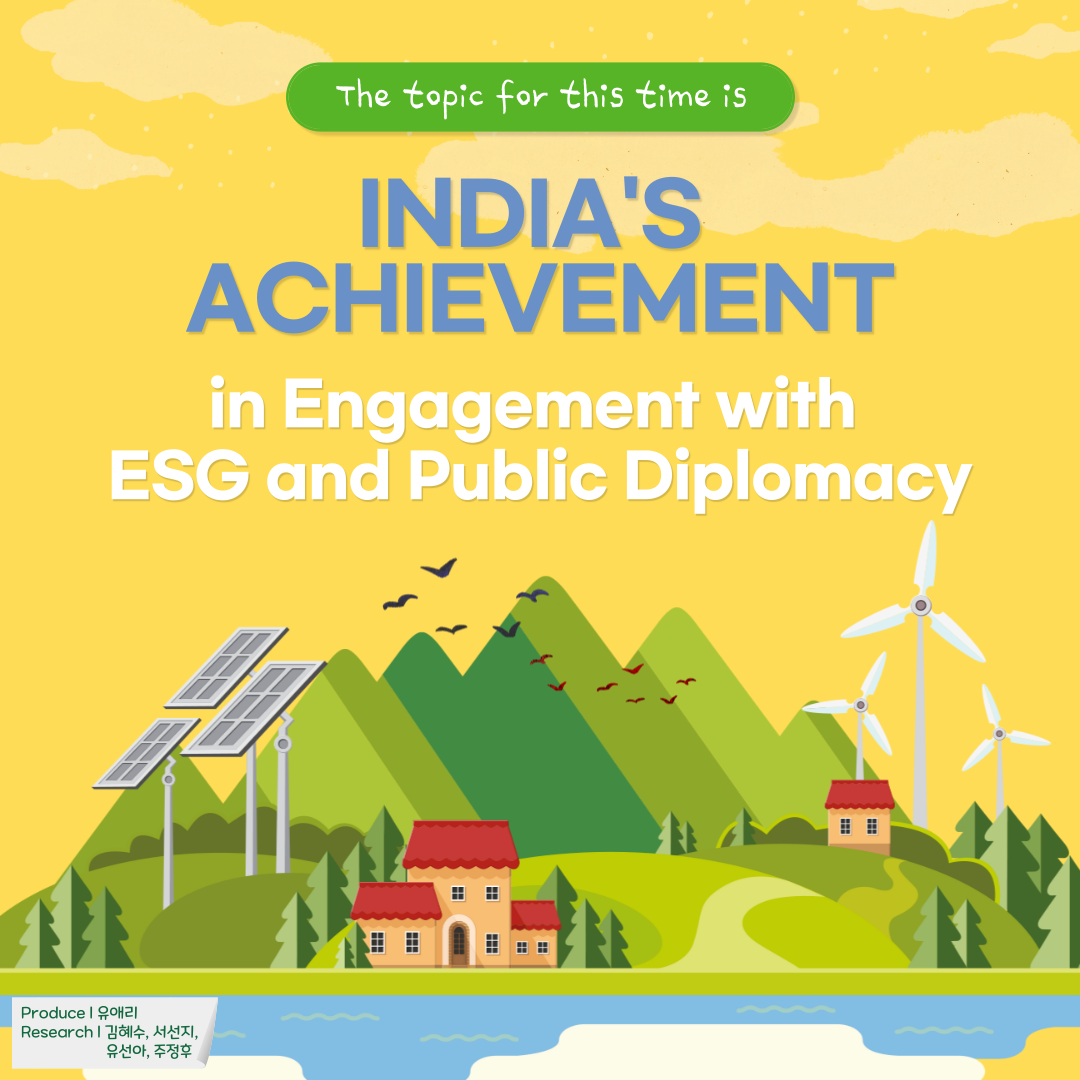 Hi everyone :-)
we are India team of SAYUL KOREA CLUB!
we going to talk about 'INDIA'S ACHIEVEMENT IN ENGAGEMENT WITH ESG AND PUBLIC DIPLOMACY'
<Public Diplomacy>
Intimacy: Mitigates potential international concerns about India, which is a rising global power.
National Competitiveness: Attracts foreign tourists and investments in the global era, and develops national competitiveness that helps to secure new markets for export.
--------------------------------------------
"E"nvironment
EETech: Cheil WW India works with EETech, which makes eco-friendly solution for home and industrial waste, to manufacture hospital beds using COVID-19 waste materials from masks and personal protective equipment(PPE). Dumped PPE kits, over 1000 used masks, coffee waste, eco-friendly paper and scrap materials are wsted.
"S"ociety
Asking young people to participate in politics + Forming new supportive public opinion in neighbor countries+ Changing policy making process into public and democratic way
"G"overnance
Corruption Prevention Act: Congress promised stricter Corruption Prevention Act as civil activist Anna Hazare launched a hunger strike criticizing existing one. Corruption, which is quiet commom in India, has been cited as an obstacle to economic efficiency. If the corruption climate disappers, resources will be used for a virtuous cycle of the economy, and foreign investment will be active.
♡We support India's continued ESG movement♡