새 카테고리ESG와 공공외교 연계를 통한 성과 사례_Europe-핀란드팀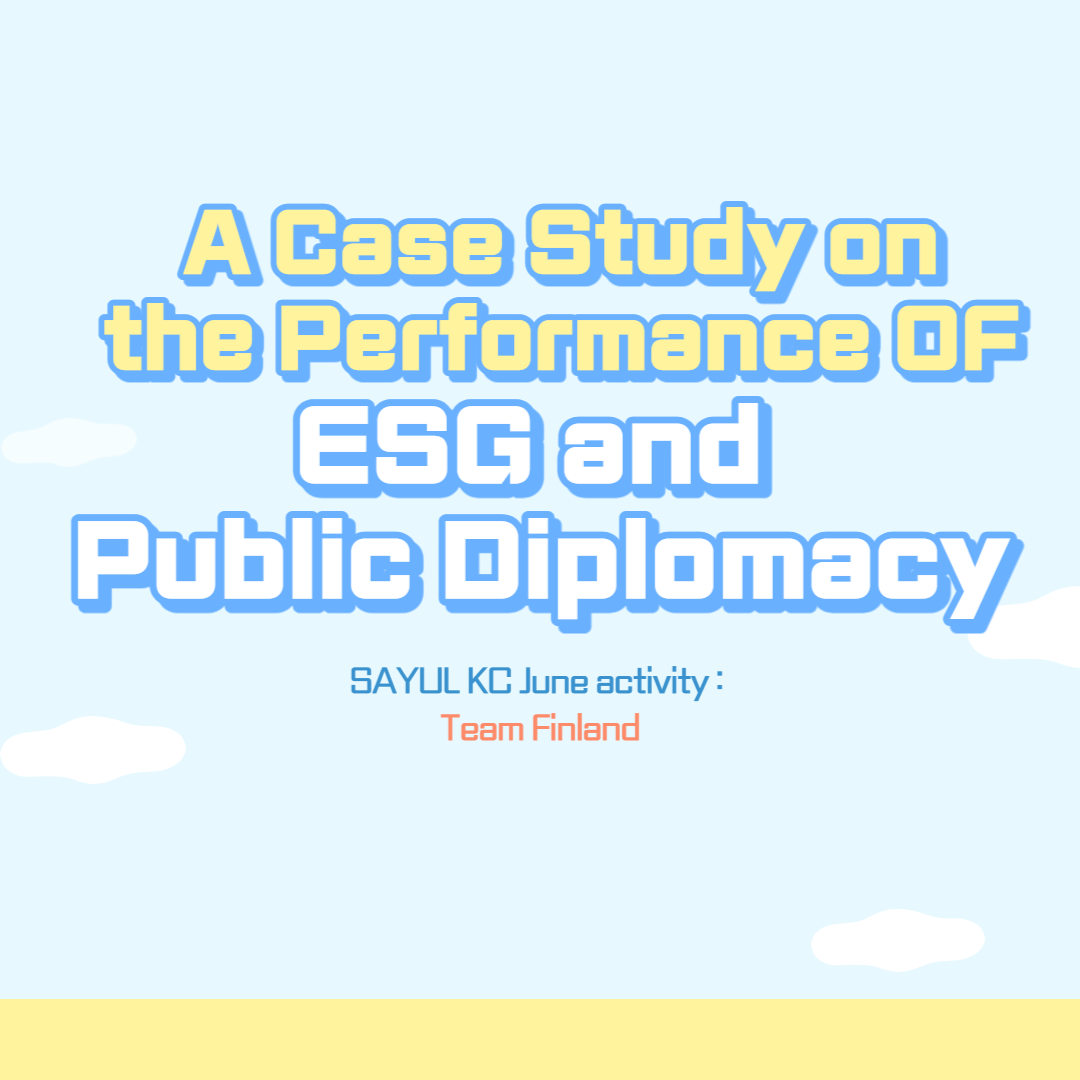 1. "The Finland we want by 2050"
The agreement, announced through the Committee on Sustainable Development, offers eight goals: "Happiness and well-being enjoyed by all citizens," "Citizens participating society," "Sustainable jobs," "Sustainable community," "Efficient resource economy," "Nature-conscious lifestyle," and "decision-making."
2. WeFood is Finland's first Zero Food Waist supermarket, offering processed foods with packaging problems or fruits and vegetables that are usually discarded as food waste due to scratches on the outside at a lower price.
3. Results of Sustainable Finland Travel (Sustainability Certification System)
Posio, Finland's first sustainable travel destination. Posio is one of the "100 Sustainable Destinations Top 100" selected by the Global Foundation Green Destinations in 2021.
4. Helsinki
It serves as an example of sustainable life, and has carried out various activities centered on residents, such as expanding electric vehicle charging stations, developing public transportation, and improving pedestrian and bicycle mobility, and a 1,500km bicycle road is built in Helsinki.
5. Finnish oil refiner Neste Oil biodiesel development.
Neste has developed 'Neste MY Renewable Diesel', a biodiesel product that is completely compatible with diesel infrastructure such as diesel engines and gas facilities because it has the same chemical composition as general diesel. Unlike ordinary diesel, Neste MY has the advantage that fuel can be burned with maximum efficiency because it has no aromatic or impurity. In June 2020, McDonald's Netherlands (250 stores) and McDonald's partner HAVI established a fry-up cooking oil circulation program called Fries to Miles.
6. Public Diplomacy Through Sauna
Finnish politicians have also invited opposition figures and foreign dignitaries to the sauna to discuss certain issues. Sauna means everyone is equal. As a result, diplomacy can proceed in a comfortable and open atmosphere. Also, there is a separate sauna diplomatic club. Through this, you can experience Finnish culture indirectly
7. Finland's design sensibility
Realize environmentally friendly production and processes. In particular, Finnish products containing nature-friendly design, innovative technology, and the philosophy of "All Together" are attracting consumers around the world.