새 카테고리3월 한국 대사관의 COP 기반 현지 공공외교 전략_유럽_프랑스팀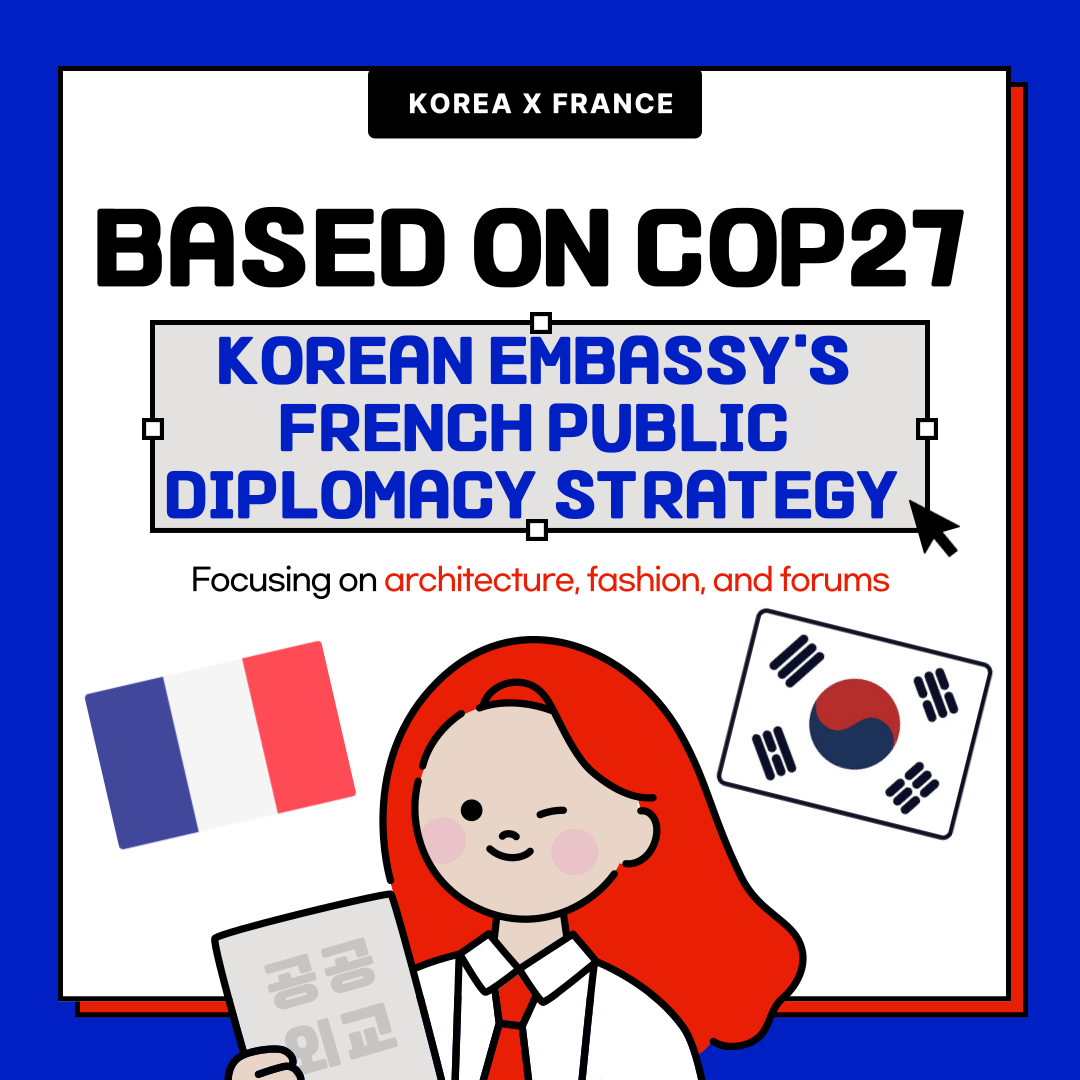 Hi everyone! We are <Team France>, a team in charge of suggesting the possible ways the Korean Embassy in France can engage and develop its public diplomacy strategy based on COP 27. Our team's strategic approach features three significant pillars: architecture, fashion, and knowledge exchange along with education.
France is one of the representative countries targeting a green transition to achieve and respond to climate change-related loss and damage according to the new initiative introduced in COP 27. To this extent, the strategy illustrates the ways of utilizing both Korean and French policy and cultural assets not only as a measure of public diplomacy but solutions to the climate crisis.
1. Collaborative architecture exhibition of France and Korea
This is to foster the exchange of architectural technology and collaboration of eco-friendly architectural activities between France and Korea. The strategy suggests conducting a collaborative exhibition to share sustainable development technologies and ideas with architectural experts that contribute to eco-friendly design methods based on zero-in construction.
2. Upcycled / Recycled Hanbok Fashion Show
This strategy is mainly motivated by several Hanbok-related public diplomacy precedents such as the '2022 Hanbok Model Contest' held in France. By cooperating with a domestic brand that produces upcycled hanbok, our team suggests designing Korean and France collaborated hanbok and promoting foreigners to experience hanbok culture.
3. COP-based Forums and Symposiums
Lastly, the strategy asserts the need of proceeding with COP-based forums or symposiums and make civil society share ideas on sustainable development actively. The forums involve knowledge sharing on DACU source technology, digital-based climate change prediction, and measures for international cooperation.
For more information, please check out our card news article and report. Thank you!