새 카테고리4월_한국기업의 COP기반 현지 공공외교 전략_중국팀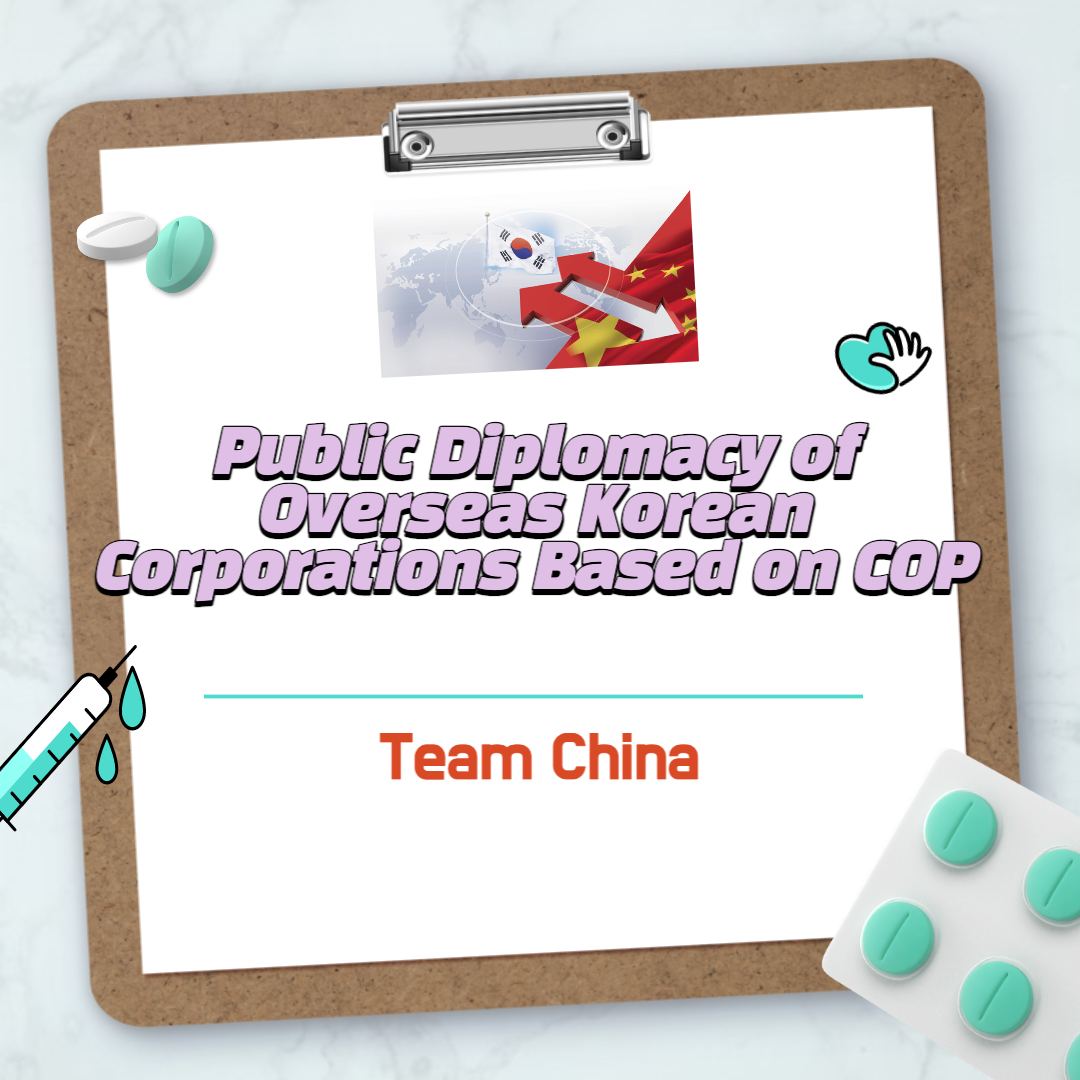 Hello guys! For the second topic, Team China has looked at diplomatic strategies for Overseas Korean Corporations that are recommendable to look up. We have three sections: Reasons for topic selection, Three promotional strategies in business, and the expected effects. Based on COP and its resolution, the environmental problem has deepened its seriousness across the world. Environmental conservation is a demand not only for individuals but for global corporations that have certainly been contributing to climate change. Through some suggestions we have researched, we are looking for Korean corporations trying to expand to the global market to get more credit, which could certainly be a great help to the climate crisis.
Reasons for topic selection
Paris Baguette, a popular bakery cafe franchise, have been launched numerous branches all over China. Lock&Lock has comfortably settled in China with the best quality of kitchenwares, championing people-centred innovation. Paris Baguette is expected to provide an offline store where eco-friendly products such as tumblers made by Lock&Lock draw people's attention to environmental issues.
Three promotional strategies
1) Eco-friendly business: Offer a discount on bringing Lock&Lock reusable tumblers when visiting Paris-Baguette.
2) Localisation: Considering a variety of palates in each different province, bread with distinctive regional characteristics needs to be developed.
3) Realisation of social distribution: parts of the profits are donated to the underprivileged in China.
3. The expected effects
Korean companies in the global market could benefit from vast purchasing power in China in particular. Moreover, joint advancement between Korean corporations would surely enhance the recognition of Korea making an effort for the environment.
For further information, please look into the details we have put in this article.