새 카테고리4월 한국 기업의 COP 기반 현지 공공외교 전략_유럽_프랑스팀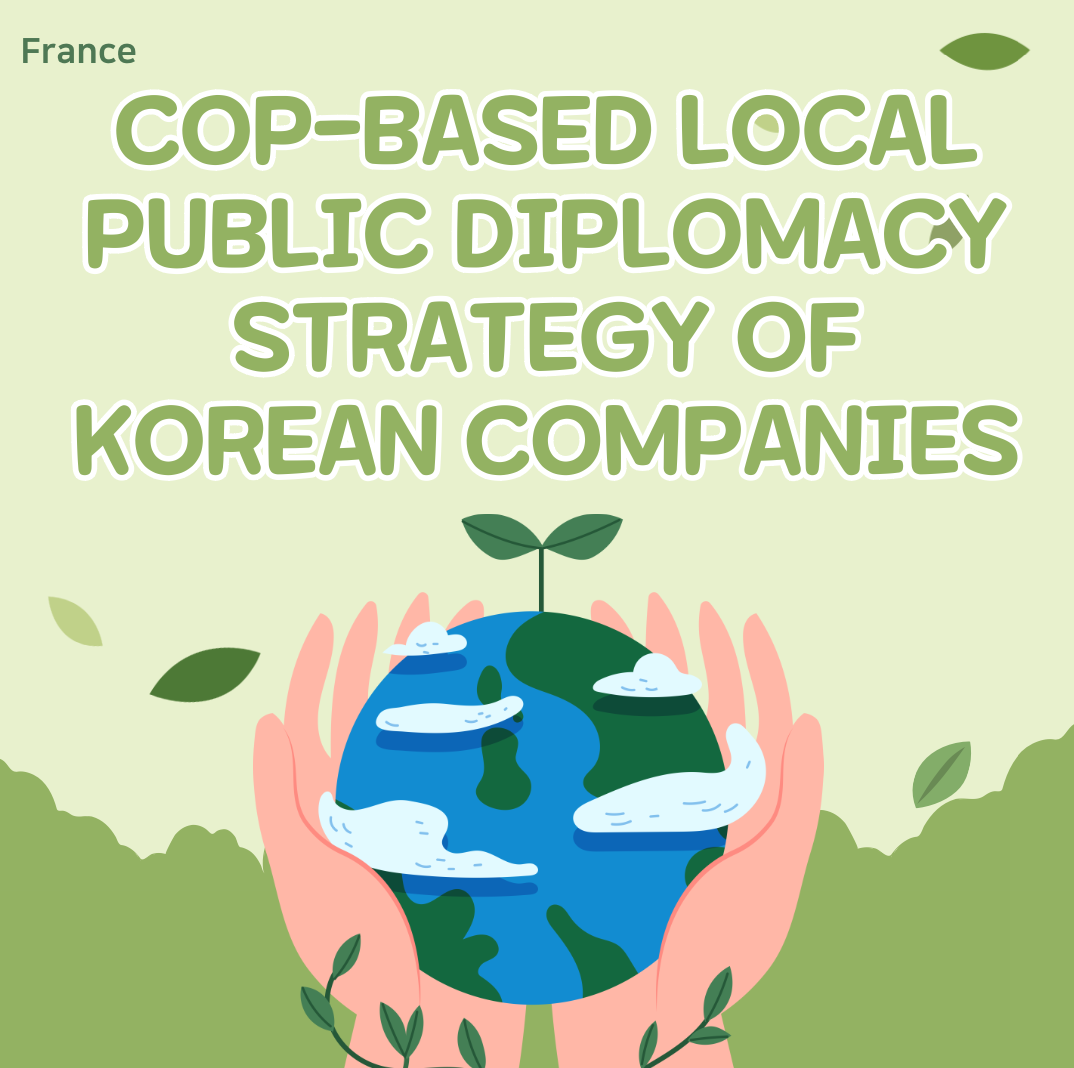 Hi everyone! We are <Team France>. For April's topic, our team has organized contents regarding 'Diplomacy Strategies of the Korean Companies Based on COP'.
Our team has elaborated local public diplomatic strategy based on three different realms: food industry, e-mobility industry, and fashion and beauty market.
1. Food-related Program
While France has developed its large agricultural industry to provide livelihoods to households, our team thought that we can leverage France's agricultural advantage to promote the uniqueness of the Korean food industry by cooperating with leading Korean food companies such as CJ "Cheil-Jedang". This includes several business ideas such as an experiential brand pop-up store, Collaborating with French wine, and conducting a smart farming project.
2. E-Mobility Industry
While international society is actively strengthening regulations on emissions for carbon neutrality, collaborating with the French eco-friendly mobility industry would be suitable and demanding. The suggestion includes collaborating in establishing hydrogen charging infrastructure with leading Korean mobility companies, promoting research alliances and mutual projects, and conducting car-sharing projects.
3. K-Beauty and Fashion in France
K- beauty and fashion industry is gaining popularity worldwide, and so is the French market of fashion and beauty market. The suggestion related to the beauty and fashion sector includes collaboration between a French designer and a Korean cosmetic company, installing a refill station space station, and utilizing metaverse for having fashion, and virtual beauty shows.
For more information, please check out our card news article and report. Thank you!