새 카테고리5월 선정 국가 한국 주재 대사관의 COP 기반 공공외교 전략_아메리카_미국팀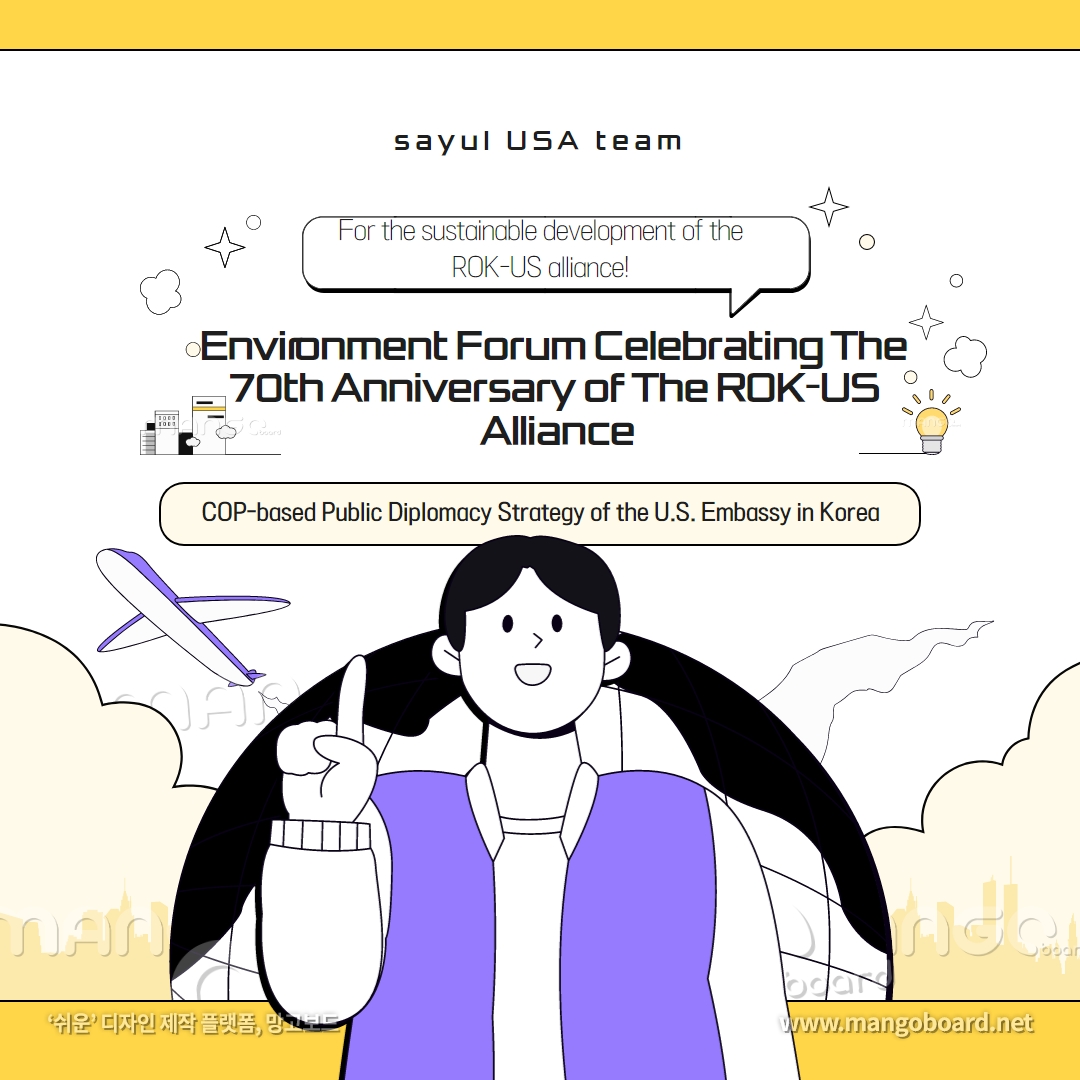 Title: Environment Forum celebrating 70th anniversary of ROK-US Alliance
Hi! We're team USA. The theme of May, 2023 was 'COP based Public Diplomacy Strategy of the U.S Embassy in Korea'.
We came up with the strategies that U.S Embassy in Korea would use for public diplomacy based on COP. Especially this year is the 70th anniversary of ROK-US Alliance, so we are proposing environment forum that could make a podium for exchange of environment policies of ROK and US and future eco-friendly development.
History of US Alliance: Started as the military alliance of ROK and US against North Korea invasion, now it is playing its role as complicated relationship of economic, cultural, social companion.
Direction of ROK-US Alliance towards Decarbonization: ROK and US declared that they would aim green shipping and clean energy development for decarbonization.
1. Green Shipping
- US sets target to increase the weight of carbon-free ships by 2030 at COP 26
- Korea focuses on preoccupying next generation technologies and easing regulations to achieve green shipping
2. Clean Energy
- Definition: Natural energy with little or no environment pollution caused by waste
- ROK-US alliance is discussing the renewable energy through energy security dialogue
Environment Discussions and Quiz Session for Korean and American University students: After giving the forum about green shipping and clean energy, university students from Korea and US who participated in this environment forum will be given chances to actually think about the effects of green shipping and clean energy policies and aims
Expected effects
Strengthen the diplomatic alliance between Korea and US
Build an eco-friendly diplomatic image by informing environmental policies of Korea and US
Discuss the direction of environment policies based on COP, which are green shipping and clean energy
Providing opportunities to be aware and discuss the environmental protection to future generations