새 카테고리6월_프랑스팀_프랑스 내 한국 진출 목표 기업의 COP 기반 공공외교 전략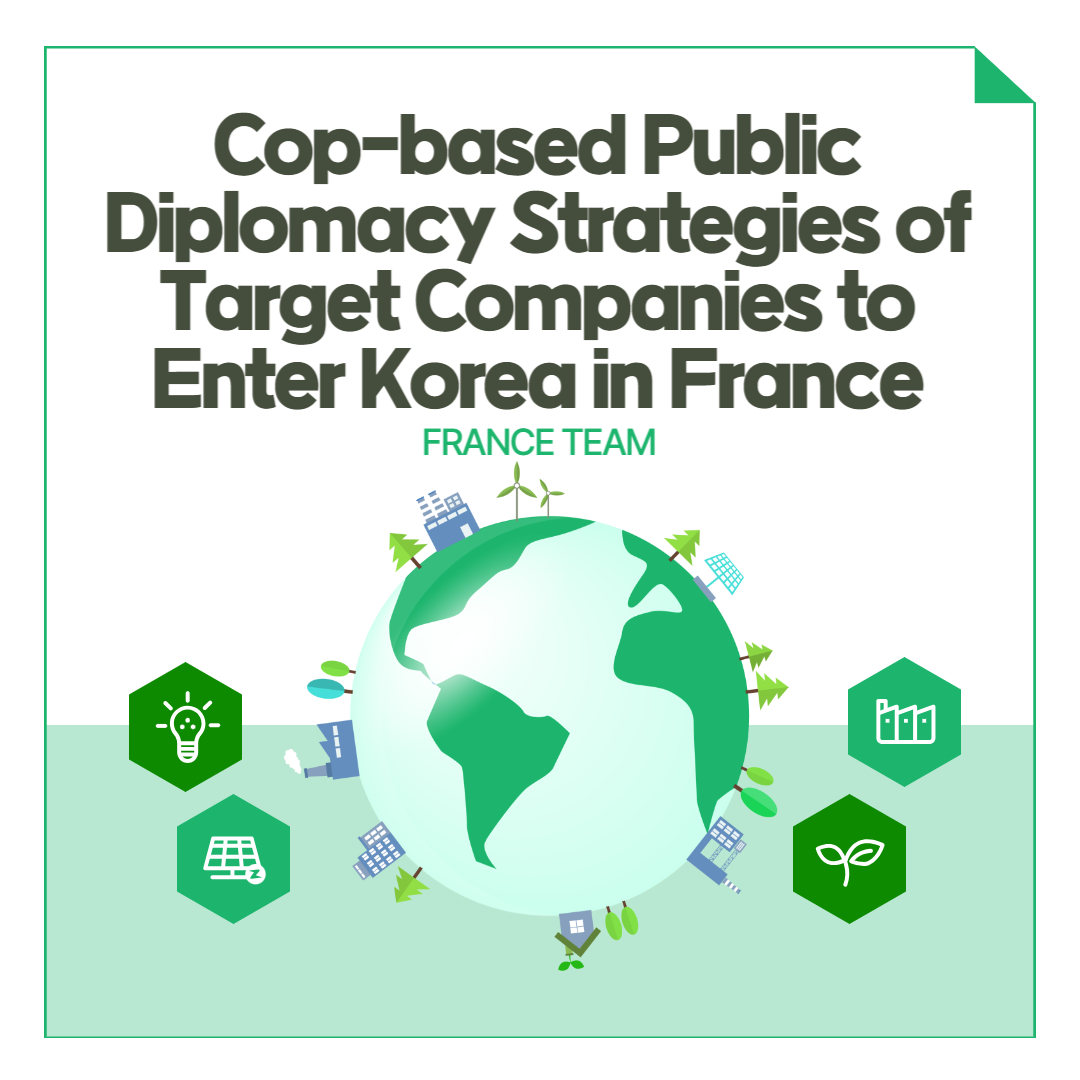 Hi, this is Team France. The theme of June was 'COP-based Public Diplomacy Strategy of the French companies targeting Korea.' Our team thought of several strategies on how French enterprises can contribute to promoting eco-friendly diplomatic practices in two different sectors: tourism with aviation, and digital health care.
[Tourism]
Holding a Tourism Strategy Related Seminar : Utilizing and supporting sustainable tourism funds to promote slow tourism, rural tourism, and ecotourism for tourism workers in cooperation with the French Tourism Organization and companies including 'Le French Tourism'
Adopting and implementing Eco-label European and Introducing Haut-de-France System : Adopting Eco-label European, an ecological certification device proposed by the European Commission to evaluate 24 types of services and goods considering the environment and health.
Introducing Eco-Friendly Tourism Facilities, Technologies, and Food Business : Developing eco-friendly tourism programs and providing support for facility diagnosis and facility improvement in rural areas, small and medium-sized enterprises using the Sustainable Tourism Fund : Developing sustainable food menus and food culture, and promoting programs to reduce food waste emissions
[Aviation]
Enabling SAF(Sustainable Aviation Fuel) Freight Transport
'Enterprise SAF Program' Operations : adopting a program that allows companies around the world to participate in sustainable flights
'Cargo SAF Program' Operations : Eco-friendly programs aimed at promoting demand and expanding the use of SAF for carriers worldwide
Create an in-flight environment using sustainable materials
[Digital Health Care]
Holding a Joint Conference : Let leading companies in digital healthcare share their technologies and solutions, and promote in-depth case studies in France and Korea.
Adopting Eco-friendly Healthcare Systems
Establishing a National Electronic Prescription System and deploying Electronic Medical Applications: Reducing waste costs by adopting infrastructure for telemedicine can reduce paper use and waste generation
Leverage 3D printing software : Utilizing inexpensive bio-based biodegradable polymers which are alternative to plastics
For more detailed content suggested by Team France, please refer to the attached files!
Thank you :)