새 카테고리6월_중국 내 한국 진출 목표기업의 COP 기반 공공외교 전략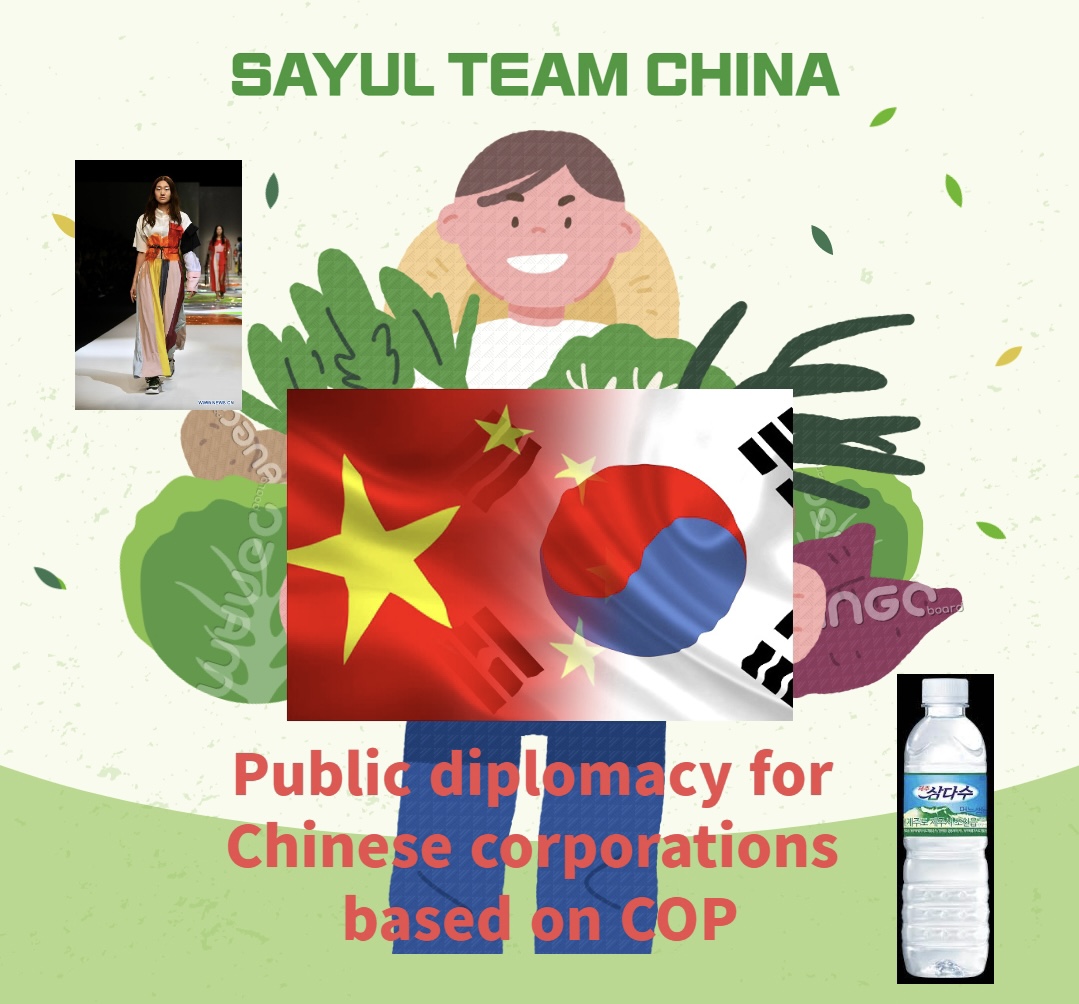 Hello everyone! Team China has discussed public diplomacy based on COP for Chinese corporations to go into Korea. We have mainly three parts as usual: General background for topic selection, action plans for public diplomacy, and expected results we can have according to this plan. We are looking for various corporations in Korea and China to discuss and deal with environments by leading the rest of the countries.
1. Topic selection
'Reclothing Bank' which is widely known as a green company with top-notch technology to turn leather seats and windshields of scrapped cars into garments has cooperated with 'Hyundai Motor Company' to maximise sustainability and eco-friendly value.
The fashion industry in South Korea has gained international acclaim and attracted foreign tourists for its soft power. 'Musinsa', one of the fashion commerce companies in Korea, has revealed its ambition to be a green company by expanding into international markets.
Two pros can be integrated and cooperated between two countries, which emphasise green values across the world.
2. Action plans
There are three main subjects
- Jeju Special Self-Governing Development Corporation (JSDC): They are encouraging the public to engage voluntarily to recycle transparent plastic bottles.
- Reclothing Bank: They have cooperated with Hyundai Motor and produced recycled clothes.
- Musinsa: A corporation which has shown an interest in the environment by opening 'Musinsa Earth' and replacing box tapes for packaging with environmental products.
1) Transparent plastic bottles for recycling collected and sold by JSDC. They promote a production plant that is capable of manufacturing fabric into clothes at the same time.
2) Producing wasted plastic bottles into materials for clothing through mechanical reproduction processes by Reclothing Bank.
3) Advertising and selling clothes gone through the above processes to the public in Korea and China.
3. Promising results
- Environmental:
1) Several wasted plastic bottles can be reused through recycling.
2) When 50 million PET bottles are recycled, 2.2 million pine trees absorb carbon dioxide.
- Economic:
1) Reduce waste disposal costs
2) Chinese corporate profit increases on the rising positive image of Chinese companies in South Korea.
- Political:
1) Expectations of improving relations which have recently deteriorated between the two countries through cooperation.
For further information, please look into the attached files below. Thank you!