새 카테고리6월 독일 내 한국 진출 목표 기업의 COP 기반 공공외교 전략_유럽_독일팀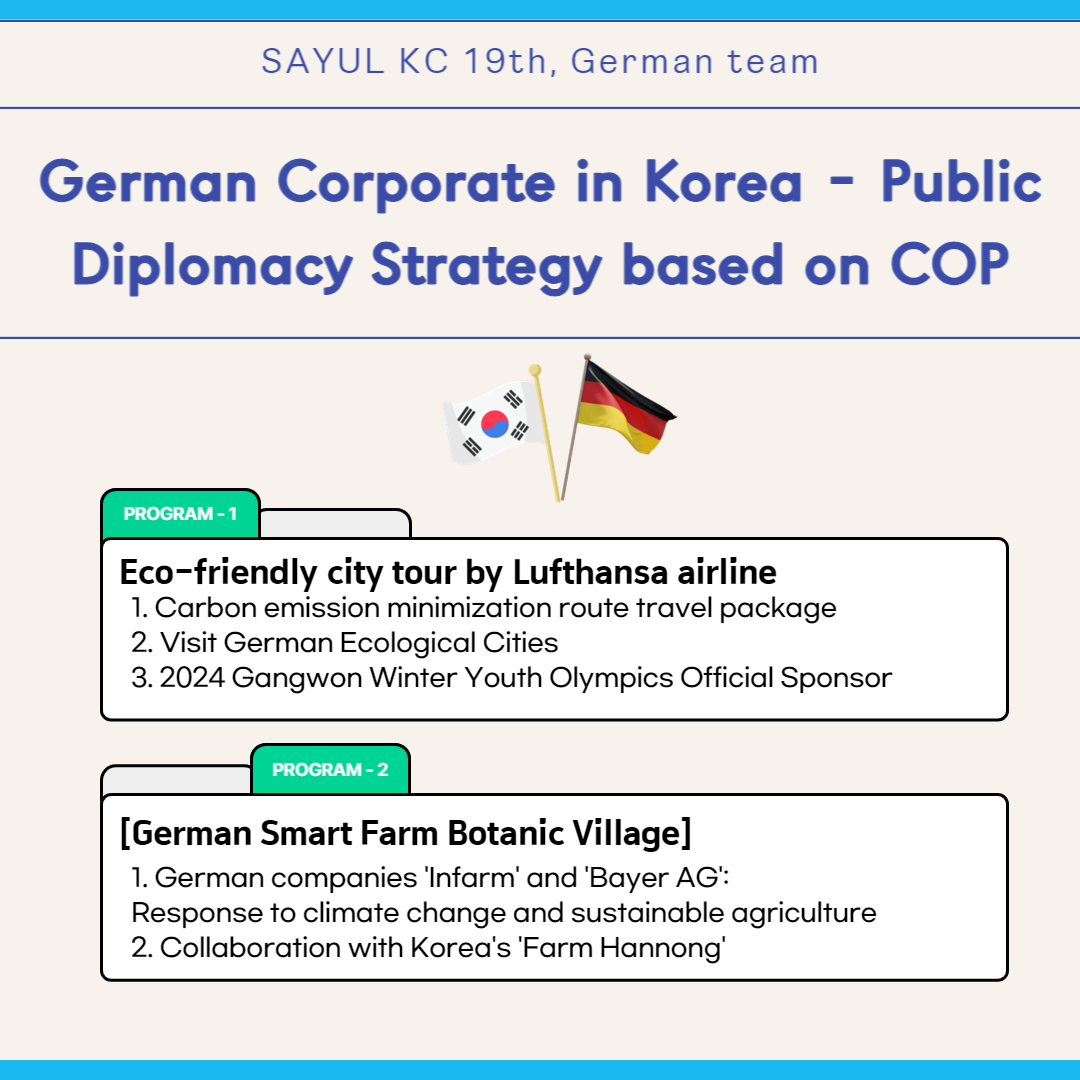 Hello, this is team Germany.
In June, our German team established a COP-based public diplomacy strategy for German corporate aiming to enter Korea. This is largely divided into two: the German Airline's Eco-Friendly Eco-City Tour Program and the German Smart Farm Botanic Village.
1. The German Airline's Eco-Friendly Eco-City Tour Program
1) Provides a Carbon-Minimized Route for German Airline Aircraft
2) Present an Eco-friendly eco-city tour program through cooperation between German airlines and Korean travel agencies
- Introduce 'Freiburg' and 'Ruhr' as representative German ecological cities
3) 2024 Activities as Official Sponsor for Gangwon Winter Youth Olympics
- Promote image of Corporate through voluntary sponsorship support
2. The German Smart Farm Botanic Village
- German startup <Infarm> is the world's first company to introduce vertical agriculture
- <Bayer AG> in Germany is a company that aims for seed protection solutions and sustainable agriculture
→ Through the collaboration of these two companies, the city's plant factories are used as a complex cultural space to raise awareness of smart agriculture in Korea
1) Visiting the Botanical Garden
- Add ICT technology to create an exotic space in the existing botanical garden
- Collaborate with Korean company 'Farm Hannong' to settle in the region
2) Experiential Smart Farm for the public
- Conducting various culture academies and encouraging experienced people to participate in agriculture directly using mini cultivators
- Enhancing people's understanding of Eco-friendly agriculture using data
Thank you.