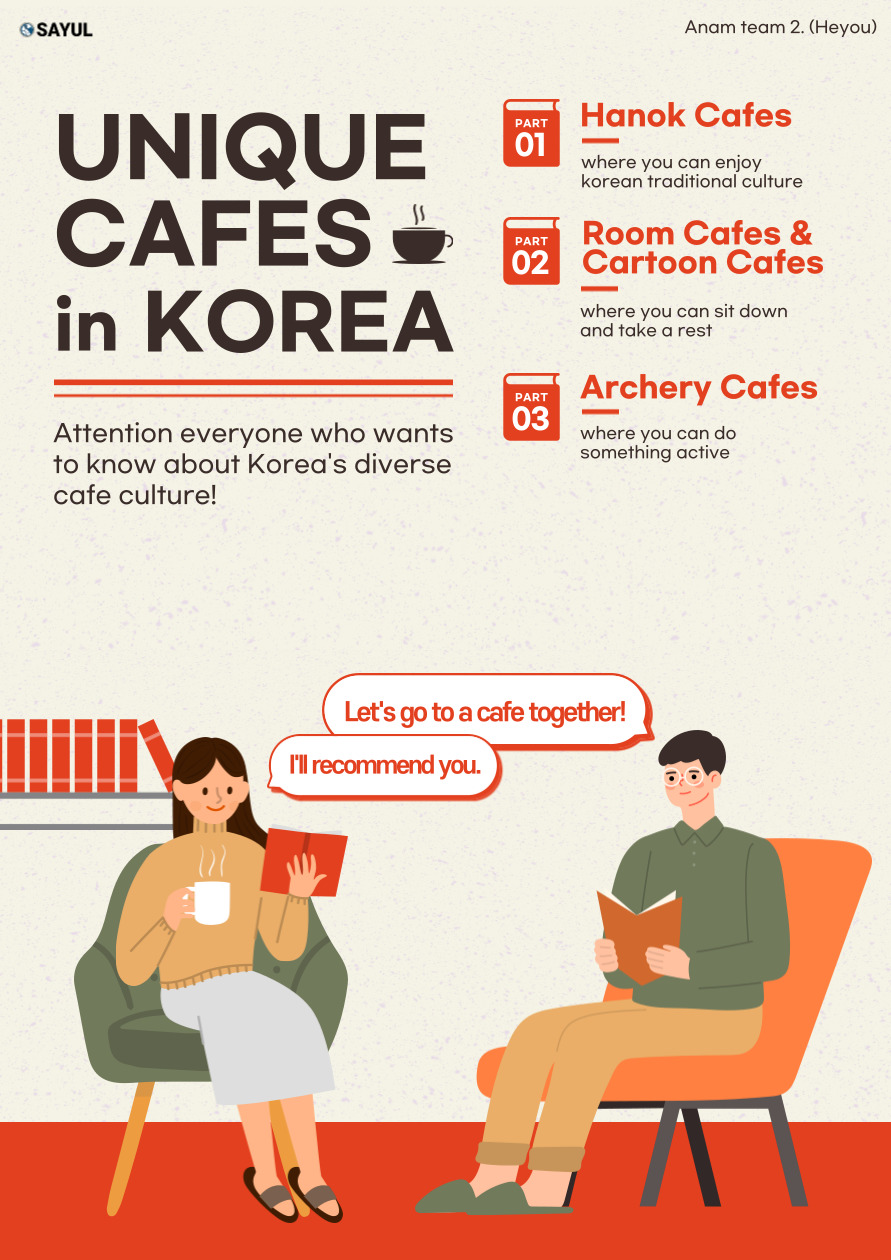 UNIQUE CAFES IN KOREA
Team Anam2 (Heyou)
In Korea, there are various types of cafes, and people can enjoy different activities at each cafe. As mentioned above, 'cafe' in Korea indicates the culture and art complex. Koreans not only drink beverages at cafes but also interact with each other. Furthermore, more and more people in Korea now consider cafes as places to rest and for leisure. Therefore, the functions of cafes in Korea have been expanded. If you visit cafes, you can appreciate concerts or exhibitions, take lectures, and participate in exciting activities. You can also make crafts at cafes. As I explained above, you can think the cafes Heyou will introduce below are the complexes where people savor culture and art.
1. Hanok Cafes
Q. Are there any cafes where I can enjoy Korean traditional culture?
A. Then how about visiting a Hanok café? You can make special memories in Han-ok, the traditional Korean house!
Hanok is an environmentally friendly-built house and displays the naturally stylish atmosphere of Korea. Besides, you can find scientific principles applied to Hanok. For example, the roof of Hanok is designed to adjust the amount of sunlight entering the house. The roof utilizes the altitude change of the sun according to the season.
Hanok cafes usually offer guests traditional desserts and beverages such as Sujeonggwa, tea, and Yakgwa. On the other hand, some cafes provide fusion dishes combining Korean dishes with foreign cuisines. You can have unique and special experiences while trying the fusion dishes.
Within Seoul, Hanok cafes are located in Jonggno-gu andIkseon-dong. You can also visit Hanok cafes in Jeonju, a city famous for its Hanok village, and Busan. How about enjoying the unique charm of the Hanok cafés?
2. Room Cafes & Cartoon Cafes
Q. Is there any place where I can sit down and take a rest?
A. How about room cafes and cartoon cafes? Room cafes and comic cafes are unique cafes related to Korean ondol and sedentary culture.
Ondol is a Korean traditional heating system that heats the entire floor of the room by setting fire to the furnace in the cold winter. Most countries heat the air in a room by heating a stove on one side of the room, but Korea stores heat on the floor to keep the room warm for a long time. In the past, Ondol was called a 'Goodle', meaning 'baked stone'.
Because of Ondol and its heating system, a sedentary has naturally been developed in Korea. In a room, Koreans usually sit on the floor instead of sitting on chairs. Nowadays, Ondol has been developed and inherited as a 'hot water heating system'. Furthermore, Ondol has become and been introduced by the revised Oxford dictionary. In other words, Ondol has been acknowledged its uniqueness and cultural value just like Hangeul, Kimchi, Makgeolli, and Taekwondo. Ondol is so great technology that it has been adopted as an international standard by the International Organization for Standardization (ISO).
At room cafes and cartoon cafes, you can experience the Ondol heating system. Also, you can enjoy delicious food and various games! These days, the cafes provide more and more services such as Netflix, PCs, movies, board games, entertainment devices, massage services, and VR games. If you want to relax in personal spaces, I will recommend room cafes. While if you are interested in cartoons or looking for more open spaces than room cafes, I will recommend cartoon cafes! At room cafes, you can order food. You have to pay the room charge per hour. At room cafes, you can spend private time with your friends and you can use the café as a party room. At cartoon cafes, you can order food, and then the clerk will cook for you. You can have the food and enjoy cartoons conveniently!
3. Archery Cafes
Q. Oh, I see. Then where I need to go if I want to do something active?
A. Let me introduce a cafe where you can play archery games a popular sport in Korea!
Korea has been praised as a powerhouse of archery. Especially at the 13th Bangkok Asian Games in December 1998, Korean players won four gold medals and one silver medal. The players won every game. Korean archery still maintains its reputation now. Therefore, archery is both important and familiar sport in Korea.
At archery cafés, you can not only play archery but also experience café culture at the same time. There are 3 types of archery: targeted archery, outdoor archery, and indoor archery. You can enjoy indoor archery. So, you don't have to worry about the weather and you can play games even at night. You can visit the cafes with your families, loves, and friends. Anyone will be welcomed. Archery is a game where you compete for victory counting the scores after shooting bows at a target from a certain distance. It's fun and you can bet with archery points! Also, you can enjoy beverages and coffees!
Before playing the games, you have to wear archery equipment. Then you need to learn archery safety rules and basic postures from experienced instructors! During the game, you will receive 30 arrows and have to shoot 3 shots in each round. You have to shoot the arrows from 18meters away from the target. After the shooting, calculate the total score and find who is the winner. There are archery cafes in many areas of Seoul, such as Myeongdong and Hongdae. If you are looking for active play-cafes, I will recommend archery cafes for you.
References
1.https://academic.naver.com/ 2.http://hanok.jeonnam.go.kr/ 3.htmid=jeonnam_hanok/build/
4.https://science.ytn.co.kr/ 5.?s_mcd=0082&s_hcd=0022 6.https://encykorea.aks.ac.kr/