새 카테고리WISE LIFE OF KOREAN UNIVERSITY : CHAPTER 'AGE''
WISE LIFE OF KOREAN UNIVERSITY : CHAPTER 'AGE''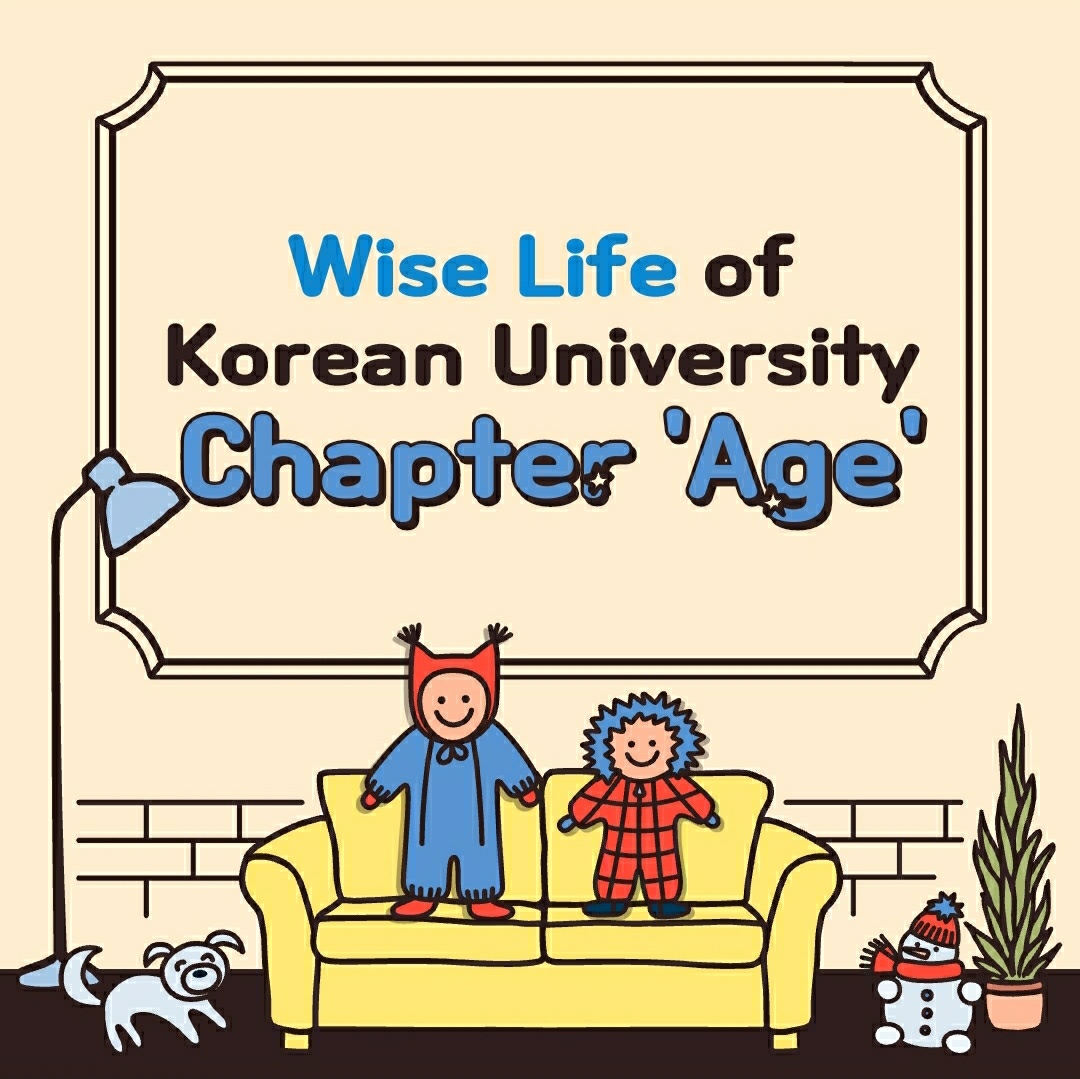 1. Q: What is Gisuje(기수제) and Naije(나이제) in university clubs?
A: In Korea, age is the normal standard to use proper language styles (talking down or honorific) and designation each other. Based on this Korean culture, some of clubs make rules related to designation. The rule can be divided into 'Gisuje(기수제)' and 'Naije(나이제)'.
'Naije(나이제)' literally means designation and language style are stated based on the 'age'. For example, imagine there are student A (age 20, 19 class) and student B (age 21, 20 class) in same club. Then, student A joined the club in 2020 while student B entered the club in 2021.
If the club follows 'age', regardless of classes, A should use honorific to B because A is younger than B. Also, expressions such as Hyeong(형), Oppa(오빠), Nuna(누나), Unnie(언니) are used.
Reversely, 'Gisuje(기수제)' is classified according to the 'class', which means the time when the student joined the club. Let's keep the examples of student A and B here too. Although B is older than A, A joined the club earlier than B. Then, B should use honorific to student A. To sum up, if the entrance time is earlier than others, the latter should use honorific to the former.
However, 'age' and 'class' naturally changes based on the relationships. Also, nowadays, regardless of age and class, all the members use honorific at the first time to respect each other.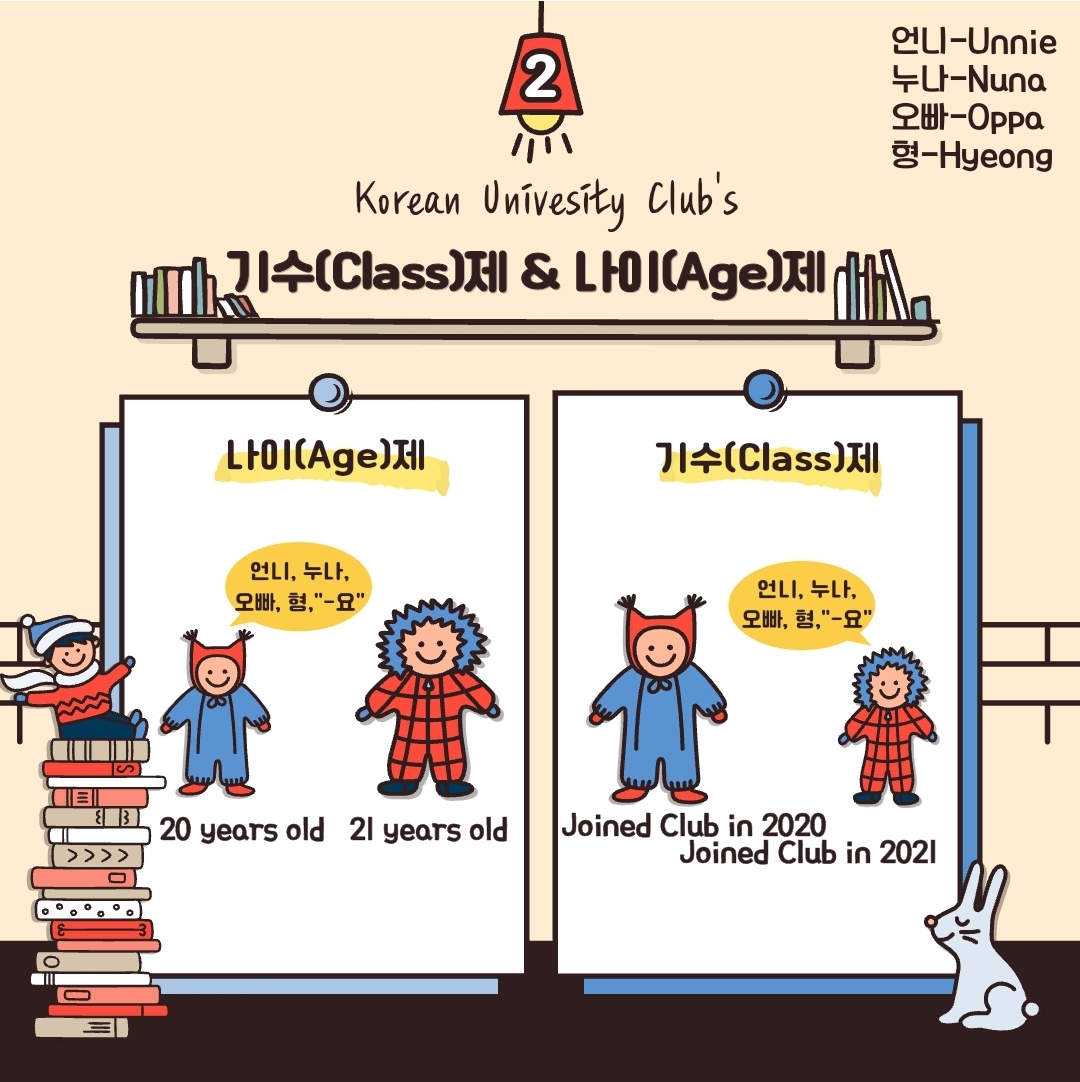 2. Q: What is the 'Ppareun neonseng(빠른 년생)' age system in Korea?
A: In Korea, there are people called 'Ppareun neonseng(빠른 년생).' Ppareun neonseng(빠른 년생) refers to people who entered school one year earlier than other classmates. That's because they were born in January or February and it is sometimes beneficial to enter elementary school early that starts in March. However, as the education law was revised from 2009, the standard of admission was changed to December, and Ppareun neonseng(빠른 년생) was abolished from 2003.
Q: So, how should we treat 'Ppareun neonseng'(빠른 년생) ?
A: There are no specific rules, but we implicitly use the expression "Unnie(언니)" and "Oppa(오빠) " for Pparen neonseng(빠른 년생). What's different from other seniors is that for Ppareun neonsseng(빠른 년생), most of students only use the expressions such as 'Unnie(언니)' and 'Oppa(오빠)', but don't use honorifics. Depending on individual, some of them remove the rule of Ppareun neonseng(빠른 년생) by themselves after entering college.
3. Q: In Korea, how should we call people who are among the same class but in different ages?
A: Like other countries, in Korean universities, there are various people with different ages in the same classes. Especially, there are lots of students who took entrance test several times, which makes various ages.
Korea is the country where people relatively focus on the age system. Therefore, in university, designation is set depending on the age. Although we are in the same class or in the relationship of freshman and senior, normally the younger person uses 'Unnie(언니), Oppa(오빠), Nuna(누나), Hyeong(형)' to the elder person.
It is normal to start the conversation using honorific in the first meeting. After the self introduction, people establish designations or language styles and it depends on personality or relationships. If you want to talk with others intimately, how about starting the relationship with the introduction, 'Let's be easy together'.