새 카테고리WANT TO MAKE FRIENDS IN KOREA? HERE'S HOW!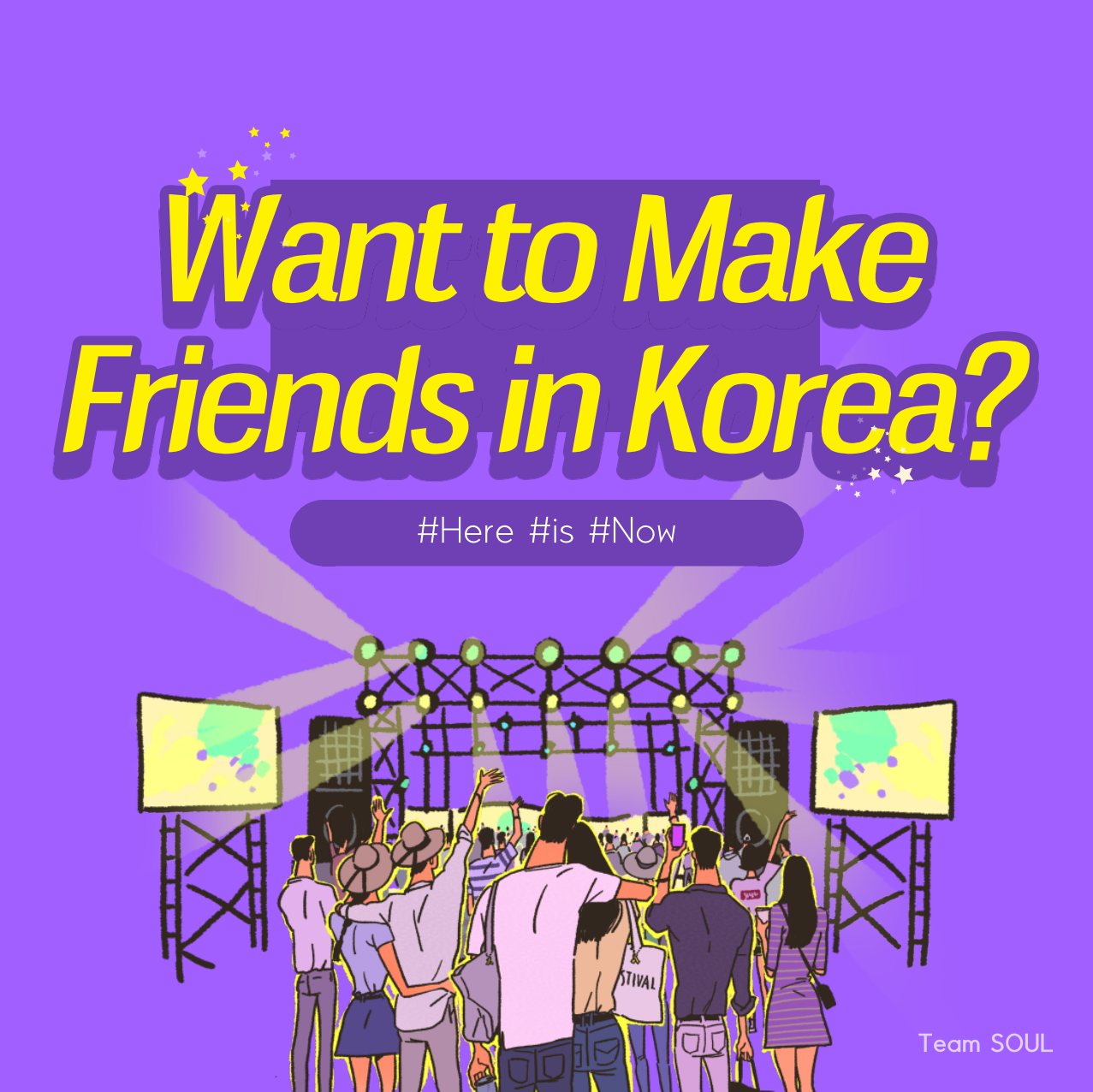 <Want to Make Friends in Korea? Here's How!>
Are you living in Korea now? Or are you planning to come to Korea? To enjoy Korea properly, I recommend making Korean friends! However, when you come to Korea, you may be at a loss as to what to do if you want to hang out with foreigners or Korean people! There are many Koreans who want to interact with foreigners! Did you know that? So, we will introduce you to school and suburban activities that you can get close to Koreans through this QnA!
Q1. I want to make Korean friends. However, there isn't a lot of opportunities to interact with Koreans. How can I meet them?
There are a lot of ways to meet many Korean friends at school. First, you can interact with Korean students through clubs. For example, there is a touring club for foreign students. The touring club provides opportunities to travel to various attractions in Seoul with foreign students. Students can make unforgettable memories and build relationships with each other by doing various activities. Foreign students and Korean students who couldn't meet each other even if they were in the same school because they didn't have a point of contact will be able to talk about various things and have a deeper relationship through travel, right?
In addition, Korean and foreign students can participate in discussion competitions or workshops together through clubs such as English discussion clubs, so they can build knowledge and relationships, and even win prizes, so three birds with one stone!
Also, there are clubs that make students exchange culture and socialize with foreigners living in Korea. It aims to meet with exchange students regularly who come to domestic universities, hold flash gatherings and parties together, enjoy Korean culture, and build friendships beyond nationality.
Besides, if there is an "International Exchange Office" on campus, various programs are conducted by the student council under the International Exchange Office to connect foreign and Korean students. To help foreign students adapt, mentoring or one-on-one matching programs with Korean students are also being held on campus, and holding various events, providing many opportunities for Korean and foreign students to meet.
There are also several ways you can make Korean friends out of school. The first one is through school festivals. School festivals are one of the things university students in Korea await, as there are lots of attractions, celebrities come to perform, and because they can meet a lot of people. Even if you are not a student of the university, you are free to enter in their festival and enjoy. There are places to eat and drink, called jue-jum (주점), and there you can meet new people. You can think of it as a bar that students run in the festival season, and as most of the people there are open, they might say hello first or will greet you kindly if you talk to them. There are actually a lot of cases where foreigners meet Korean friends in the festival.
Another way to meet Korean friends is through outside activities. There are a lot of clubs and organizations that host outside activities, like doing volunteer work, running, taking pictures, riding bikes, etc. As the people there will share the same interests with you, it is way easier to become friends with them. While doing various activities together, you might be able to make a BFFL (best friends for life)!
Q.2 What are some activities that I can enjoy with my new Korean friends?
I can think of a lot of things. I will tell you four activities Koreans enjoy.
First! You can go to PC Bang. PC, as you already know, stands for personal computer and 'Bang' is a Korean word that means 'room'. Literally, it means PC room. Can you guess what kind of place it is?? Yes. It is a place where you can hang out with your friends playing computer games! PC Bang offers high quality computer, keyboard, mouse and headphone. It also provides fastest public internet speed in Korea. Korea already is one of the fastest internet countries in the world, so imagine how fast it will be in PC Bang! After playing hours of games, you and your friends will probably get hungry. You don't have to go outside to look for restaurant and come back. You can simply choose what you want to eat from your seat and the clerk will deliver you the food or snacks you ordered.
Second! You should go to Coin NoRae Bang. As you just learned, 'Bang' again means 'room'. Then what does 'NoRae' means?? It means 'song'. A Coin Song Room?? You have any idea what this place is?? I would say it is something like karaoke, but way cooler. Karaoke is a place where people sing in the middle of others with a standing microphone. Coin NoRae Bang is nothing like that. You have your own private room and your own microphone! You go into the room, alone or with other friends, choose a song that you hummed during shower, and sing. It might sound embarrassing at first, but once you get there, you will see a lot of terrible singers risking their voice to finish the song. You will feel comfortable. It is not a place to show off your singing skills. It is where you go to release stress and have fun.
Third! You've probably heard about Korea's famous Han River. One of the most popular activities for Koreans is to go visit the various Han River Parks located all around Seoul. The most popular parks are Yeouido Park, Ttukseom Park, and Banpo Park. Then what can you and your Korean friends do? People order delicious meals through Korea's food delivery service and have picnics will speculating the peaceful river and its atmosphere. What if you don't have the equipment to have a picnic? No worries, there are numerous picnic equipment rental shops near Han River Parks. If you want to do something more active, renting Seoul bikes, otherwise known as "따릉이s" are available. Bicycle paths are located alongside the Han River, so that bikers can enjoy a river view as they glide allow with their acquaintances. Han River Parks are the perfect place to hang out with your Korean friends, so excite them by asking them to go their together before they ask you!
Fourth! After having a nice meal, most Korean people enjoy going to Cafes right after. Then why are cafes so popular? Cafes will give you the opportunity to get to know your new Korean friends because its atmosphere is perfect for chatting. Also, there are many beverages starting from various types of coffees to smoothies, tea, and aides. Exotic desserts are also what make Korean cafes special. Recently, croiffles (크로플), croissant bread baked in the shape of a waffle and topped with ice cream and syrup, have grown extremely popular among both Korean and foreigners. Not to mention various Café themes! Why don't you head off to a famous café with your new Korean friends and get to know each other better?
We've talked about how foreigners in Korea can get closer to Korean friends. Though it may be a bit hard to make friends now because of COVID-19, if you try these tips here, you sure will be able to get along with a lot of Korean friends. Hope you can enjoy your time in Korea! Good luck 😊