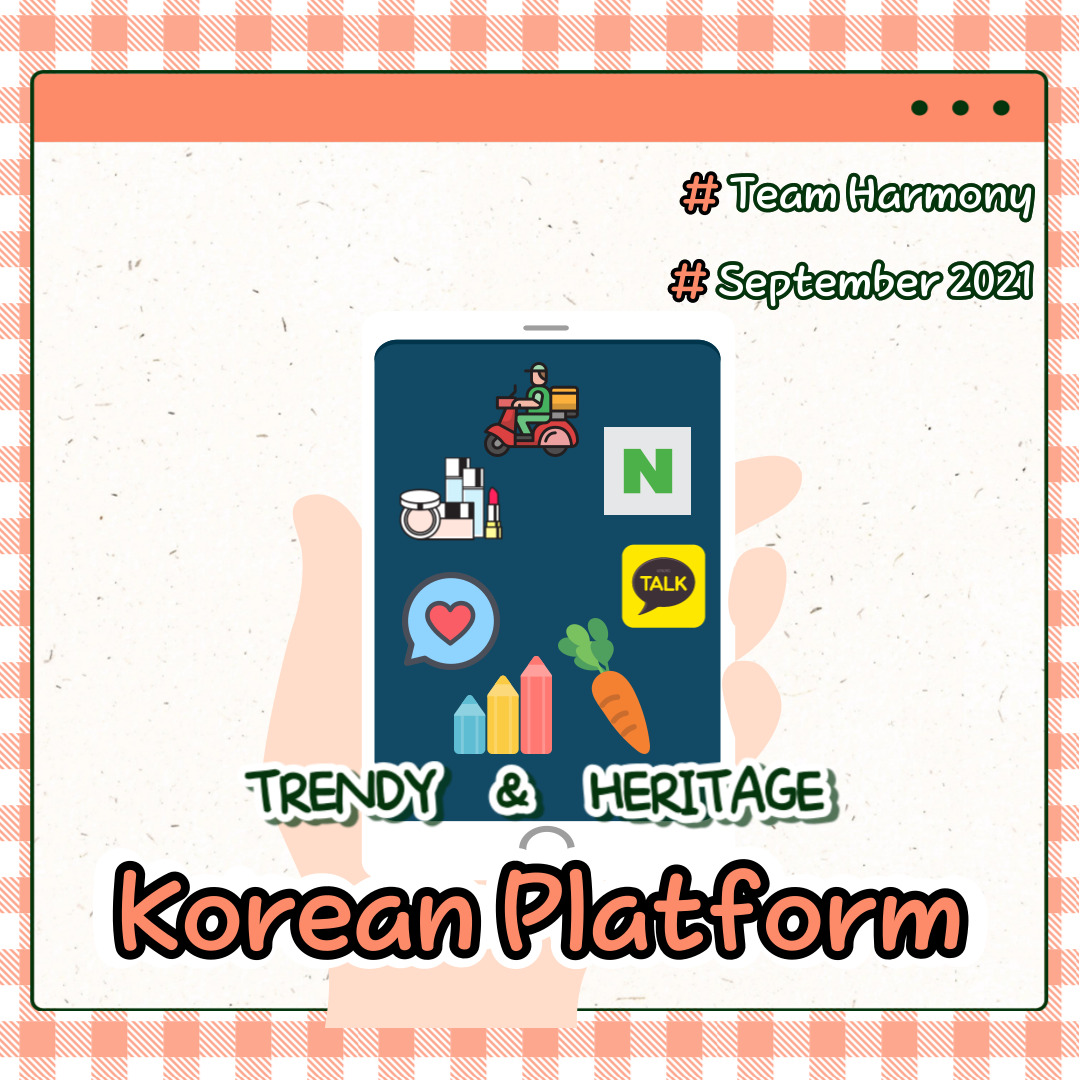 Hello everyone! We are team Gwanak 2 of SAYUL KOREA CLUB!
Today we will introduce [Trendy/ Heritage of Korea – Korean Platform
In Korea, there are various and unique platforms that can be easily accessed in fields such as culture, study, delivery, and finance, etc. Through this, people are getting a lot of help and information. Shall we find out together?
The first is 'hwahae' in the cosmetics field. This platform can be seen as a platform that can receive a lot of help because it explains whether there are any ingredients that can cause allergies to certain cosmetics and whether they contain suitable ingredients for each skin type. There are also various services such as vivid reviews, best product rankings, and 'Kkompyeongdan' (Detailed Review Evaluation Team), which requests you to write reviews in exchange for receiving products free.
The following is the delivery platform 'Baemin/Yogiyo/Coupang Eats'. During the COVID-19 period, the degree of ordering at home is increasing rather than going out and eating. Accordingly, Korea's delivery culture is gradually developing. Therefore, you can receive most of the food, such as Korean food, snacks, and desserts, within about an hour. You can choose a store through reviews and ratings, and sometimes you can get discount coupons.
Next, I would like to introduce Naver and Kakao, which are the two top Korean platforms.
First of all, Naver is the largest portal site in Korea, and in September 2020, Naver's share of the domestic search portal in the full category ranked first with 61.46%. In addition, Naver offers maps, dictionaries, AI translators Papago, and webtoons. It is drawing attention as it recently acquired a 100% stake in the world's No. 1 web novel platform "Watpad."
Next, Kakao is achieving tremendous growth by expanding its field to Kakao Talk, Kakao Map, Kakao Bus, Kakao Taxi, Kakao Subway, Kakao Bank, and Kakao Pay. Kakao is also showing Kakao's potential by merging with Melon, a music streaming platform. As a result, Kakao has more than 100 affiliates.
Next is the local community, 'Danggeun Market'. It is a used market that allows local residents to buy and sell used goods without packaging or delivery costs. It is equipped with the local authentication system that allows them to safely trade. Also, it has a manner system that check actual manner through manner temperature, transaction reviews, etc. Feel free to trade through 1:1 carrot chat!
Next, I would like to tell you about the academic platform "Yeolpoomta." "Yeolpoomta" is an abbreviation for passionate timers and has various functions such as stopwatch, study planner, group function, and national category ranking, so you can be stimulated in studying and identify your study time, and prevent touching your phone by banning other apps during measurement. It shows the ardor for study of Korean students.
Finally, I'd like to introduce 'Between/Date Pop', a unique platform that is used by lovers. Through a couple app 'Between', photos, videos, diaries, and memos are all remembered even if you change your phone, so you can share memories and use a calendar both share. A dating course app 'Date Pop' recommends a dating course and offers first-come, first-served discount events along with advices from couples who have been to the course in person, so you can look forward to a satisfactory date!
We've introduced a variety of platforms of Korea so far! I hope you get a lot of help using these platforms~