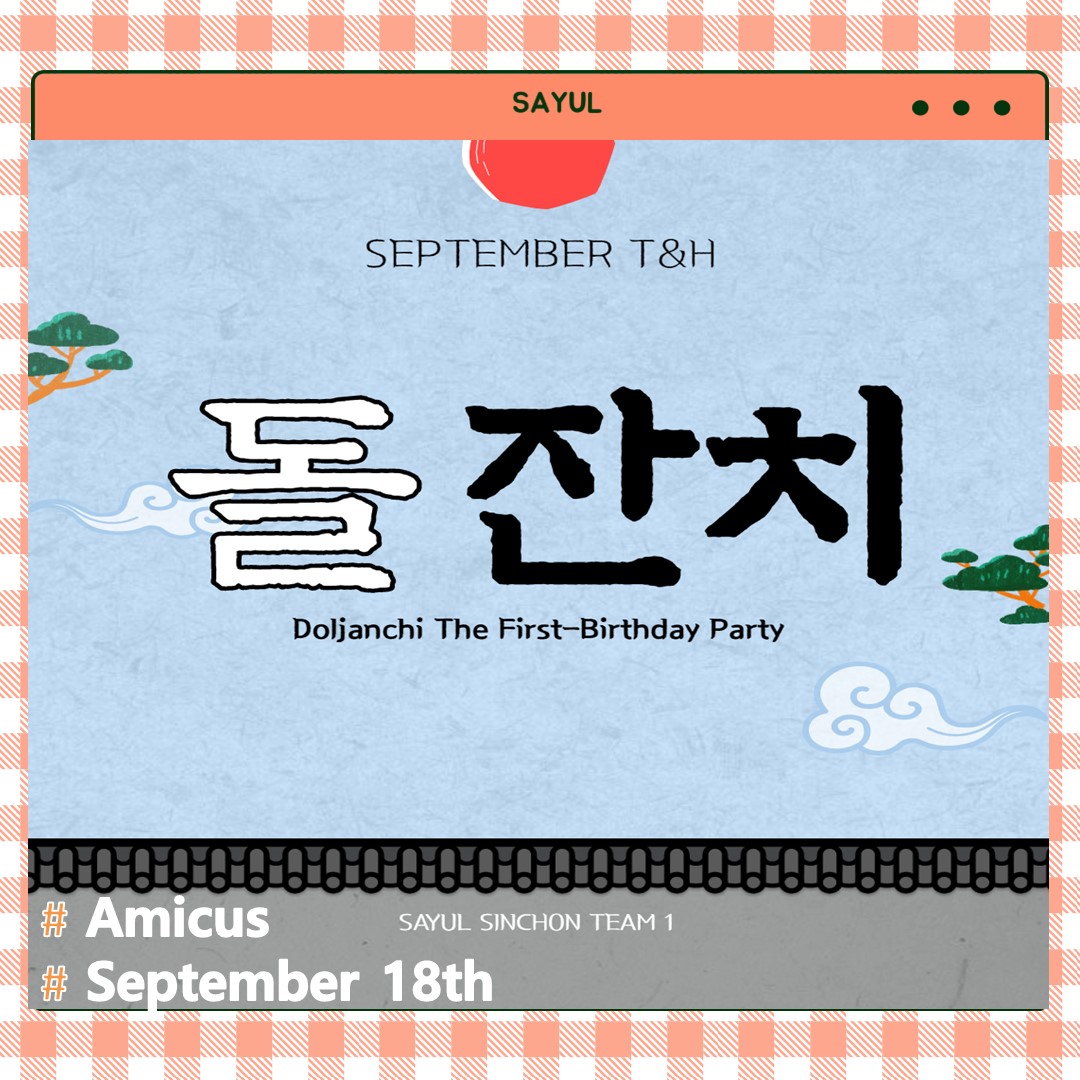 Hello everyone~! We are Sinchon Team 1 Amicus. How much do you know about South Korean culture? Or have you heard of doljanchi culture? We will introduce Korean doljanchi culture.
1. Simple description of doljanchi culture
What is 'dol'? It is the first birthday of baby who is just one year after birth or it means the baby's age. By the way, why was doljanchi culture implemented? In the past, as the infant mortality rate was high, it was celebrated that the child reached the first birthday safely. Therefore, doljanchi has been implemented to celebrate it and to pray for long life. This is the reason for implementing doljanchi. When implementing doljanchi, our ancestors used to take doljabi to foretell which fate the babies would take in the future. Also, there is an argument that doljanchi is held as a method to announce that a baby become a member of society by revealing the baby to close relatives and neighbors.
2. The composition of dolsang and table setting
Dolsang is a table setting on which foods and objects are placed at the party. It is divided into small table and large table. First, small table is a table setting on which doljabi items are placed. Second, Large table is a table setting on which doljanchi foods and various items are placed. Specially, placed items have a symbolic meaning on the large table. 1) Bundle of white threads: health and longevity 2) Fruit piled high: prosperity 3) Rice cake: baekseolgi means beginning of sacred and pure life; five-colored songpyeon means association with life of others and environment and if it is empty inside, it means being generous to others, however, if it is full inside, it means full of knowledge and wisdom; susupat-tteok means evasion of bad luck and omen. 4) Five-colored silk pouch: active life 5) Pile of dates: happy life with family together 6) Buttercup tied to a thread: the meaning of vitality (watercress or parsley is also available) 7) Red and blue thread: the meaning of a harmonious and happy marriage.
3. The meaning of doljabi items
Doljabi is a custom to predict the future by putting various items of a table and seeing what the baby picks up. When the baby picked up one of various items, our ancestors forecasted the baby's personality, lifespan, wealth, and potentiality. Doljabi is propagated from the Joseon Dynasty to the royal family to the nobles and the common people. Although doljabi is similar to past and present, there is a little difference. First, In the past there were doljabi items that consisted of bows, skeins of thread, mapae, luck bags, and obangseak thread, etc. If a boy grabbed a sword or a bow among them, he was considered to become a military officer or a general. Otherwise, if a boy picked up a book, ink, or a brush, he was considered to pass the exam and become a post. Also, it was supposed that if he picked up rice or money, he would become rich. Moreover, if he picked up the threads and noodles, he was considered to live a long life. Furthermore, dates(jujube) symbolized many descendants in the future and if he picked up rice cakes first, he would be foolish. Finally, it was expected that if a girl grabbed a sewing tool, she would be good at sewing. Second, in the present doljabi objects have changed over time. Items that have changed from the past include microphones, mice, and stethoscopes, etc. For example, if he or she picks up a microphone, it means that he or she would work in the IT industry. These days, cards are often put on the table instead of money. Not all the doljabi objects have changed through. The ideas that picking up a book will make the baby a writer or a scholar and that picking up a pencil will lead the baby to a teaching career or to excel in his or her studies are very similar to the custom of doljabi in the past.
Have you learned much about doljanchi culture in South Korea? I hope you guys understand Korean culture well through this post. Thank you!