새 카테고리Changes during the Korean time of Enlightenment
Hello everyone! We are team Anam 2 of SAYUL Korea Club, 'BRIDGE'.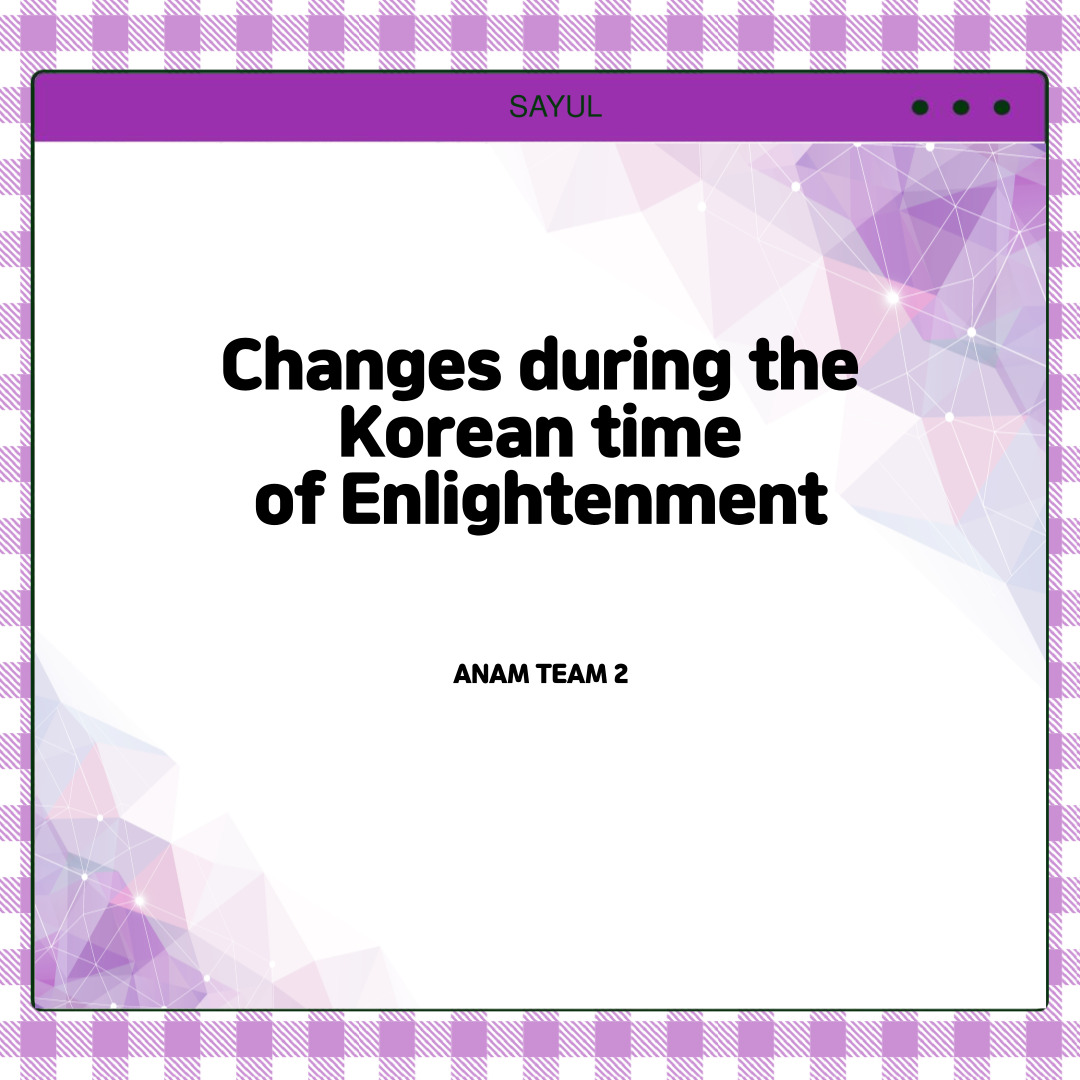 Today, we will introduce you some changes that took place during the Korean time of Enlightenment.
First of all, what is 'the Korean time of Enlightenment'?
It was a threshold period during the late Joseon Dynasty when status system was first legally abolished in Korea, and western culture had greatly modernized the daily lives of Korean. However, the enlightenment had lacked independence and had limitations in that it heavily relied on Japan
Then let's learn about some 4 major changes during this period!
First, the first telephone 'Duk-ryul-pung(덕률풍)'.
It's The written form of 'telephone' in Chinese characters as it is pronounced. (Also called as 'Dari-pung' or 'Jeon-eo-gi'.) Since the king ordered administrative works over the phone, telephone soon symbolized the king to the servant. Therefore, whenever the phone call rang, servants had to bow to the phone four times. Moreover, they had to answer in a kneeling position to show respect to the king's voice.
Second, the railroads. 3 railroads were built during this time: Gyeongin Line(경인선), Gyeongbu Line(경부선), and Gyeongui Line(경의선).
Gyeongin Line: Korea's first railroad, connecting Seoul and Incheon
Gyeongbu Line: To few elites, it symbolized the progress or new culture. However, it was a symbol of pain and humiliation to most the people.
Gyeongui Line: Used to prepare war by Japan. It aggregated the sufferings of Joseon people such as labor requisition and human rights violation
Since all the railroads were made by Japan whereas all the capital and labors came from Joseon, railroads symbolized the selfishness of modern culture to Joseon people.
Third, matches.
Joseon people had originally used flints to make fire. However, since it was difficult to make fire by flints, Joseon people were fanatic to the convenient matches. Furthermore, the usage of petroleum lamp had gradually increased.
Finally, new clothing styles.
Modernization led to a period of cultural transition. The traditional style of clothing had changed during this period as western clothes had been gradually introduced. The enlightenment party and 'modern-girls' played major roles in leading these changes.
More and more people began to wear western suit instead of hanbok. Some people had even worn modernized style hanbok. More people had begun to wear hat and western shoes instead of 'gat(갓, Korean traditional hat)' and 'Jip-sin(짚신, Korean traditional straw shoes)'. Also, they could try freer hairstyle. (Both males and females cut their hair. Western missionaries in girl's schools even spread short clothes (school uniforms) that are suitable for outdoor sports activities such as running and tennis.
Most of the well-known outfits during the enlightenment period, shown in K-dramas or movies, are 'modern boy', 'modern girl' styles during the Japanese colonial period.
Nevertheless, there's a problem that should be clearly addressed.
We should clearly distinguish the Enlightenment period and the Japanese colonial period, based on the Japan-Korea Treaty of 1910. (The Enlightenment period starts from the Japan-Korea Treaty of 1876 and ends in 1910.) Considering that the Enlightenment period had preluded the colonial era due to the forced open-door policy by Japan, we can't just express it as 'the Romantic Age'.
However, many mass media tend to express the Enlightenment period as luxurious and romantic era. Therefore, we should try to view our history and culture in critical perspective and disseminate the right historical view!
Thank you for your reading :)