새 카테고리17기_독일팀_SDGs 달성을 위해 활용가능한 문화적 요소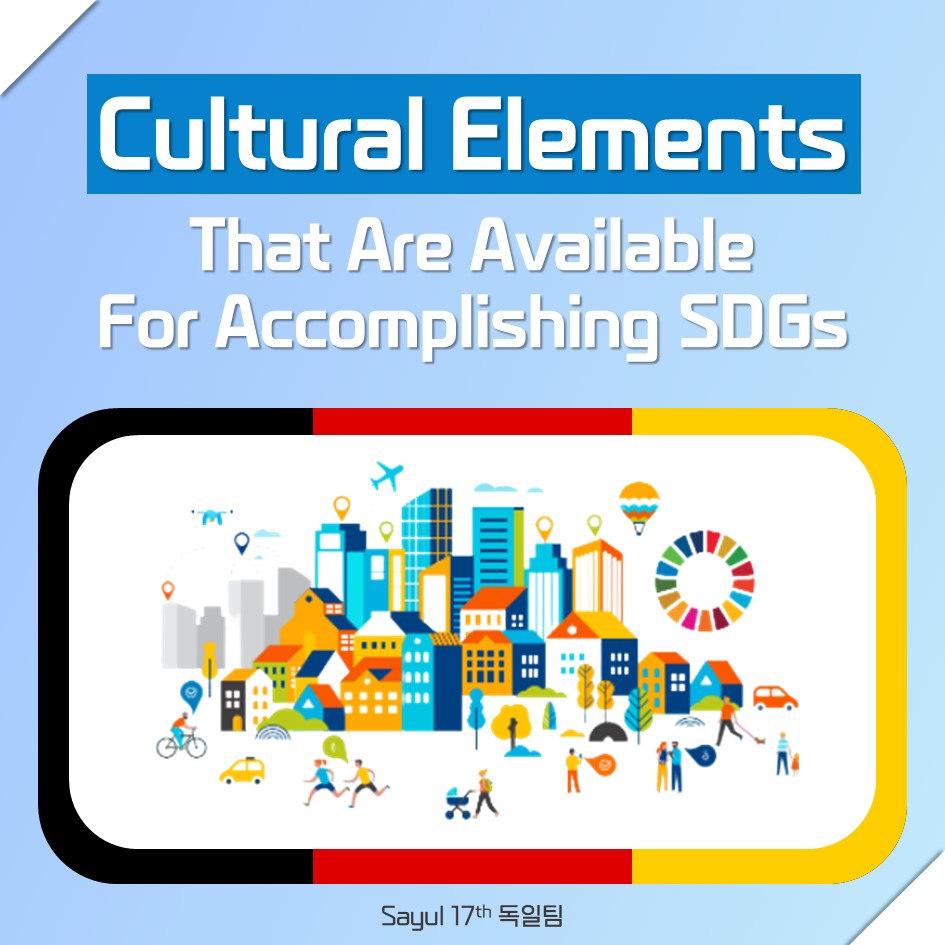 Hello Everyone.
This is Team Germany of SAYUL KC club
This month, our team has discussed Cultural Elements That Are Available For Accomplishing SDGs in Germany.
1. UN Adopted SDGs(Sustainable Development Goals)
The world causes problems of deepening polarization, destruction of the environment, and damage to the local community because of economy-centric development without considering culture.
Still, it is tended to approach focused on environmental issues, and culture is relatively less dealt with.
So it pursues sustainable values that should be applied all over the areas of national policies like economy, society, and environment.
2. Flow of Cultural discussion in Germany
Nowadays one of the main purposes of German cultural policies is to allow people to participate in enjoying the cultural art as much as possible.
As a result, the concept of sustainability used these days was established through Brundtland Report in 1987.
Also, The announcement "Culture and Art for Sustainable development" was declared at a cultural policy meeting in 2006.
3. Cultural Policies SPD(the Social Democratic Party) of Olaf Scholz, the New German Chancellor
He is going to make the 'cultural agreement' about new missions and procedures of cultural policies with the region, main government, federation, culture creators, cultural association, and citizen representatives. They are trying to specify the culture as a national goal on fundamental law.
4. Cultural policies in Germany - Sponsorship
Cultural art in Germany has been developed by strong sponsorship by the city government and local community for a long time.
5. Musikschule
Musikschule is usually operated by the city. If you have any musical instruments you want to learn, you can join the program by paying the half of lecture fees and borrowing a musical instrument.
One of the important programs is the musical instruments rental policy.
6. Germany respects cultural diversity.
In Germany protecting and stimulating the diversity of cultural expression is the basis of the cultural policies of the federation and local government.
Their overall goal is to guarantee the free development of art and culture and to allow every citizen to approach them.