새 카테고리파리협정에 대한 정책 시행 성과 사례_Europe_독일팀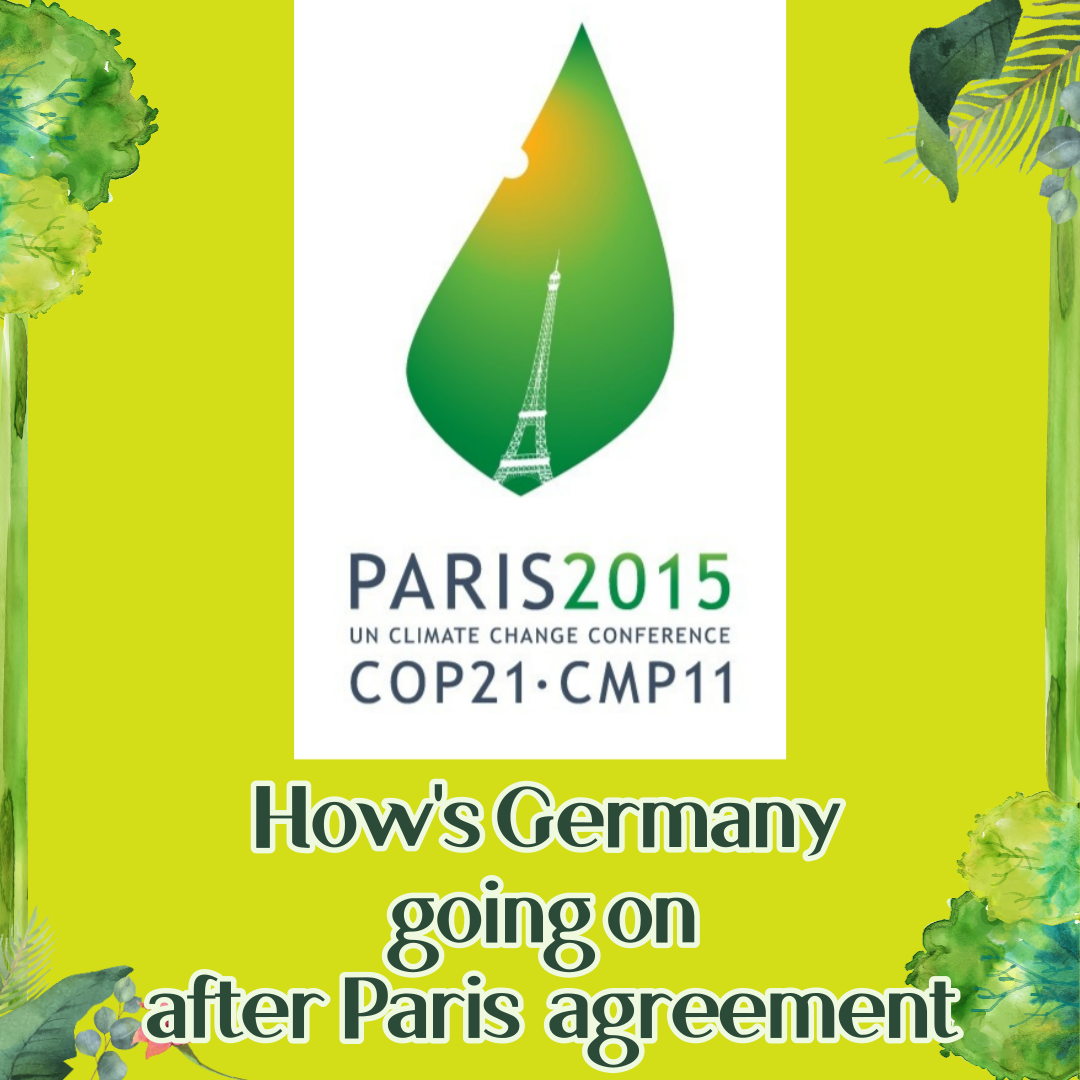 Hello everyone~!
This is the Germany team from SAYUL, Korea Club.
This month, our team has discussed How's Germany going on after the Paris agreement.
1. What is Paris Agreement?
The Paris Agreement is adopted in order to prepare the new climate system, in view of problems of the Kyoto Protocol and endpoint at COP21 in 2015.
It is a worldwide agreement to reduce greenhouse gas for preventing global warming, and the first climate consensus for the global society to cooperate.
2. What is the most important thing in the Paris Agreement?
The reduction duty, the most important thing in the Paris Agreement, depends on NDC submitted by each country individually.
It is also called the bottom-up approach in the sense that the country concerned determines itself and submits it.
3. What are the plans for Germany after the Paris agreement?
After the Paris agreement, Germany has made 2 plans
3-1 The Climate Action Plan 2050
Firs plan is The Climate Actin Plan 2050.
Germany's goal is to declare a greenhouse neutral country until 2050
Germany should reduce more than 55% of greenhouse gas emissions compared to 1990 no later than 2030.
3-2 The Climate Action Program 2030
The second Plan is The Climate Action Program 2030.
Germany announced 'The Climate Action Programme 2030' in 2019.
They are planning to make it in the field of energy, transportation, architecture, and agriculture, investing 50 billion euros in total.
They've also carried out 'carbon pricing' since 2021 in order to induce low carbon fuel consumption. And Lower the 0.5%~0.25% of taxes when it comes to buying an electric car which costs under 40,000 euros Also Operate the carbon emission extra fee (CO2-Aufschlag) according to the carbon emission of trucks in 2023
Lastly, Manage the innovation fund in order to develop the NER300* program more so they can supply the low carbon process development
Thank you for reading our team's result.