새 카테고리COP26(NDC) 결과요약_Europe_프랑스팀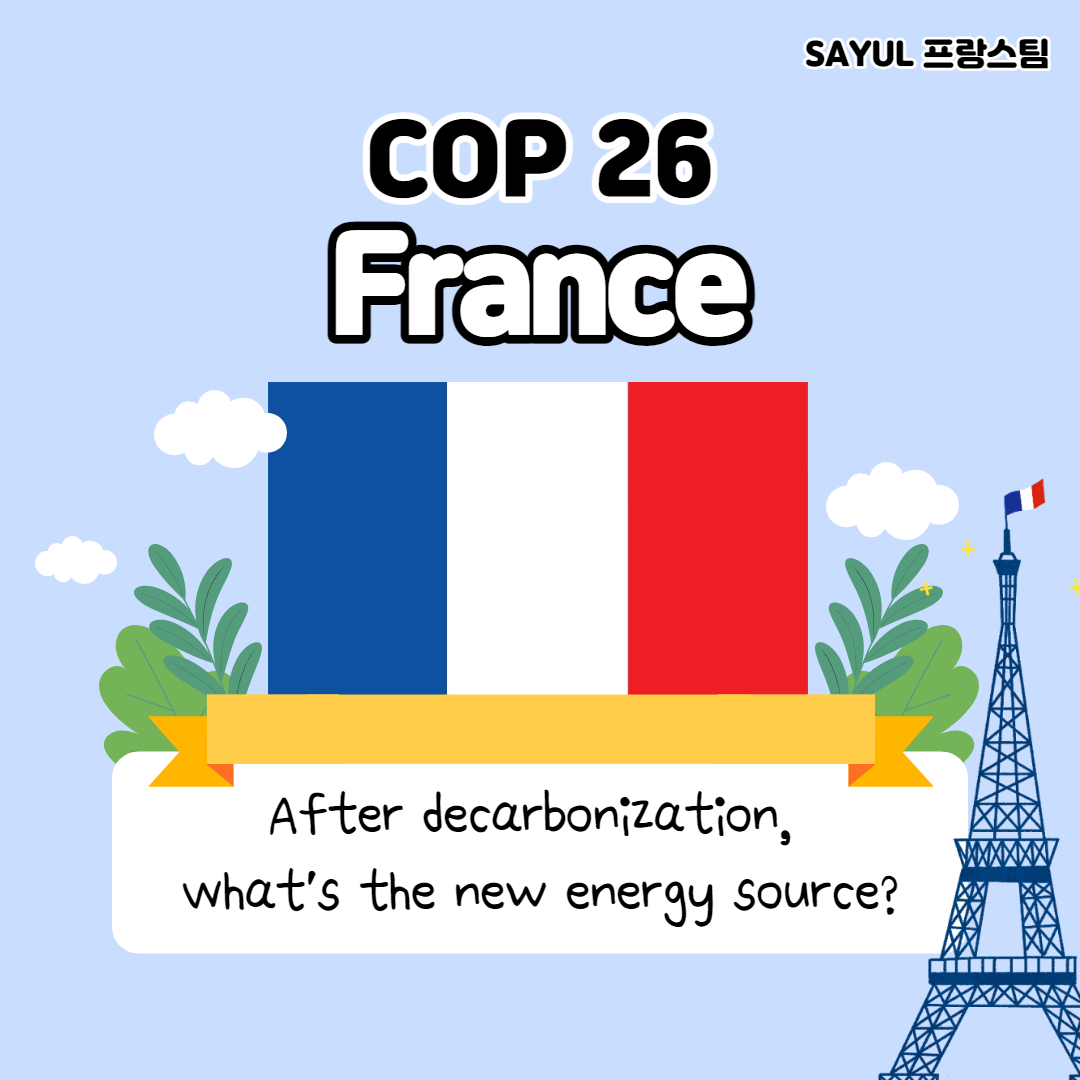 Hi, we are France team.
We investigated France's position on COP26, and learned about France's new energy source after 'Decarbonization'.
France announced a ban on plastic packaging, suspension of deforestation, and Fit for 55, starting with reducing the use of fossil fuels such as oil, coal, and methane, suggesting nuclear power and green hydrogen as new energy sources.
1. How will the use of fossil fuels be reduced?
First, France joined the international "BEYONDOIL & GAS" alliance.
In order to reduce coal use, France, the UK, the EU, the United States, and Germany agreed to provide $8.5 billion in aid to South Africa's abandonment of coal.
It promised to reduce greenhouse gas emissions to less than 30% by 2030 to reduce methane emissions.
2. No plastic packaging allowed.
To reduce plastic usage, plastic packaging for most fruits and vegetables will be banned from January 1, 2022, mandatory installation of drinking fountains in public places and plastic packaging in publications such as books. In addition, fast food restaurants are prohibited from providing plastic toys.
3. Prevent deforestation.
It announced that it will stop deforestation by 2030.
4. Fit for 55
Fit for 55: The EU's policy to reduce greenhouse gases to 55% of emissions in 1990 in 2030 consists of the Carbon Border Adjustment System, Carbon Emission Transaction System, and Regulation Strengthening on Internal Combustion Engine Cars.
Carbon Border Adjustment Mechanism : A system that imposes taxes when importing products produced in the EU region if they emit more carbon than products in the EU.
Emission Trading Scheme : Extending its scope from the existing carbon emission trading system to shipping, building, and road transport sectors.
Get out of internal combustion engine cars : Elimination of internal combustion engine cars
5-1. Energy of the future _ Nuclear power
France currently relies on nuclear power for 70% of its electricity production. Accordingly, France is planning to build a European-style pressurized reactor (EPR) and replace the generation of nuclear power plants.
France sees nuclear power as an energy source that can realize carbon neutrality and meet the demand for electricity.
5-2. Energy of the Future _ Green Hydrogen
Green hydrogen : It refers to hydrogen produced by electrolyzing water with electricity made of renewable energy such as sunlight and wind power. France plans to inject more than 10 billion euros into such green hydrogen by 2030.