Hi guys! We are team Gwanak 2 of SAYUL KOREA CLUB! Today we will introduce 'Han-iljeon', the Korea-Japan Match, with 2020 Tokyo Olympics.
In August 15th, there is a very important national holiday for our Korea. It is 'Gwangbokjeol', a day to commemorate Korea's liberation from Japan in 1945. And in August 2021, the 2020 Tokyo Olympics, which began in July, ended. In the August report, we will look into 'Haniljeon(Korea – Japan Match), especially 'Haniljeon in the 2020 Tokyo Olympics'.
The two countries have had a lot of interaction in various fields due to their geographical proximity. For representative example, imperial Japan conclude a Japan – Korea treaty by force in 1905 and they made Korea to colony in earnest from 1910. After 35 years, Japan had a coercive colonial policy. The antipathy to this kind of history was a motivation for developing Korean's anti-Japanese sentiment. There are some sensitive issues, such as territorial issues related to Dokdo in recent years. In history and various processes, the two countries have developed a sense of rivalry, and it is the 'Haniljeon' that the situation between Korea and Japan is reflected in sports games.
Then how Korean think about Haniljeon? It can be shown through the comments of many celebrities. Eung-yong Kim, the baseball coach of Korea said "Even if you win all the teams, if you lose to Japan, it's meaningless. Even if you lose to all other countries, if you win to Japan, It's like winning every game." and Hak-beom Kim, the national football coach at the Asian Games said "We can't see the Japanese flag flying above our national flag with our eyes open."
The same goes for Japan. You can see this at this Olympic's ratings. According to Sankei Sports, the viewer rating was 26.2 percent in the second half of the baseball semi-finals broadcast. More than one out of four people watched the semi-final match between Korea and Japan. We can see how much attention has been drawn to the Haniljeon.
From now on, let's look into Korea-Japan match held at the Tokyo Olympics. The first one is volleyball. This was the 4th preliminary round of Women's Volleyball Group A on July 31. After a close match of set scores of 2-2, Korea finally won with 4 consecutive points. Also, in an interview after the game, Yeon-kyung Kim said, "We need to win this match unconditionally," and Jung-ah Park also said, "I couldn't lose to Japan even in rock-paper-scissors."
The second one is badminton. We selected one match each for women's doubles and one for men's singles. So-young Kim & Hee-yong Gong's team won a valuable victory over Japan's Mayu Matsumoto & Wakana Nagahara team after six deuces at last set. Kwang-hoi Huh caused an unexpected victory over Japan's world No. 1 badminton player Kento Momota, 2-0.
Even though this kind of rivalry, there are also warm moments that is suitable for the Olympics in Haniljeon regardless of winning or losing. In the semifinals of Archery, the Korean men's archery team beat Japan. After the game, the Japanese players gave a congratulation to Korean players, who beat them in the semifinals and reached the top. The Korean players also shook hands with the Japanese players with a smile. And then, they took a selfie together. We could see the warmth that goes well with the Olympic spirit beyond victory.
Also, we could see it in judo. On July 29, Koo-ham Cho lost a match in the men's 100-kilogram final to Japan's player Aaron Wolf after a golden score and a close overtime match. After the game, he raised the hand of the winner, Wolf. It was so impressive and we could notice the true Olympic spirit of recognizing his opponent.
The Korea-Japan match, Haniljeon is a rivalry between the two East Asian powers. It is a culture ifself. And whenever there is a Haniljeon, it creates lots of issues and trends. Those aspects from archery and judo were very good examples of what the ideal direction for the Haniljeon to move forward. The Haniljeon is meaningful as a fierce rival match, but we have to move forward in recognizing the players' skills and posture. Also, when people have such a mature attitude, the Haniljeon will shine even more.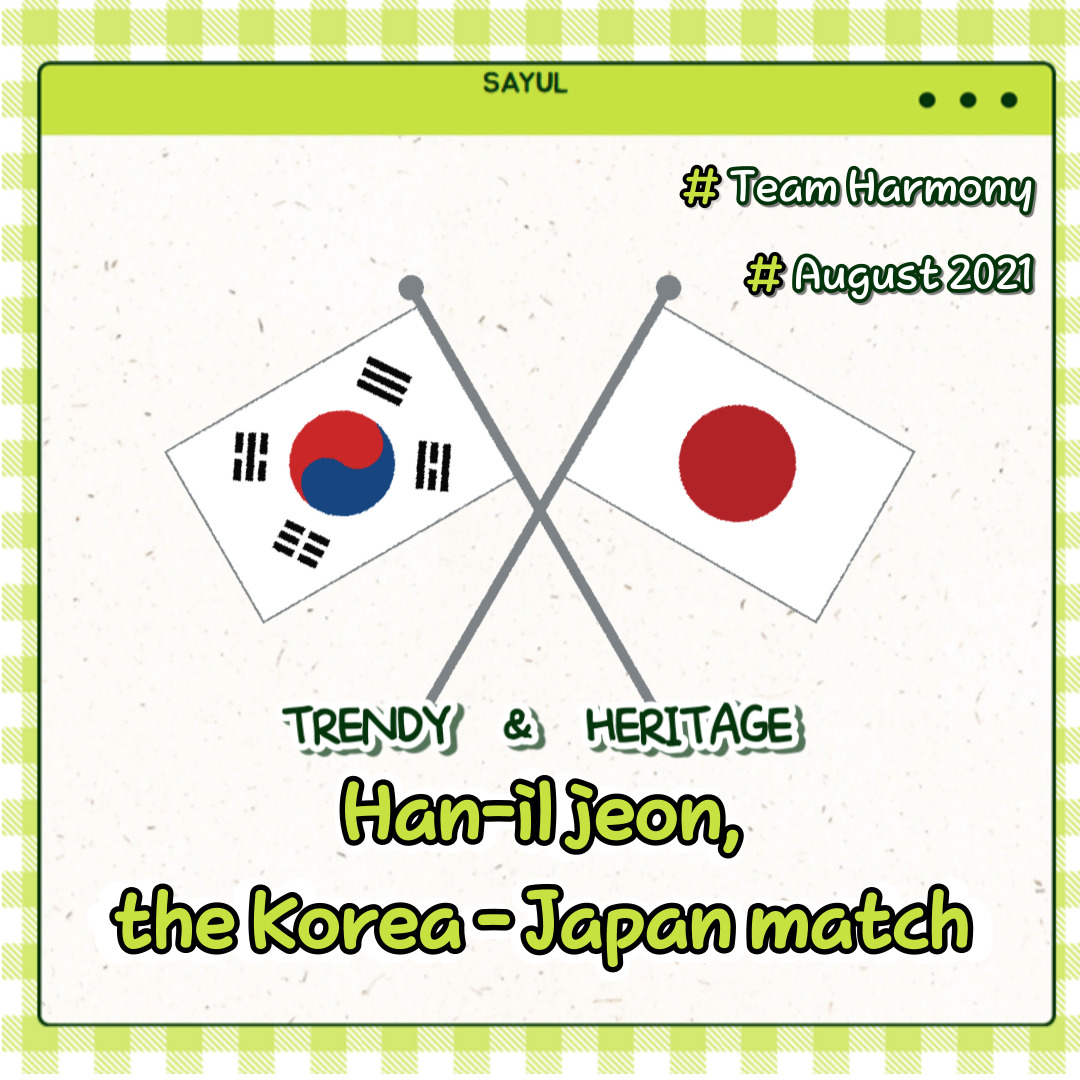 In this posting, we shared the Korea – Japan match, Haniljeon with 2020 Tokyo Olympics..
Please look forward to the next episode!
Thank you.