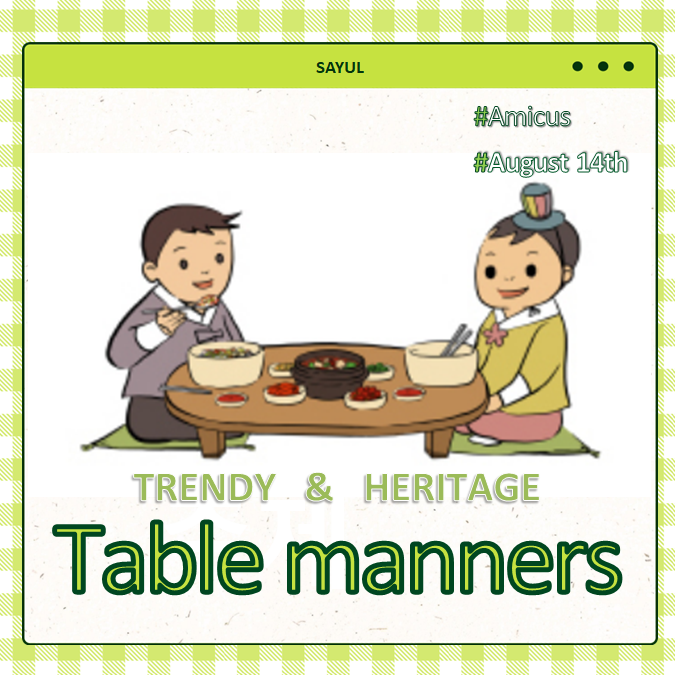 Hi, everyone! We are Sinchon Team 1 Amicus.
This time, we are going to introduce the table manner of Korea.
<Before eating food>
1. Tableware and food arrangement
On the front row, rice is placed on the left and soup is placed on the right side. On the middle row, sauces such as soy sauce and vinegar gochujang are placed in the middle. This arrangement considers eating-guests' appetites so that they can season to suit their taste when eating buchimgae or other side dishes. Hot food and watery food are placed on the right side. This arrangement considers that most people are right-handed, so that hot food can stay warmer and people can eat liquid food much safer. On the left side, foods such as vegetables and dried side dishes are placed.
On the back row, Kimchi is placed in the middle side and stew is placed on the right side.
Lastly, spoon is placed on the right side, and chopsticks should be attached to the back of the spoon and left in suspense on the table.
2. Difference of chopsticks length
Compared to China and Japan's chopsticks, Korean chopsticks are flatter. The length of Korean chopsticks is shorter than that of Chinese and slightly longer than or similar to that of Japanese. In Korea, spoons are used when eating rice, and chopsticks are used when eating side dishes. Spoon and chopsticks consist of metal.
In Japan since Japanese use chopsticks not spoon the length of Japan's chopsticks is short for eating low-viscosity rice. Also, due to the culture of eating fish often the tip of chopsticks is sharp. Chopsticks consist of wood.
Since there is a lot of fired food in China, the length of China's chopsticks is long and blunt to avoid danger of burning and to bring food on a large table. Chopsticks consist of porcelain or wood with low heat conduction.
<While eating food>
1. Eating speed when eating with others
The older one sits down then the younger one sits and the young raise the spoon after the elderly raise the spoon. Even if you finish eating before others, don't put your spoon on the table. Instead place it in the rice or soup bowl and put it down after the elderly finish eating food. After eating, don't get up before the elderly stand up.
2. Banned behavior while eating
When eating food, pick up the side dishes at once without flipping through them. Avoid talking while eating so that you can avoid spilling food or saliva in your mouth. Be careful not to make sounds of chewing food and hitting the bowl. Don't eat too fast or too slow and adjust the speed to finish meals together with others. Don't place spoon and chopsticks across the side dish bowls during meals. Don't hold spoon and chopsticks with one hand at the same time.
<After eating food>
1. Table setting culture
The tea has to be placed on the right side of the guest. Desserts with taste such as coffee or tea have to be served after asking opinion first. Fruits usually have to be peeled before served.
2. Banned behavior after eating food
Don't yawn after eating food. Don't burp after eating food and don't gargle with water(the act of clearing leftovers in the mouth with water). When using a toothpick, cover your mouth with one hand. After eating food, place the spon neatly in its original place and fold the used napkin and place it on the table.
Have you got many knowledges about the table manner in Korea? I hope you guys understand Korean culture well through this post. Thank you!