새 카테고리Korean Traditional Music, Daechwita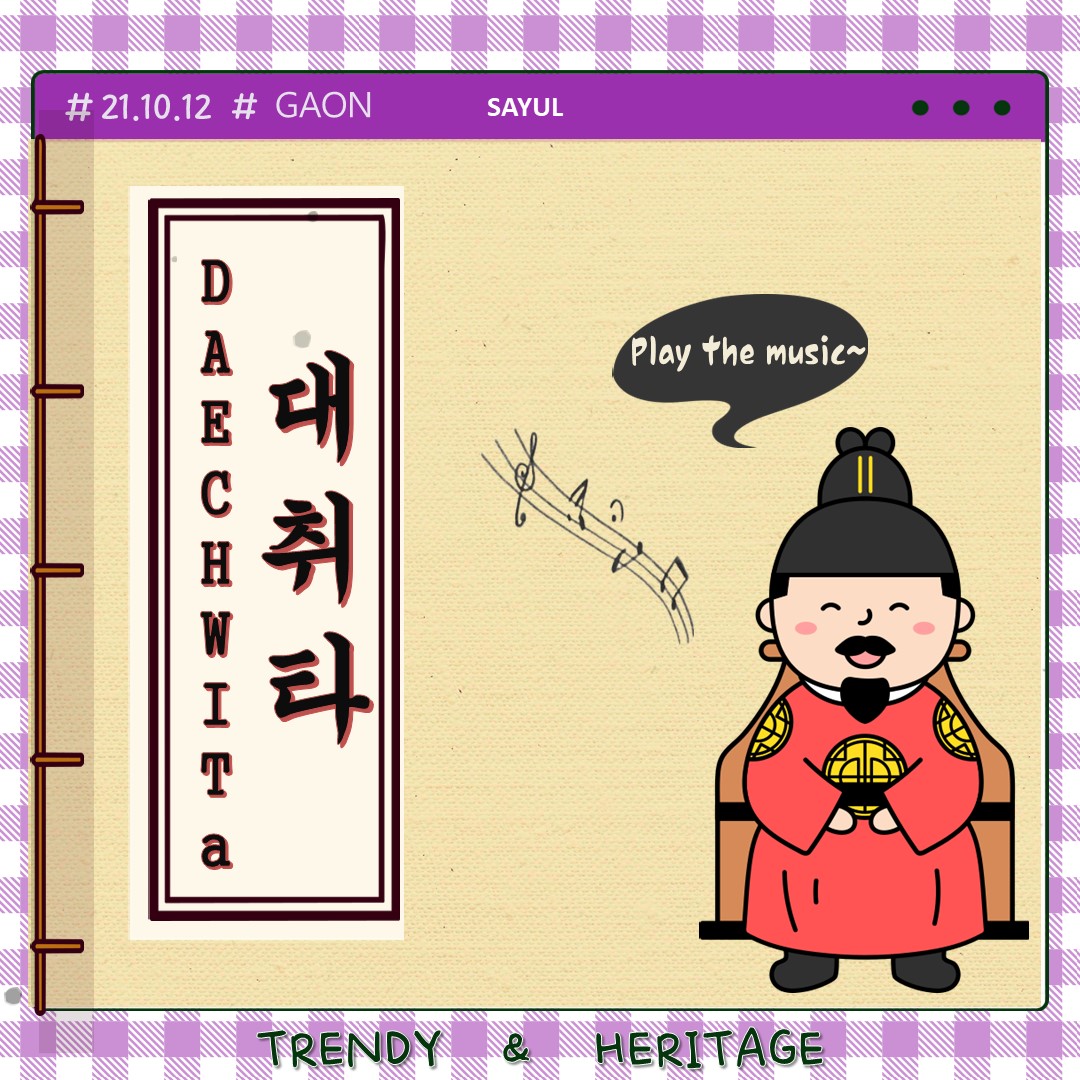 Hi, everyone! This is Team Anam 1, 'Gaon' of SAYUL Korea Club. For October T&H project, we are going to share information about Daechwita, Korean traditional music. Let's have a look!
1. Have you ever listened to the song 'Daechwita' by BTS Suga?
On May of 2020, BTS member Sugar released the song 'Daechwita' and its music video has surpassed 300 million views on YouTube. Suga's Daechwita which is based on Trap Beat sampled Korean traditional martial music. The harmony between rhythm and the cultural instruments such as Taepyeongso and Kkwaenggwari makes unique atmosphere. Also, it is impressive that the music video has a palace background with beauty. Aren't you curious about the real nature of Daechwita? Let's found out together!
2. What is Daechwita?
Daechwita was an accompaniment played typically in two circumstances. For ceremonial walk by the royal family and the military march. 'Chwi' part of Daechwita refers wind instruments and 'ta' points percussion. There are players and marshal who notifies the start and the end of the music. When marshal speaks *'명금월하대취타', the rendition begins.
*명금월하대취타 can be read as Myeonggeumwolhwa-daechwita.
3. Does Daechwita have its own history?
From the period of the Three Kingdoms, the history of marching music began with the presence of soldiers playing wind instruments and percussion in military. It continued until the Joseon Dynasty. After the mid-Joseon period, the new players were included in the parade. They blowed instruments like trumpet shell, Taepyeongso, Daegeum or beated percussion instruments such as Janggu and Jing.
Later, at the end of Korean empire government, the history of Daechwita gradually disappeared. Due to Japan's decision, Korean troops were eliminated. So, it vaguely maintained its existence. Fortunately, in 1972, the music was designated as Important Intangible Cultural Property No. 46. The value as a traditional culture has been recognized since then.
4. What are some instruments played in Daechwita?
1) Taepyeongso:
The only instrument that plays melody. It is suitable for open-air concert because of big volume and a high pitch.
2) A bugle:
A wind instrument made of metal. It's common to blow a note for a long time.
3) A trumpet shell:
To make a sound, one needs to attach the blowing entrance at the end of the conch shell. The timbre and the pitch vary depending on the size of the shell.
4) Jing:
A round instrument made of iron. It was used in various genres during the Joseon Dynasty.
5) Small cymbals:
Two thin brass disks are held in both hands and clashed together to make a sound.
This is the end of our introduction to Korean traditional military band music, Daechwita. We hope you enjoyed reading the article. In the next posting, we will be back with other interesting Korean cultures! Thank you.