새 카테고리Imaginary animals in Korea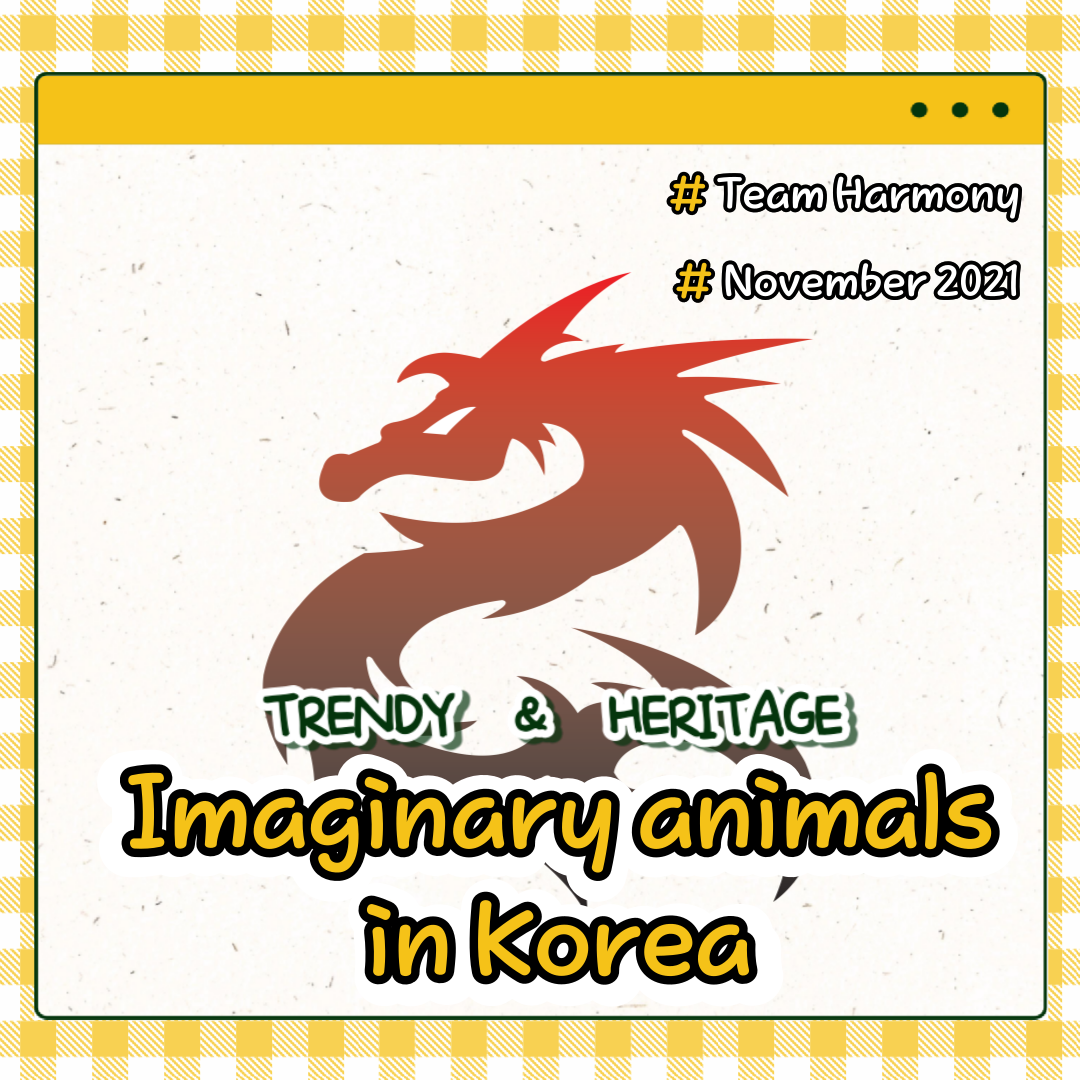 Hello everyone! We are team Gwanak 2 of SAYUL Korea Club, 'Team Harmony'. Today, we will tell you about "Imaginary and Mystical animals in Korea.
*Before reading, First of all, it is important to know that the imaginary animals that Koreans think can overlap with Chinese culture and the entire East Asian culture.
1. Haetae
It is a representative imaginary animal in Korea. It is similar to a lion, but it is said that there is a horn. It was regarded as a animal of god which defeated fire or disaster and was decorated in palaces.
2. Sasin(Four symbols, 4 guadrians of each cardinal points)
They are the Azure Dragon of the East, the Vermilion Bird of the South, the White Tiger of the West, and the Black Tortoise (also called "Black Warrior") of the North. which symbolize guardians of each direction in East Asia. 'Sasindo' was often painted inside the tomb of Goguryeo, one of Korea's ancient countries.
3. Girin(Qilin)
Girin appear to inform the signs in advance, especially when saints are born. The body is fully or partially scaled and often shaped like an ox, deer, or horse. In Confucianism, Girins were expressed by referring to Confucius and regarded as symbols of virtue and humanity.
4. Dokkabie
It is an imaginary existence that often appears in traditional Korean fairy tales. Because they hate red, red beans, blood, etc. are known to drive away goblins. There is a famous drama titled Goblin in korea.
5. The phoenix
It is called the head of all birds, and it is said that it makes five harmonious cries on the body shining in five colors. It was one of the symbols of wages during the Joseon Dynasty, and it can still be seen in some awards and whistles.
6. Bi'ikjo and Samjoko
Bi'ikjo is a bird with only one eye and one wing. This bird must be paired with two, males and females, to fly. And they are always attached when eating. This bird means beautiful love between couples. Samjoko refers to a three-legged crow and is a legendary bird believed to live in the sun in ancient East Asia. In the history of the Three Kingdoms in Korea, it appears as a spiritual being that tells you in advance what will happen.
7. Gumiho(Fox spirit, nine-tailed fox)
Gumiho is a spiritual animal based on fox with nine tails originating from Chinese mythology and appearing in East Asian folk tales. In Korean folktales, it appears as a beautiful human woman and has a desire to become a human being.
8. Imoogi
Imoogi is an imaginary animal appears in Korean legends before becoming a dragon. It is said that if it stays in cold water for 1,000 years, it becomes a dragon and go up to the sky. It has deep relationship with rain or water.
Today we introduced Imaginary and Mystical animals in Korea. I hope you feel interest.
Thank You!