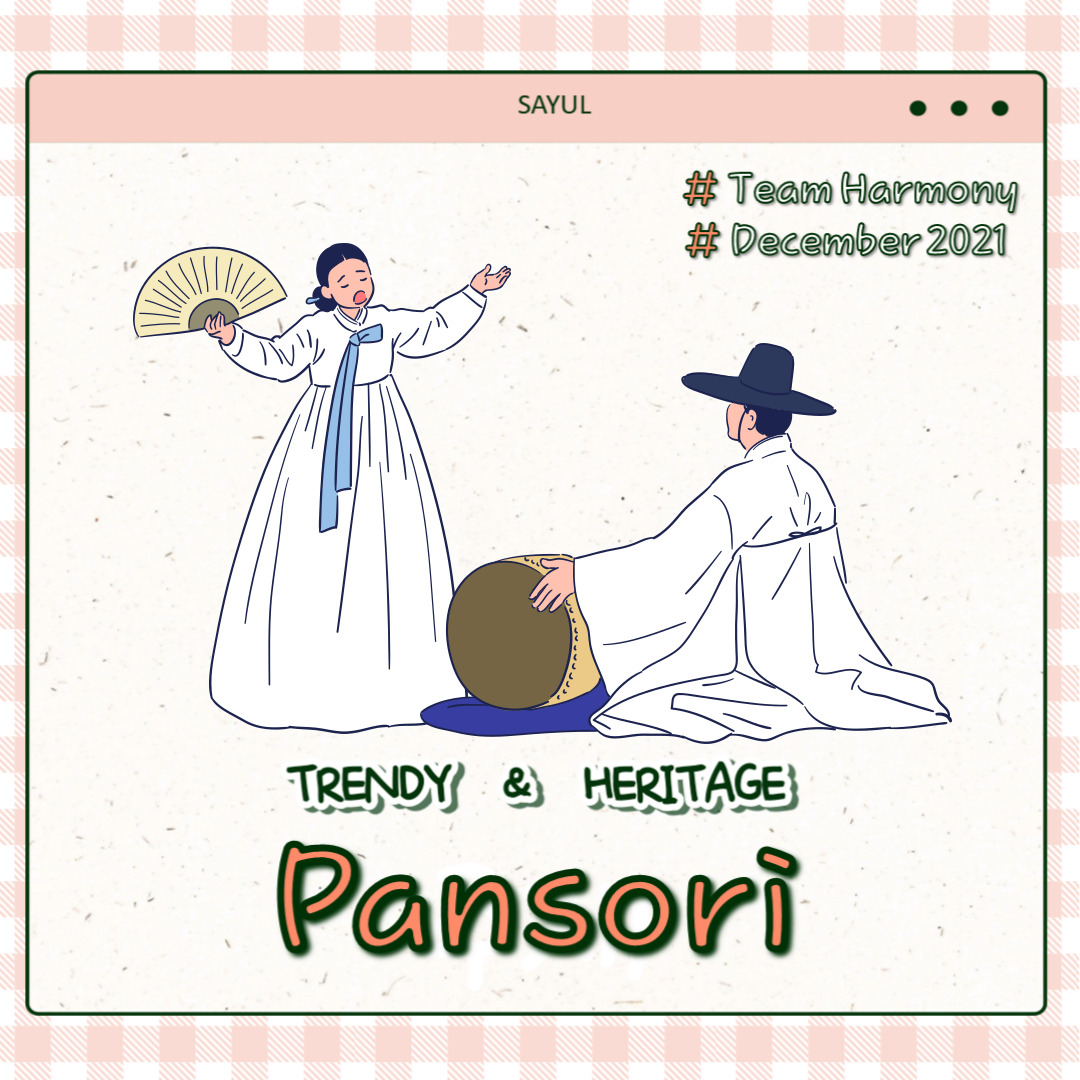 Hello everyone! We are team Gwan-ak 2 of SAYUL Korea Club, 'Team Harmony'. Today, we will introduce about 'Pansori'.
Do you know what Pansori is? 'Pan' means place that many people are gathered and 'Sori' means sound. Simply put, Pansori is one-man opera that is played in a crowded place. 소리꾼(Sorikkun) is the main vocalist and sing a song in the center. 고수(Gosu) play a drum next to 소리꾼 and chant to boost audience's excitement. Especially in Pansori, the audience join together by actively reacting. Pansori is composed of 창(chang), 아니리(Aniri), and 발림(Ballim). 창 means total song and 아니리 is a dialogue that explains the story. And 발림 is motion that makes Pansori more realistic.
It is believed that Pansori has originated in the 17th century of Joseon. Also, Pansori is listed as a UNESCO Intangible Cultural Property of Humanity in 2003. By realistically expressing the lives of the common people, Pansori vividly revealed the reality of the underprivileged people's lives. And it expressed hope for a new society and era by representing the voices of the common people.
There are five rhythms in Pansori. The fastest is 휘모리장단(Whimori rhythm) and slow in the order of 자진모리(Jajinmori), 중중모리(Jungjungmori), 중모리(Jungmori), and 진양(Jinyang). The mood of the song changes depending on the rhythm, so these rhythms can maximize the expression of pansori.
There are five representative stories in pansori. They are 춘향가(Chunhyangga), 수궁가(Sugungga), 흥보가(Heungboga), 적벽가(Jeokbyeokga), and 심청가(Simcheongga). The thing is that each Pansori has its own meaning and lesson.
These days, some people try to make Pansori more trendy and promote Korea actively through these reborn Pansori. As an example of this, 이날치(LEENALCHI) emphasized the rhythm of Pansori by arranging it. Especially, 이날치 added chorus or decorations to make the melody and harmony come alive. You can enjoy their songs by searching for 'Tiger is coming' on YouTube.
Today, we talked about Pansori that is Korean traditional epic chant. I hope you enjoyed this topic and feel more interest in Korean culture. Thank you!