What's my size?
Hi, we are Team Anam 1 '참charm'.
Do you want to choose the most accurate clothing size?
Do you want to know Korean units of measurement?
Then, keep reading!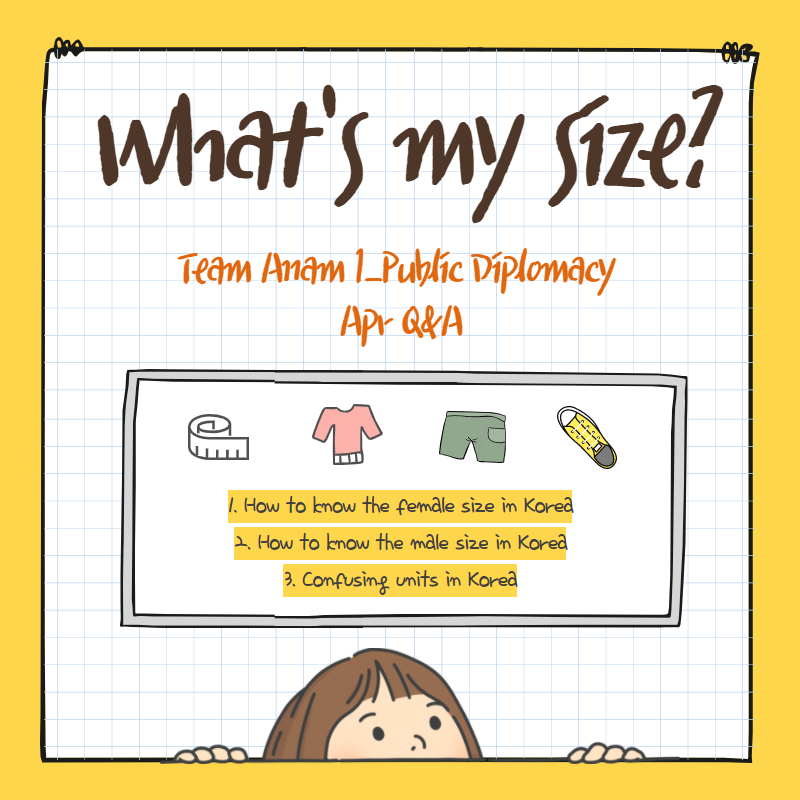 < Part1. Women's Clothing Size >
Q. How to know my size in Korea? It's too difficult!
A. We are going to talk about female top, pants, underwear, and shoes!
First, unlike the other countries, '44, 55, 66..' size is used to indicate female clothing size including top and bottom. For example, US size starts from 2 and goes up to bigger size to even numbers like 4, 6, 8... . In UK and Australia, two numbers are used to like 4-6, 8-10, and French is the same with the US but the start number is different, 34. US size 2 is almost fit with Korean size 44.
Q. Ok. I got it! Then, why Korean use their own size? What's the reason?
A. I'll let you know the origin of Korean female clothing size numbers! According to 'Korean Agency for Technology and Standards', the '44~77' size was started in 1981. The average figures for height and bust width of Korean 20's female were 155cm / 85cm In 1980. Each last number was mixed and it became 55 size. It was regarded as a Korean female average size, and adding or down 5cm for height, 3cm for bust width, more sizes were made from 44 to 88. And with the detailed size like 43, 87, the total number of the clothing size indication was 15. But this indication is not the official system anymore because of the change of actual average size. In 1990, the government recommended for clothing companies to write the actual body size at the previous clothing size system. That means '88-70-165(bust-hip-height)' or S/M/L size. But lots of people still use more '44~77' size system. Because there are not many people to know their accurate body size.
Q. I perfectly got it, thank you! So, can I see the table for clothing size?
A. Of course! I prepared it for you.
[table1] Clothing size table based on each countries' standard
country

size

Korea

US

Canada

Japan

UK

Australia

France

Italy

Europe

XS

44 (85)

2

44

4-6

34

80

34

S

55 (90)

4

55

8-10

36

90

36

M

66 (95)

6

66

10-12

38

95

38

L

77 (100)

8

77

16-18

40, 42

100

40

XL

88 (105)

10

88L

20-22

44, 46, 48

105

42

XXL

110

12

-

-

50, 52, 54

110

44
[table2] Clothing size based on actual body measurement
US

XS

S

M

L

2-4

4-6

(6)8-10

(10)12-14

Korea

85-90

90

95

100

Europe

36

38

40-44

46-48

Japan

-

7

9-13

15-19

Bust

(cm)

(inches)

81-84

32-33

86-89

34-35

91-97

36-37

99-104

38-39

Neck

(cm)

(inches)

75-76

77-79

80-81

83-84

Waist(pants)

(cm)

(inches)

61-64

24-25

66-69

26-27

71-76

28-30

79-84

31-33

Arm length

(cm)

(inches)

88-90

34-

93-95

35-36

98-102

37-38

105-109

39-41
1. Underwear
1) Female Underwear
[table3] brassiere
Under bust measurement / Bust / Korea / US / allowable range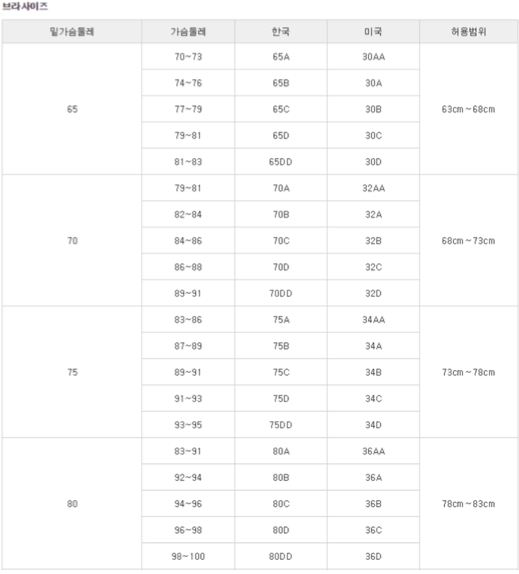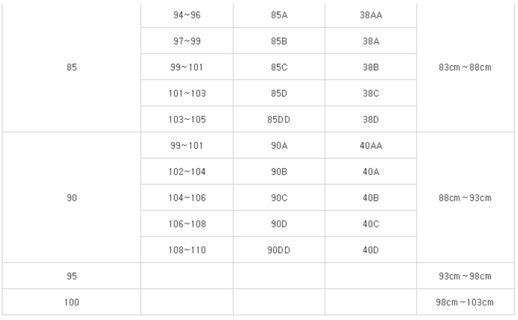 [table 4] panties, corrective underwear, sleep size
- / US / Korea / Bust / Waist / Hip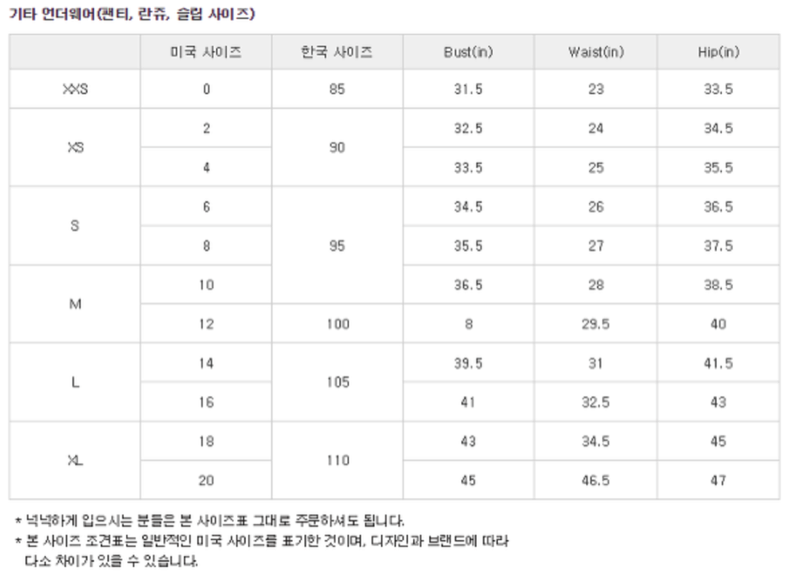 < Part2. Men's Clothing Size >
Q. Tuna, you know that the US calculates the size of top with XS, S, M, L, XL. How do you calculate it in Korea?
A. Unlike the US, Korea calculates the size of the top by chest size (cm). So when you buy clothes in the store, you can easily see the size of the top with 90, 95, 100, 105. Don't panic! It depends on the product, but I think the US size is one size large than the normal Korean size. Then, 100 in Korean size is equal to 100cm= 39 inches in US size, so you can consider it M.
A-2. In Europe, the size of the top is calculated based on the chest size as in Korea, so you can calculate 100cm as size 50. There are differences between countries; Italy, France, and Germany have a larger size in this order.If the size is 50 in Italy, France is 46, and Germany is 44. For England, the size S is equal to 1, so you can calculate M, L, and XL by 2,3,4 respectively!
Q. What about the size of bottoms?
A. In Korea, the size of bottoms is based on the waist size. Do you remember that the US usually uses two ways: "S, M, L" or "waist size(32in)*length of pats(32in)"? For the first way, you can choose the size of the bottom as the top. And the second method is the same as the Korean waist size, so you can just follow it! But you should not forget considering the deviation, so the US is one size larger than Korea. In England, as I said earlier, you can think the size of the bottom as the size of top. European countries measure 48-52 for bust width as L in Korean size, and 33~35 for waist size.
Q. I am curious about the size of underwear?
A. Similar as the size of bottom!
Q. I am also curious about the shoe size? I should buy it.
A. Unlike other countries, Korea calculates shoe size in mm. So 250mm is 7 for the US size, 6 for the UK, and 40 for the European size. Actually, it's hard to be sure about the exact size because each country uses different standards, so it's better to calculate broadly. It's easy to think that UK size is one size smaller than the US, and as many countries include US size, it's good to convert it to the US size first.
Q. Can you give me one last tip?
A. I think the most important thing is to know your own size of chest, waist, etc.
< Part3. Confusing Units in Korea >
Q. Can you tell me some confusing units while living in Korea? I am so confused when I measure my height!
A. In Korea, we measure our height in cm, not in ft or in. Think of it as 1 inch= 2.54cm and 1ft= 30.3cm. That's why women who are 5'3" tall can measure 160cm according to the Korean height measurement method.
Q. What about weight? I am always confused when I visit doctor's office!
A. In America, do you know that people measure their weight in pounds? However, Korea measures in kilograms. Based on the formula, 1lb= 0.45349kg, 132lb is calculated in 60kg in Korean units. Usually, decimal places are rounded to the nearest decimal place!
Q. Then what's the weight of object? I'm curious about the distance, too!
A. Korea usually measures the weight of an object in g or kg. You know that the US and other countries measure the weight of an object in pounds and oz. So, don't forget to convert units by using 1lb= 453.592g, 1oz= 28.34g, and 1lb= 16oz when you need to convert units! Distance is calculated in km different from the other countries. You can use 1mi= 1.60934km, about 1.6km!
Q. What about temperature and liquid?
A. The US uses Fahrenheit and Korea uses Celcius to measure the temperature. When you want to express the freezing point of water, it can be expressed as 0'C in Celcius, but as 32' F in Fahrenheit. On the other hand, the point where water is boiling is expressed as 100'C, but it can be expressed as 212'F, right?
Do you know that the US and UK use gallons for the measurement? Different from them, Korea uses L for measuring liquid. Don't forget that there's a difference here between the US and the UK gallons! 1 gallon in the US is 3.8L, and 1 gallon in the UK is 4.5L.