새 카테고리THERE AREN'T ENOUGH HOURS IN A DAY : A WHOLE DAY(24 HOURS) SERVICE CULTURE IN KOREA
THERE AREN'T ENOUGH HOURS IN A DAY : A WHOLE DAY(24 HOURS) SERVICE CULTURE IN KOREA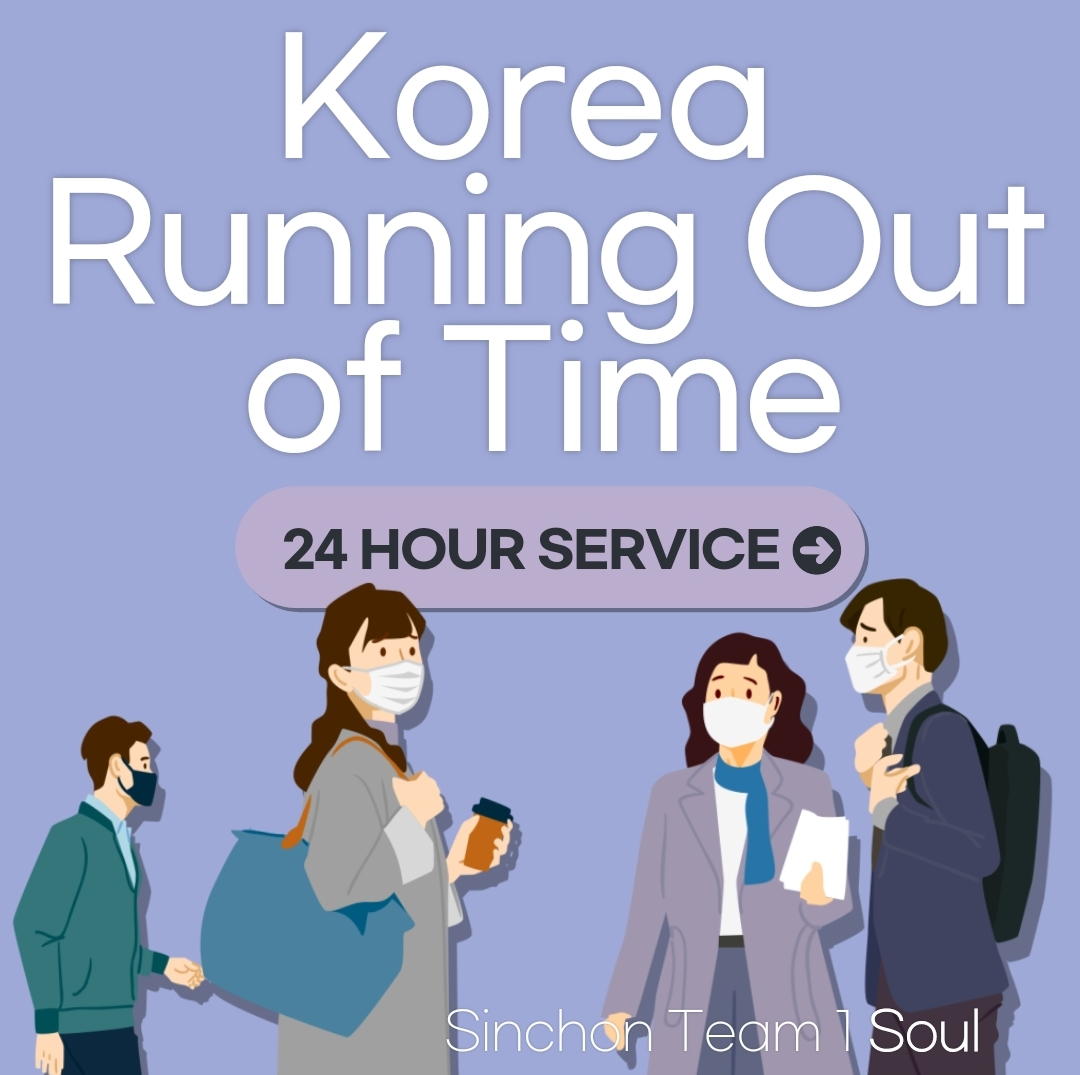 Q: What is the background of Korea's unique 24 hours service culture being settled as a universal thing?
A: In nowadays' capitalism society pursuing profit maximization, 24 hours service is necessary to maintain the core values 'labor and consumption'. The existing thoughts that 'night' is the time without labor changed, and people were being adjusted to '24 hours society'.
Korea has the longest working hours in OECD countries (second place in labour time for each person, 2017). Also, even students attend academies for studying even in night time. Therefore, 24 hours society results in '24 hours store operation culture'. The speciality of Korean culture is that people consider nighttime for leisure, which is related to the emergence of '24 hours operation'. Since Korea is enthusiastic about the education and labour system, '24 hours operation' is inseparable.
To be specific, there are 'Delivery only in dawn (receiving the product in the morning if ordering the product the day before)', 'The day-delivery (receiving the parcel in night when ordering in the early morning), franchise restaurants operated even in dawn, convenience store for 24 hours, and study room (operating even for the whole day). Those services are available anytime.
Recently, due to COVID-19, 'The day-delivery' and 'Night-delivery service' dramatically increased as the result of social distancing. Government also supports a 24 hours system, operating the '24 hours Public Service Center' in Gyeonggi-do Province. Moreover, '24 hours nursery' appears for the parents who work at nighttime.
Q: How can we use 24-hours service in real life?
For daily lives, there are convenience stores and quick-service.
Convenience stores provide various daily necessities whole day long. The quality of food in convenience stores becomes better, so it can be a tip for foreigners who cannot cook in Korea to buy food in convenience stores. Moreover, people no longer go to banks because there are ATM machines nearby convenience stores.
Also, quick-service users are increasing. Quick service includes small parcels such as documents and even terminal quick or long-distance shipping for 24 hours. The delivery charge depends on the weight of the parcel and people can choose payment in advance, cash on delivery and so on.
Let's enjoy this convenience in nowadays' COVID-19 situation. How about sending gifts to your friends who live far away.
Also, in Korea, you can use a coin-dry cleaner or studying café for 24 hours.
Coin-dry cleaner would be familiar to foreigners. If you should do laundry in the nighttime, it's good to use a 24 hours coin-dry cleaner nearby your house! It can be done in a short time. Also, in the store, there are places where customers can wait comfortably.
Studying café is the combination of café and library. If you pay the money depending on hours, you can choose the seat, drinking free beverages. However, you should be silent and eat food in only designated places. The advantage of studying café is that you can use anytime you want, relying on your life pattern.
Those institutions are operated by unmanned systems using Kiosk (Operating the store with AI instead of real person management), so please remember the rules!
Q: Are there 24 hour services for cultured life?
A: Of course. The representative examples are pc room, singing room and gaming room. Through those institutions, everyone can enjoy anytime, anywhere.
However, there are restrictions in those kinds of institutions. Teenagers under 19-year-old have limitations. About the pc room, teenagers can use the pc room only from 9 am to 10 pm. In other times, they are banned from entering. Also, there is a broadcasting system which forces teenagers to go home, and users check identification cards to reassure the age. The singing room has the same rules.
However, due to COVID-19, almost every institution is not available after 10 pm. If you use 24 hours institutions in Korea, please check the time limitation!
Korea, spanning all day long, requiring extra time over 24-hours! Today, we introduce various services and cultural institutions operated all day long. We hope you utilize those 24-hours services well and spend your 24 hours satisfactorily!