<BEAUTY TRENDS IN KOREA>

Hi, We are team Sinchon 2, Hey you too!
I think more and more people around the world are interested in K-beauty.
So I would like to give some information about beauty trends in Korea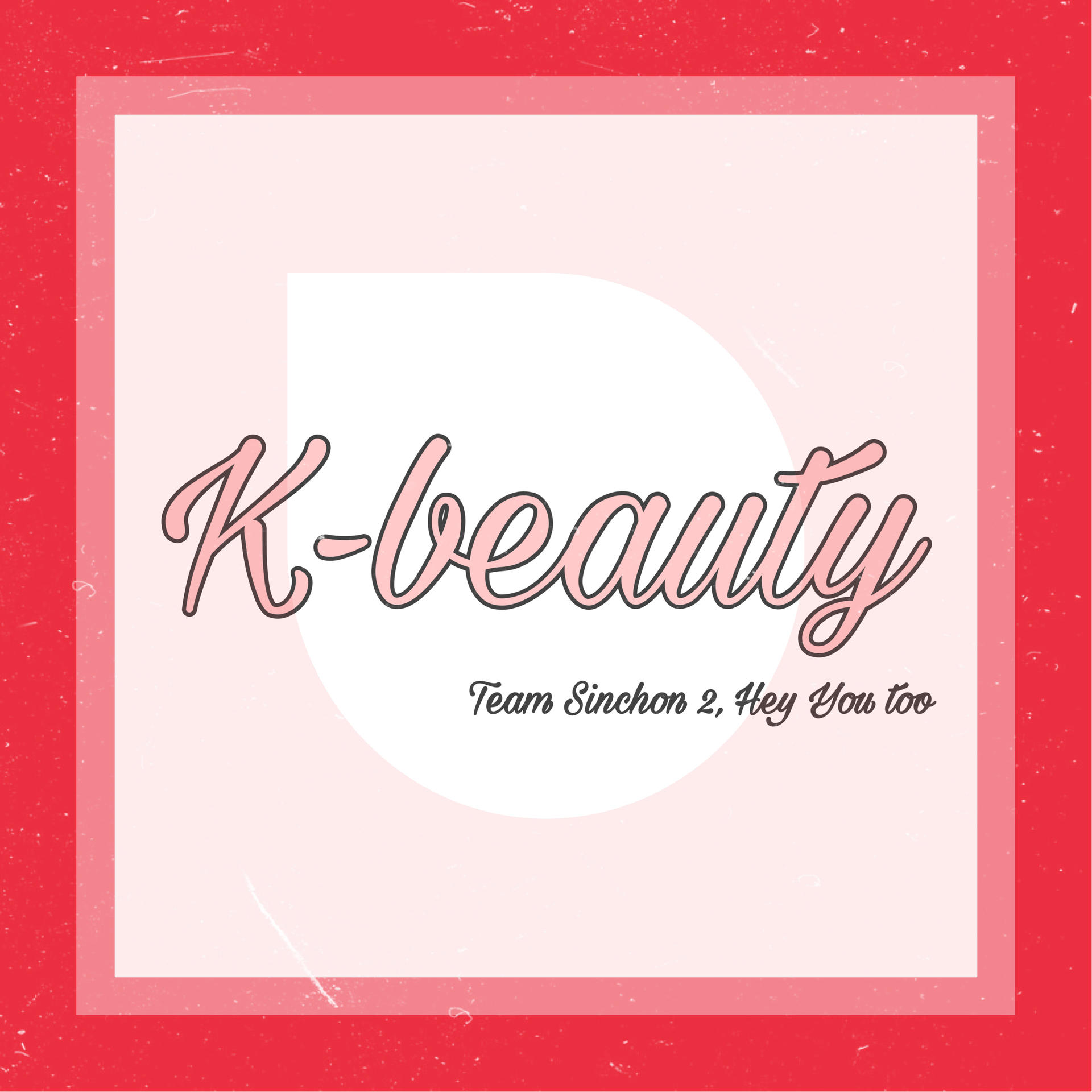 Q1. What is a "Road-shop" and what are some examples and best sellers of the brand?
A. While adults tend to use cosmetics from luxurious brands from the department store, younger people enjoy cheaper brands. In Korea, we call those brands "Road-shop" brands. Those brands have their shops on the roads instead of high-end department stores.
Q2. When are the regular sale period of the road shops?
A. There are frequent sales held by the road-shop cosmetic brands and Koreans usually wait for this period to buy cosmetic products at a cheaper price. The sale periods are different for every other brand so you should check beforehand.
Q3. I want to know drug stores in Korea.
A. We have so many drug stores. In Korea, You can easily find several drug stores wherever, whenever. But each of them has different brands and products so you need to search for internet before you go shopping. And operating hour is also different for each store. Usually, they open at 10 A.M. and close between 10 P.M. and 11 P.M.
Q4. How can I get a better rate at drug stores?
A.
1) If you live in Korea, You might have Kakaotalk. You can add each and every drug stores as Kakaotalk friends. If you do that, they send you various information like promotions, benefits and recommendations. Usually, the have a sale period once a month. It is much better to wait the sale period and buy things unless It is urgent.
2) If you use drug stores quite often, It is also good to make membership cards. These days, you can easily sign up for membership through app. Otherwise, you can also make it right on the spot when you pay for products. The more you buy, The more points are accumulated.
Q5. How can I purchase cosmetics online?

A. Due to the spread of Corona 19, many consumers are prioritizing online cosmetics shopping over offline ones. By shopping online, consumers can search detailed color shots and various reviews. Today, I will tell you three platforms of online beauty shopping.
1) Official homepage of road shop store

All offline road shop brands have their own official homepage. In addition to road shops, drug stores have their own online websites. There are various coupons and discounts available on the official website, so if you have a chance to purchase cosmetics, please check out the official website of the brand you want.


2) SNS Market

SNS market is especially a popular cosmetics method of purchasing cosmetics. On Instagram, it is in the form of a joint purchase, and on YouTube, it is in the form of a short-term market under the name of a YouTuber. Since influencer is directly promoting and showing various reviews, you can get detailed information about the product you're interested in. In addition, because it is a short-term market, you can purchase cosmetics at a much lower price than the official website. The disadvantage of this platform is that it is a short-term sales, so cosmetics can be purchased only for a fixed period of time, and that over advertisements can reduce the satisfaction of the product after purchase.


3) Cosmetics application

These days, you can buy cosmetics through a mobile phone application. The most renowned cosmetics application in Korea is "화해". This app allows consumers to carefully check quality of products and show the risk of each product depending on allergy-causing ingredients. After downloading this application, you can obtain various information about the product you desire and purchase it with the link attached to it. The price of each product is similar to official brand websites.
Q6. How do Koreans take care of their skin?
A. It depends, but below are the so called "10-step routine" that quite a few Koreans follow. This became popular online and people around the world gave a lot of attention to this skin care routine as the main part of K-beauty.
oil-based cleanser
foaming or water-based cleanser
exfoliator (only 1 or 2 times a week)
toner
essence
serum or ampoule
sheet mask
eye cream
moisturizer
sun protection (if it's daytime)
The main difference between Korean and Western skincare routine is that Koreans focus on hydration, while exfoliation (removing dead skin cells) is more common in the West. Of course, there can always be variations from this routine and it depends on skin type. Trying to strictly follow all these 10 steps may be too much for some people and end up clogging their pores. We may also mix the Korean and Western style if it is necessary. Yet, keeping your skin moist is helpful in that it prevents or mitigates dryness and irritation, which can lead to skin troubles.
Q7. What are some characteristics of Korean cosmetic brands?
A. There are a variety of popular cosmetic brands in Korea. The brands also vary in price, and each have their own brand image. For example, road shop brands usually target young students or college students and thus have celebrities that are popular among teenagers or younger generations as their main model. The names of the products also tend to be rather funny and cute, because they try to include words that young people would often use. On the other hand, brands that are usually found in department stores or those with higher price targets workers or the older generation. They put effort in creating a luxurious brand image that can attract their target customers. People usually purchase skincare products from these brands, whereas road shop brands are popular for color cosmetics. In many cases, each brand has its own representative products. Some may be famous for eye palettes that have beautiful colors and moderate price. Others may hold lipsticks that are famous for 'MLBB (My Lips But Better)' colors or attractive tones.
Q8. How is Korean make-up different from other countries? How do they make themselves look younger through make-up?
A. Generally a sexy or mature type of make-up style is popular among females that are not Korean, for example Americans. But a lot of Korean females prefer to look younger, so their techniques are different. We will introduce two of these methods. First, embrace a straighter brow shape. You can create a youthful eyebrow by drawing in your brows more straight-across than severely arched. They believe that this makes them look younger because everyone's brows are straight-across when they are a baby. A super-curved eyebrow seems too much for them, which is why they call this type of brow a "seaweed brow."
Second, try a "fruit juice" makeup. It means to have enough color applicated on your cheeks to look like a ripe fruit or a fruit bursting with juice. We can easily find fruit-colored blush with the color of thick watermelon, peach, strawberries, etc. You apply it directly on the front apples of your cheeks. This is different from the American technique, which is to blend the blush upward and outward(draping). Finishing with a fruit-colored lip tint would be the icing on the cake.
Thank you :)