새 카테고리KOREA WASTE SORTING 101 : APPROPRIATE WAYS OF WASTE SORTING AND MANAGING LARGE WASTE
KOREA WASTE SORTING 101 : APPROPRIATE WAYS OF WASTE SORTING AND MANAGING LARGE WASTE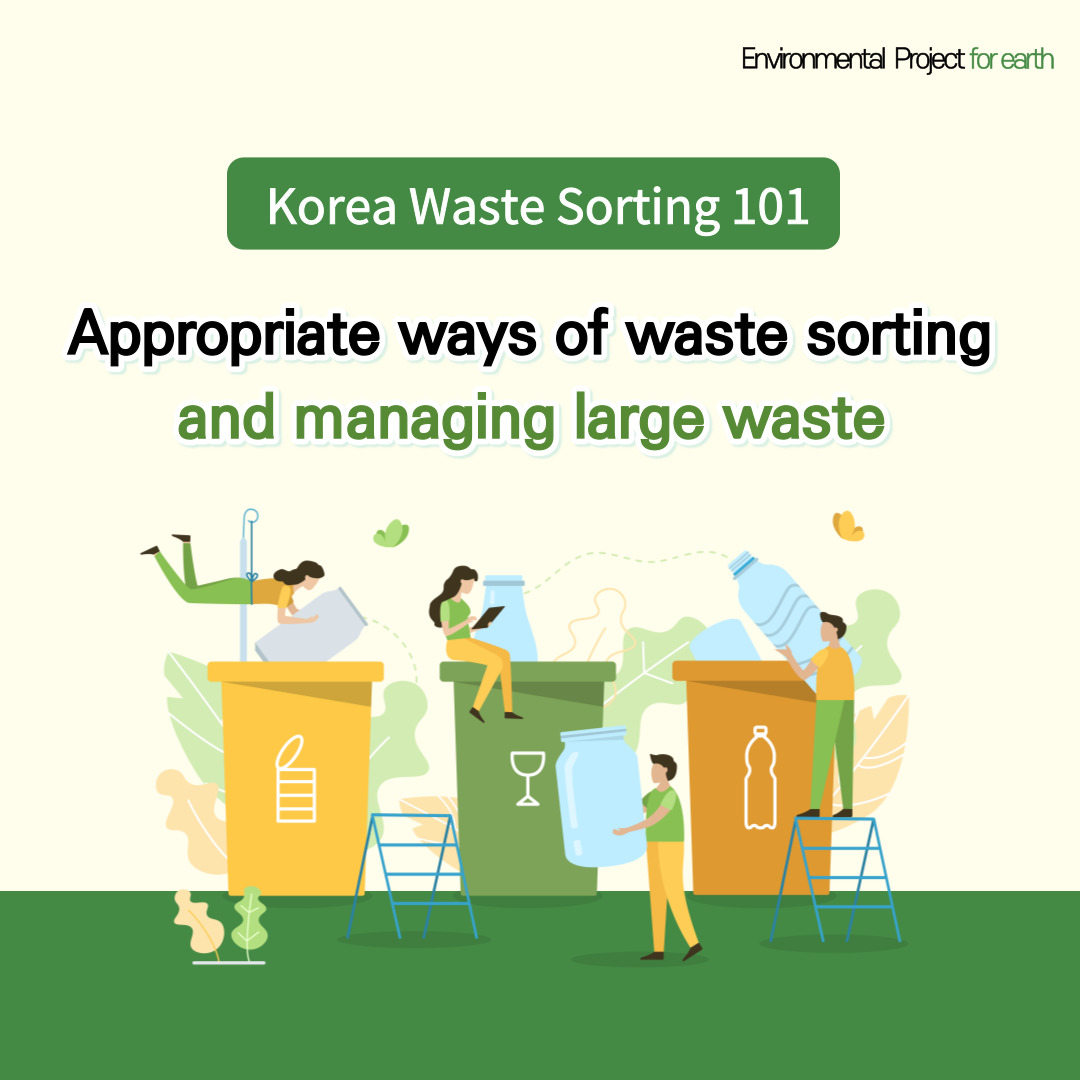 Q: In Korea, how do people separate garbage collection?
A: General trash including pieces of paper or broken items should be put together in a local recycling bag and thrown away. Moreover, recyclable waste such as cloth, plastic or can should be cleaned before being sent to the garbage dump. Food waste also has a designated bag, so people should pay depending on the size of the bag. Then, the manager who works on different days of the week picks up all the wastes. However, you should be careful that the things that cannot be easily crushed like chicken bone or egg shells are not food waste, but general trash. Korea has an efficient recycling culture. Recycling cans are in regular shopping malls and there are garbage collection distinctions for each apartment.
Q: What are the things we should remember when we recycle?
A: First, people frequently recycle in the wrong way because they are confused with general trash and food waste. Here are the lists of general wastes. Bones from animals (cow, pig, chicken), residue from tea, and husk of nuts or vegetables. Those lists are confusing, so you should be careful when recycling.
Second, as we told you before in the SV content 'Tteot-Beo(뜯버)' Challenge, plastic cans should be rinsed with water and labels on the surface must be torn off. Next, those cans go to plastic recycling bags.
Lastly, paper has a distinct recycling method. If the paper is coated with plastic such as a book, note, shopping bag, or wrapper, those cannot be recycled. Also, springs in note are not recyclable.
Q: How do we throw away things like house appliances and furniture?
A: House appliances (TV, refrigerator, washing machine), furniture (bed, desk, wardrobe) and daily supplies (mirror, bicycle) are sorted as large waste.
Unlike recycling that can be thrown away feely, large waste should attach stickers and put out in the designated place. Stickers for large waste require money, which means a kind of license. The Cost for stickers depends on large waste, so the most important thing in recycling large waste is 'To have appropriate stickers for large waste and throw away those in designated places'.
Then, let's find out how to be issued large waste stickers.
1. Type 'Your location+Large waste emission' on the Internet. Next, connect to a large local waste site. Site differs from the local places, so you should be careful to find appropriate local waste sites.
2. Type your personal information and emission date. Managers invite on the designated day, so you should remember the exact date!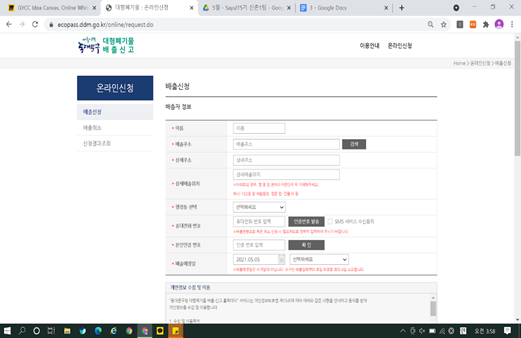 *Source from large waste emission site in Dongdaemun(동대문) District*
3. Next, get the right stickers according to your large waste. Cost depends on the size and sort of the waste. Also, cost differs from region to region.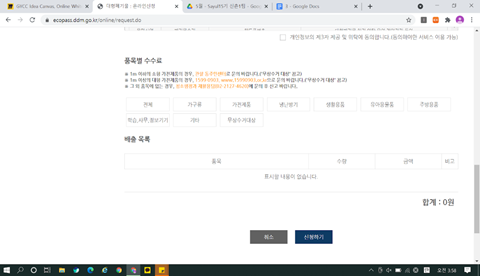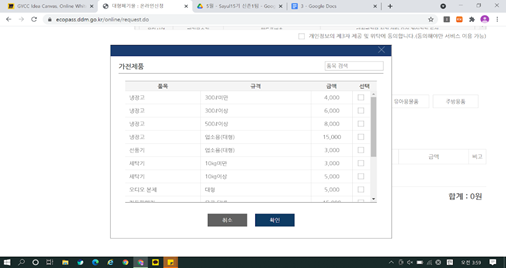 *Source from large waste emission site in Gyeyang-gu(계양구) District*
If you get stickers, print and attach it to the large waste. The last thing is to throw away your waste on the designated day.
Sticker issues are normally implemented online, but visiting the Community Service Center is also available offline when you get trouble treating the online system.
Then, how do we know the designated emission place?
Emission place is also listed in the large waste site. In the case of an apartment, you can put waste in the recycling center or in front of the security office. About villas, you should throw away waste near your house, keeping the day and time accurately.
If you visit the office site and call a large waste site, you can get more detailed information!
Participants can learn appropriate ways of Korean waste sorting (recycling), and realize sustainable consumption and production through effective resource cycling. Also, they are ready to deal with climate change and environment problems, SDGs 13.
*Source
https://sharehows.com/how-to-separate-trash
*Reference Video
https://vt.tiktok.com/ZSJeF9mcG/