<KOREAN ATTRACTIONS>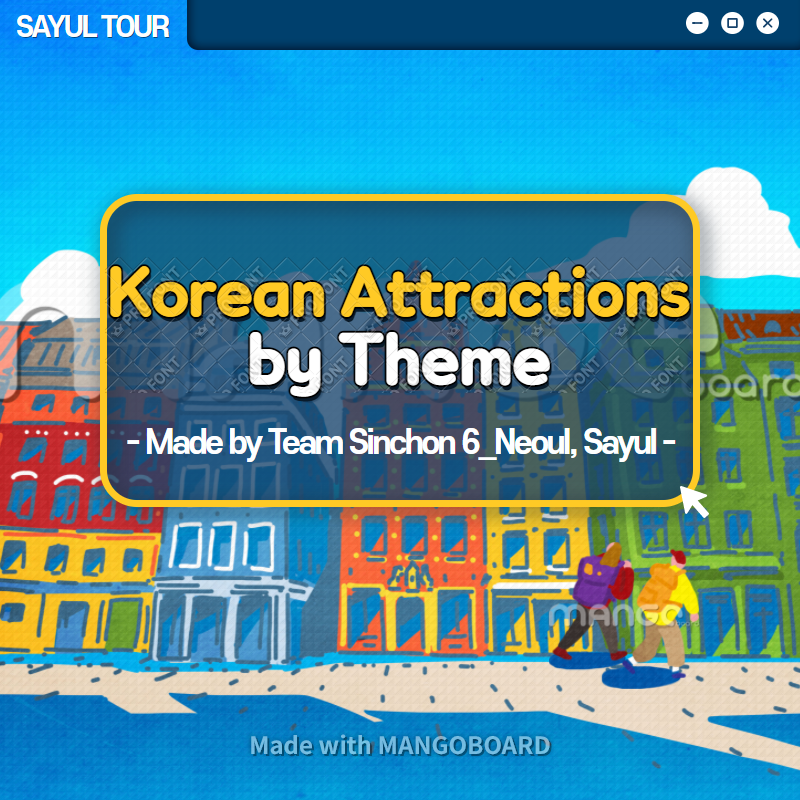 1. Seasonal Destinations

Q1. I think there are a lot of people who plan to go on a non-tact trip because of the Corona Virus. A domestic travel destination where you can enjoy the beautiful scenery and delicious food while keeping a proper distance among people! Where would it be?
A1. Of course, famous attractions are good, but I would like to introduce places that are relatively unknown to people. I'll select some domestic destinations that are good for each season and let you know!

Q2. Then where do you recommend traveling in spring?
A2. I recommend 'Gochang, Jeollabuk-do'(고창, 전라북도). In Gochang, the "Cheongbori Festival(청보리 축제)" is held every year from mid-April to mid-May, and the vast fields are filled with green barley. In Gochang, 'Seonunsa Provincial Park(선운사 도립공원)', camellia forest and cherry blossom trees surround the promenade. Gochang Eupseong(고창 읍성) is also my recommendation and when you go up the beautiful fortress road, you can see old houses made of soil. If you look down at the view of Gochang-eup(고창읍) from the observatory, you will be able to enjoy the freshness of spring.

Q3. I wonder where you'll recommend for summer.
A3. I recommend Sokcho, Gangwon-do(속초,강원도) as a summer destination. You need to take a mudboat to enter 'Avai Village(아바이 마을)' in Sokcho, which is a small boat that comes and goes by pulling the iron cord connected between the marina. You can enjoy the sensibility of riding a ferry. Hamgyeongdo-style squid sundae(Korean sausage filled with pig's blood) in Abai Sundae Village is really delicious. Sokcho Jungang Market(속초 중앙 시장) is also a must-seen place. It is a place full of delicious food, such as chicken gangjeong(mini-sized sweet and sour chicken), snow crab, makgeolli(traditional Korean alcohol) bread, squid bread, etc. In addition to food, Sokcho's cool sea is attractive. The wooden deck surrounds the sea very closely and as you walk by, you can see the strange rocks and the overflowing waves right next to you.

Q4. Then where should we go in autumn?
A4. I recommend Danyang, Chungcheongbuk-do(단양, 충청북도). Dodamsambong(도담삼봉), the most famous of the eight views of Danyang, has the shape of three peaks rising like an island in the middle of the Namhan River(남한강). If you go up the promenade surrounding the river, you can see a rainbow-shaped stone pillar called 'Seokmun(석문)'. The harmony between colorful leaves and the shining river is so beautiful. In "Gowungol Namhangang Reed Forest(고운골 남한강 갈대숲)," maple trees and abundant reed forests that run along the Sobaeksan Mountain Ridge(소백산맥) make you feel more autumnal. Danyang is famous for its delicious garlic, so there are many foods that use garlic as it is a regional product. In the 'view market', there are many foods including ground garlic chicken gangjeong(mini-sized sweet and sour chicken), garlic bread, garlic whole chicken, and etc that make your mouth watery just by looking at them.

Q5. Then where is the last destination you recommend for winter?
A5: I hope you visit Cheongsong, Gyeongsangbuk-do(청송, 경상북도) in winter. Juwangsan National Park(주왕산 국립공원) is one of Korea's top three rock mountains and the ice waterfalls that come down between the rocks are really cool. In addition, there is a large reservoir called 'Jusanji(주산지)' in the park, surrounded by willow trees which seems like a big lake. Cheongsong Ice Valley is also famous for its giant ice cliffs and icicles which remind us of Elsa's winter kingdom in the movie <Frozen>. If you take a picture against the backdrop of an ice valley, it would be a monumental piece that you won't even envy traveling abroad. I think it would be wonderful to feel the charm of winter in Cheongsong, designated as International Slow City.
2. Retro and Korean hip

Q1. Have you seen a Korean promotional video called 'Feel the Rhythm of Korea' on YouTube recently?
A1. Yes, I didn't know that Korean traditional songs and fashion would be so hip! I think this is the true 'K-hip'!

Q2. That's right. When I look at Korean magazines and YouTube these days, I think of hip. So, can you recommend a place where I can absorb the hip of Korea?
A2. You can feel the hip of Korea in so many places, including the neighborhood alley and town markets. Among them, the most recommended hip place is 'Kangkangee Art Village(깡깡이 예술마을)' in Yeongdo, Busan(영도, 부산). First, Kangkangee Village was the first modern shipyard in Korea and became an art village through a public art project. Isn't it really fresh and hip to do art in a shipyard? There are many workshops so it is a great place to experience activities with your lover, family, and friends. The rusty anchor hanging at the entrance of the street museum exactly shows the vibe of this place. Even the night view of Yeongdo after sunset means a place full of hip! In particular, the here and there of the old village is well preserved so it bears the feeling of 'Newtro'. There are three cruise ship tours and package tours every weekend, so if you want to feel the hip of the port, I recommend you to visit it.
Q3. Oh, what an attractive place! I really want to visit when the Covid-19 is over. By the way, can you explain what 'Newtro' means?
A3. Newtro is a combination of New and Retro, which refers to the form in which retro style is reinvented to modern trends. Nowadays, Korea is becoming popular with Newtro in various contents such as music and fashion and Eulji-ro(을지로) is the mainstream of Korean attraction related to Newtro. While walking along the main road of Eulji-ro and into a narrower alley, there are restaurants that resemble the 1970s in Korea. There are signs with antique handwriting and furniture that can be seen at grandparents' house, but it has a nice look that comes out of it. Old buildings are reborn as cafes and bars, giving memories to the older generation and new experiences to young people. Eulji-ro has a lot of shops and jazz bars with various themes to suit the retro style, so I recommend you to go around and experience many things!
3. Hiking

Q1. I have a question. I like hiking and do you have any recommendations for hiking in Korea?
A1. I think Korea is a country with a beautiful natural environment. In Korea, more than 70% of the country is mountainous, so you can go hiking in any city. If you come to Seoul for a trip, I will recommend hiking 'Bukhan Mountain Dulle-gil(북한산 둘레길)'. Bukhan Mountain Dulle-gil is a low-lying horizontal Dulle-gil with a variety of 21 themes, including water, dirt, forest, and village trails so you can walk without difficulty. Also, it is in the middle of downtown Seoul so it is comfortable to travel to other famous tourist attractions.

Q2. Jeju Island, which is registered as a World Natural Heritage Site epitomizes the hiking sites in Korea. Do you have any recommendations for hiking?
A2. Jeju Island is really beautiful wherever you go and I'd recommend climbing 'Jeju Olle-gil(제주 올레길)' and 'Mountain Halla'. The word 'Olle(올레)' in Jeju Olle-gil means a narrow alley in Jeju dialect. 20 courses have been opened and it generally connects the alleys, mountain paths, wild roads, coastal roads, and hills along the coastal areas of Jeju Island within 15 kilometers. Also, Mountain Halla is the highest mountain in South Korea. I went there a month ago and if you go up the mountain in winter, you can see the beautiful scenery.

Q3. There are a lot of beautiful natural sceneries in Pyeongchang(평창) where the 2018 Pyeongchang Olympics was held. Do you have any recommendations for hiking?
A3. You can also enjoy various kinds of special hiking in Pyeongchang. My recommendations are 'Baekryong Cave(백령 동굴)', 'Mountain Odae National Park(오대산 국립공원)', and 'Daegwanryeong Ranch(대관령 목장)' tour. You can see special sceneries on these three tours. In the case of Baengryong Cave(백령 동굴), you can see the lipids and living organisms inside the cave that are hard to see. The beautiful sceneries of Odaesan National Park are common in any season. I also recommend hiking at Daegwanryeong Samyang Ranch(대관령 삼양 목장), the largest grassland ranch in the East and the filming location of the Korean drama "Autumn Fairy Tale(가을 동화)". Daegwanryeong Sheep Ranch(대관령 양떼 목장) is also called as the Korean Alps and you can experience 'sheep feeding'.

Q4. Is there anything special about hiking in Korea?
A4. If you go hiking, I would definitely recommend you to eat 'Makgeolli(막걸리)' and 'Pajeon(파전)' after hiking! Makgeolli is a traditional Korean liquor and pajeon is a kind of Korean pizza. A lot of Koreans usually eat this food after hiking.
4. Movie and Drama Filming Site

Q1. I heard that Korean movies and dramas are very popular overseas. Are there many foreigners visiting Korea for its reputation?
A1. Yes. Korean movies, dramas, and Netflix contents are all gaining popularity abroad. According to the Korea Tourism Organization's 2017 survey on the demand for individual tourists to Korea, 55.6% of foreign tourists who visited Korea cited that 'Korean Wave Drama and Film Impact' was the reason for their decision to travel to Korea. Recently as the movie <Parasite> won four awards at the American Academy Awards, many foreigners became interested in the backgrounds of Korean movie scenes.

Q2. I see. I didn't know it was this popular. Then, is there any Korean movie and drama shooting attraction that you can recommend to foreigners?
A2. Let's look at the filming site of the movie Parasite first. In Mapo-gu(마포구), Seoul, there is "돼지 쌀 슈퍼 (Our Supemarket)," which is the starting place of the movie, and in Dongjak-gu, there is "Sky Pizza" where the main character's family worked part-time. Also, 'Jahamun(자하문) Tunnel Stair' is the place where the main character's family had to pass through spite of the heavy rain and is only a 10-minute walk from the Exit 2 of Gyeongbokgung(경복궁) Station.

If you are a movie fan of director Bong Joon-ho, go to the Korean Film Museum located in Mapo-gu! It is a place where it treasures the footprints of more than 100 years of Korean movies. The props in <Parasite> and costumes worn by the main characters are on display, which is also famous for 'proof shot' spots. Besides <Parasite>, there are many other movie stories of director Bong Joon-ho. However, please note that Monday is closed!

Next, let's take a look at the filming location of the Netflix series <Kingdom>. <Kingdom> is set in the royal family of the Joseon Dynasty so ancient palaces in Jongno-gu(종로구), Seoul often appear. Changdeokgung(창덕궁) is a beautiful place listed as a UNESCO World Heritage Site. You can enter from 9 a.m. and don't forget to check the date because it's closed on Mondays! Visit 'Changgyeongung(창경궁)', which is the residence of the king, and 'Gyeonghuigung(경희궁)', which is the main palace. In particular, the 'Seoul History Museum' is located in Gyeonghuigung, so you can learn about life in old Seoul.

Lastly, if you want to experience Joseon in <Kingdom>, why don't you visit 'Yongin Korean Folk Village(용인 한국 민속촌)'? This place is a Korean traditional culture theme park, and you can feel as being a part of <Kingdom> since it exactly resembles the streets and villages of the Joseon Dynasty. Please note that you can taste various traditional Korean cultural events and folk performances here!
🔗Reference Sources🔗
Feel the Rhythm of Korea(https://www.youtube.com/watch?v=3P1CnWI62Ik)
Official KangKangee Art Village sightseeing promotion site(http://kangkangee.com/)

National Geographic Information Institute

Bukhansan Dullegil National Park(http://www.knps.or.kr/portal/dulegil/bukhansan/index.do)
Doosan dictionary(https://terms.naver.com/entry.nhn?docId=1349574&cid=40942&categoryId=39632)

Pyeongchang Culture Tour(http://tour.pc.go.kr/?c=1/7/48)

"외국 개별여행객 55.6% "한류 드라마·영화 보고 한국 왔다","연합뉴스, 2017년 11월 2일 수정, 2021년 2월 20일 접속, https://www.yna.co.kr/view/AKR20171101128400030

NaverMap "돼지슈퍼" (http://naver.me/5X9k7HJL)

NaverMap "지하문터널" (http://naver.me/x6P1dDcY)
NaverMap "한국영화박물관" (http://naver.me/GcjbycJU)
Korean Film Archive Website (www.koreafilm.or.kr/museum/main)
NaverMap "창덕궁" (http://naver.me/Gz5Qmm1O)
NaverMap "창경궁" (http://naver.me/GQ4w7J1G)
NaverMap "경희궁" (http://naver.me/GMRAOCJ7)
NaverMap "한국민속촌" (http://naver.me/FGolJA01)

"Visit Seoul" Website (https://korean.visitseoul.net/index)

한국관광공사 Website (https://korean.visitkorea.or.kr/notice/guide_book.do)