새 카테고리FACILITIES AROUND THE UNIVERSITY IN KOREA
Facilities around the University in Korea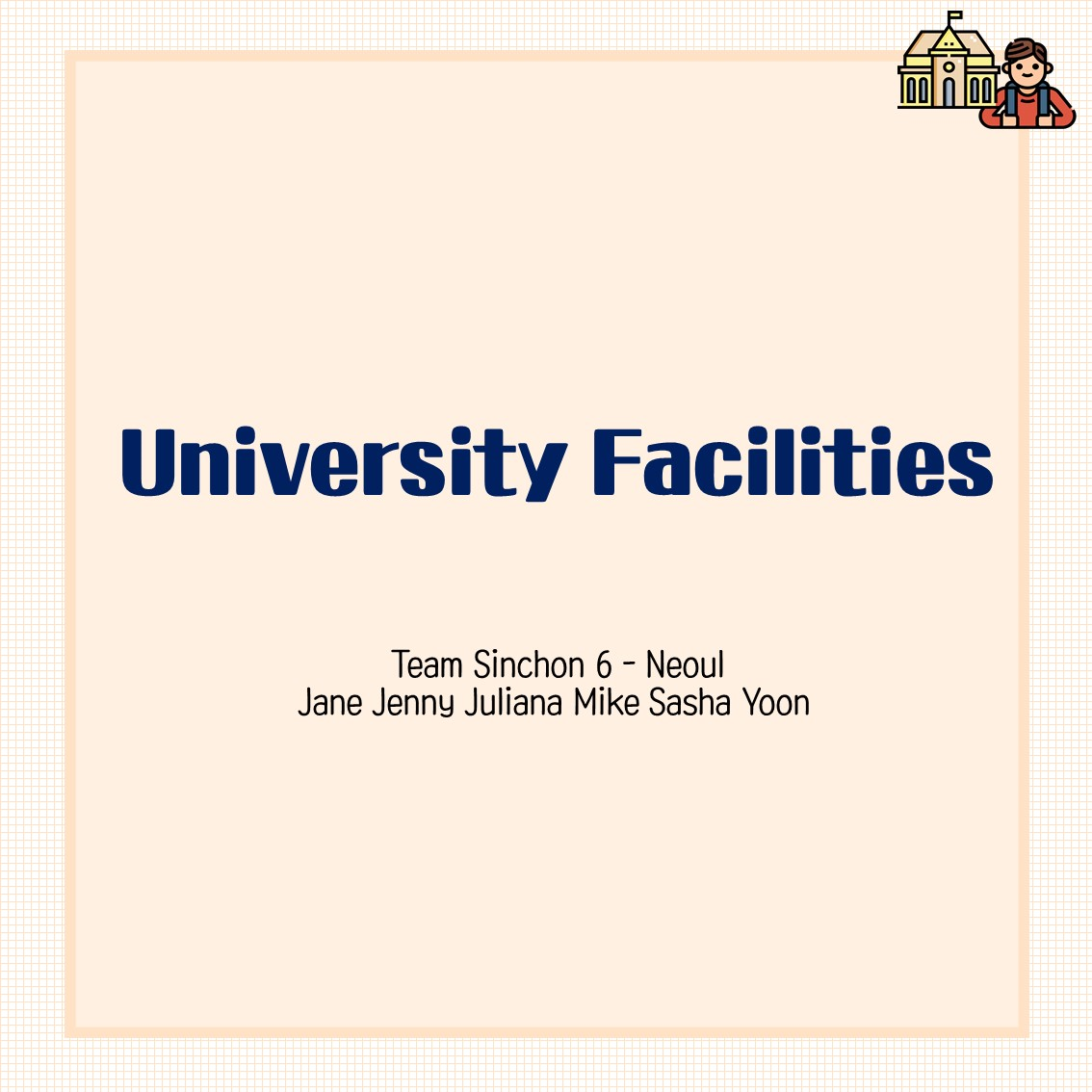 Hello, everyone! Today, I'd like to introduce you to the convenience facilities around the university in Korea.
If you are someone who want to enjoy a variety of amenities, but you don't know exactly what they are, please pay attention!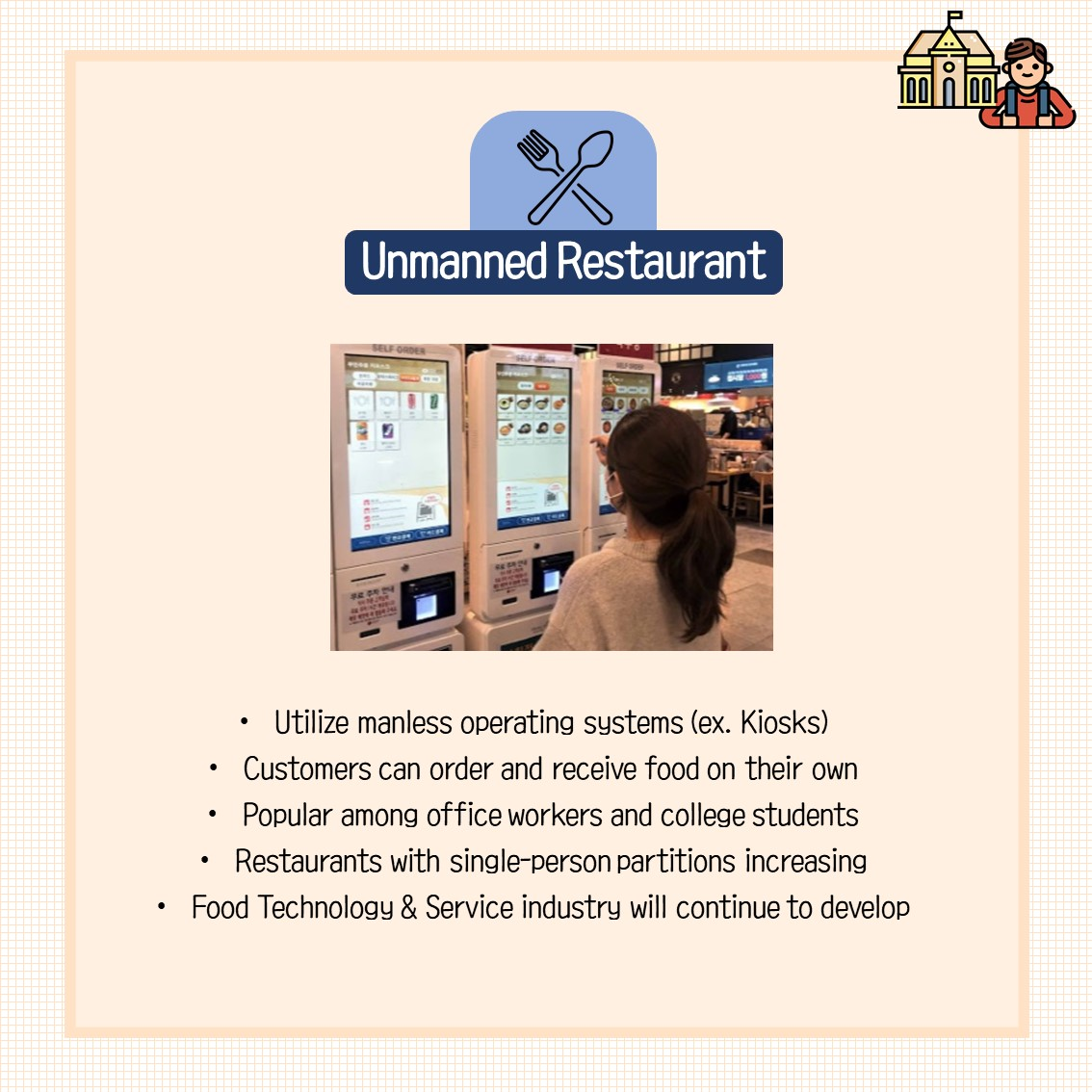 Unmanned(automatic systemized) restaurant near universities

---
Unmanned restaurants and cafes are the representative convenience facilities near universities. Due to Covid 19, the number of restaurants using unmanned operating systems such as kiosks is increasing tremendously. These days, there are many restaurants where customers order and receive food without employees. It is perfect for busy office workers and college students. According to franchises and food&beverage industries, the kiosk market has grown from 60 billion won in 2006 to 300 billion won in 2018. It is also said that the phase of the market will become more active after Covid 19, which is expected to grow by 5.7% annually by 2023.
Recent trend of unmanned dining industry
---
Summary:
- Vitalization of non-contact services such as delivery-only stores and online promotions
- Implementation of unmanned liquor vending machine is expected
- Serving robots significantly reduce labor costs
- Commercialization of outdoor self-driving delivery robots
- Enlargement of delivery drone markets
Recently, the National Tax Service announced that they will implement unmanned liquor vending machine. They say a simplified payment system; customers can use their cards or other payment methods after adult authentication. As the slot opens, consumers can take out the product and after the slot is closed, the payment will be done; will be introduced. In the near future the delivery service will be also replaced as unmanned service. A start-up company asserted that they had success in testing an outdoor self-driving delivery robot. It seems evident that self-service culture and start-up markets are gradually evolving due to Covid 19. Would there be a day to live in a world where self serving robots and delivery drones become a daily routine?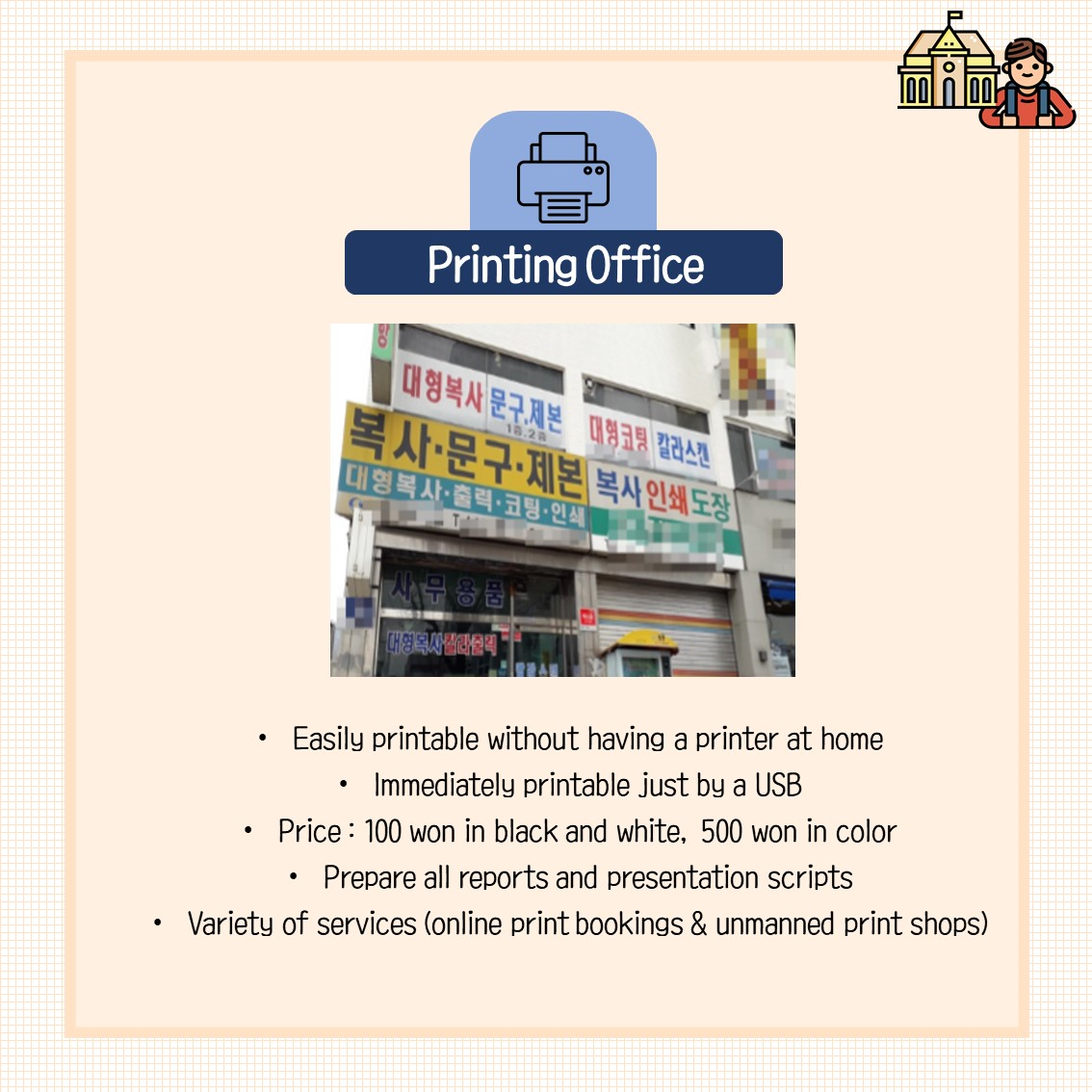 Printing Office
---
For those who live alone or in dormitories and don't have a printer, there are spaces around the university district where you can just print simply by visiting a PC room, library, community center, or stationery store that has a sign of [print(인쇄)] or [copy(복사)]. Once you download your file in your USB, you can connect it to your computer and print it out. Normally, you can print it with black and white printing in 100 or color printing in 500 won per sheet. Printing is usually free of charge at the commjnity service center. In addition to ordinary printing, you can bind handouts at stationery stores. Of course, the methods may vary depending on each store, so ask the staff in detail!
If you have something to print late at night or find it cumbersome to talk to employees in person, visit the "unmanned printing shop." You can pay with kiosk after you finish printing. Usually, unmanned print shops are open 24 hours a day so it's very useful when you need to print early in the morning or late at night to study.
Below are the locations of 'General Printing Office' and 'Unmanned Printing Office' in Seoul that appear when you google. In fact, there are more printable places in each neighborhood so please take notice!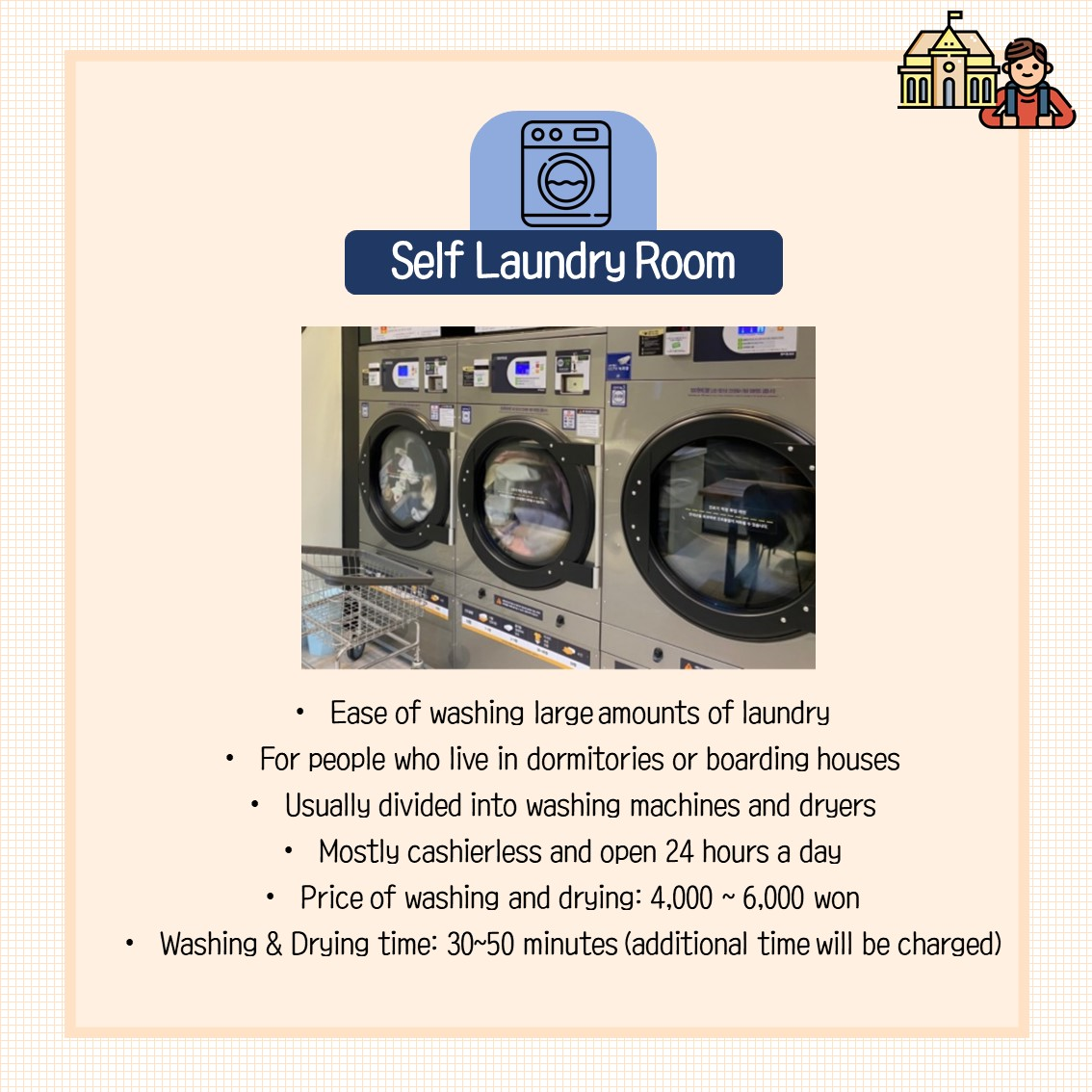 Self Laundry Room
---
Q. What is a self-laundry room?
A. Self laundromat is located around many university districts to ease washing large amounts of laundry for people who live in dormitories or boarding houses. Laundry rooms are usually divided into washing machines and dryers. Most self-laundry rooms are cashierless and open 24 hours a day.
Q. How can I pay for the self-laundry room?
A. There are two main ways of payment for self-laundry rooms. One is to pay in cash and the other is to charge money in self-laundry card. Also, there are laundromats where you need to buy detergent and fabric softener separately.
Q. How long does it take for the laundry and how much does it cost?
A. Usually, the price of washing and drying is between 4,000 and 6,000 won. The washing and drying time can be set in person(usually between 30 and 50 minutes) and an additional charge will be incurred if you add time.
Q. Is there any activity I can do while waiting for laundry?
A. We usually have chairs and tables to wait for laundry and sell ice cream or snacks vending mahcines. There are self-laundry rooms where you can enjoy massage or game console by inserting money.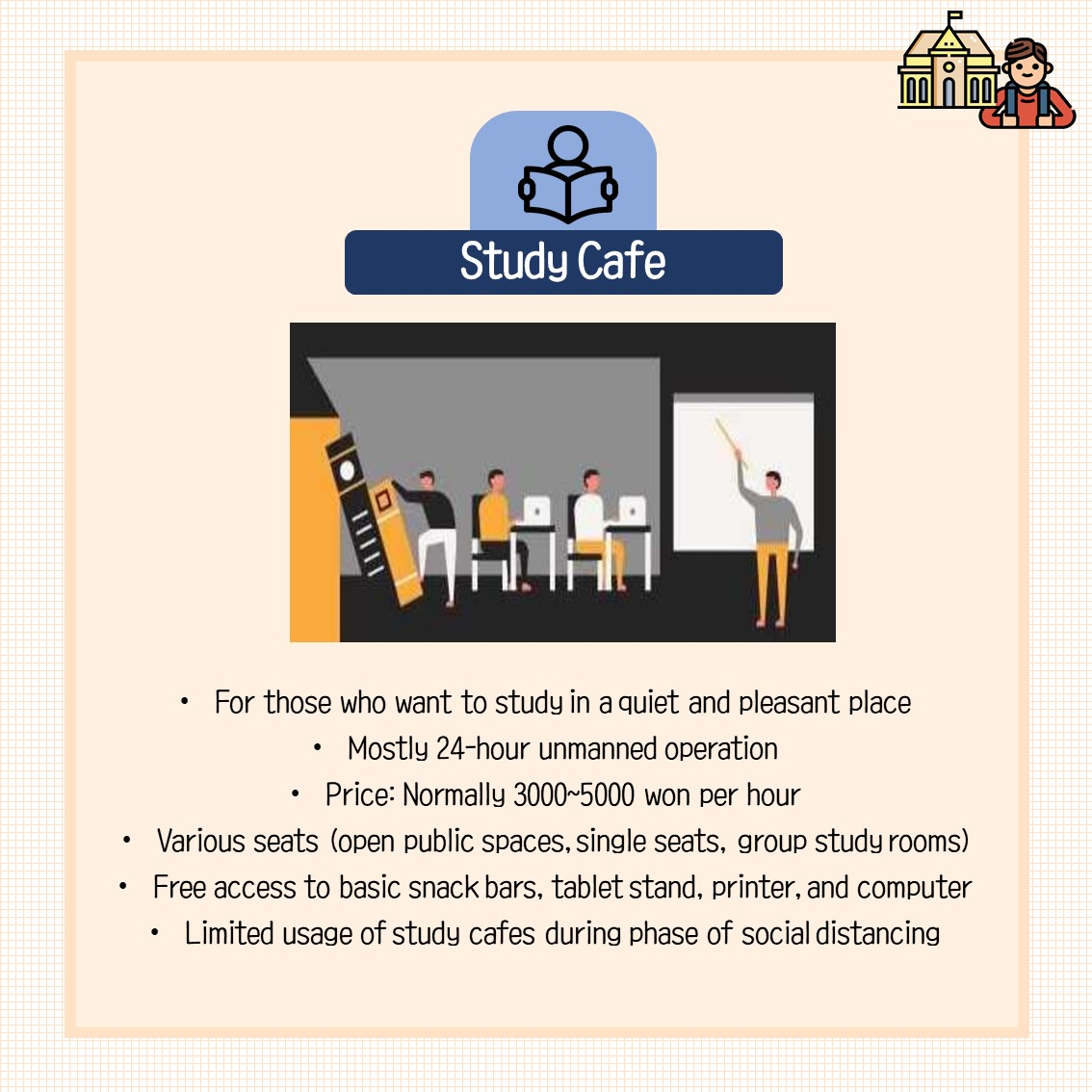 Study Café

---
Q. What is a study cafe?
A. In Korea, there is a separate space called 'Study Cafe' which is different from regular cafes as you can choose various spaces that suits your individual learning tendency or preferring learning atmosphere. There are several 24-hour study cafes around the university area for students to study.
Q. How can I use it?
A. Most study cafes are open 24 hours a day, so it's very convenient. You can buy regular or one-day tickets at kiosks. It costs 1500 won per hour, 3,000 won per hour for a two-person study room, and 5,000 won for a four-person study room which are relatively cheap.
Q. What facilities are in Study cafe?
A. There are various types of seats in the study cafe such as public spaces that resemble cafes and one-person seats surrounded by partitions like private reading rooms. Some study rooms are for group meetings, sound-proofed and are even equipped with a white board or projector.
Basic drinks, coffee, and simple snacks are free. Air purifiers with phytoncide, white noise machines, rental service for study preparations, and discount services for online lectures are additional privileges that you can enjoy.
Q. Are there some changes in study cafes during the era of Covid 19?
A. During times of social distancing phase 2 level in metropolitan areas, eating food in open spaces at study cafes is prohibited. People must seat separately and the number of study room users is limited. Please note that we can't open from 10 p.m. to 5 a.m.!